ADVENTURE VIRGIN ISLANDS
Yachting Monthly|Summer 2020
Kieran Flatt cruises the Marker Wadden and finds nature is already thriving on the newest part of the Netherlands
God made the world, so the old saying goes, but the Dutch built their country themselves. For more than a thousand years they've been changing, shaping and engineering the landscape and now – just 12 years after a Dutch prime minister famously declared that the Netherlands was finally finished – they're at it again. And that's great news for sailors.
Marker Wadden is the newest part of the Netherlands. It's an entirely artificial archipelago of five islands comprising some 2,500 acres in the northeast corner of the Markermeer, roughly 21 miles northeast of Amsterdam. As the name suggests, it's built to look like a freshwater version of the wild, inaccessible parts of the Waddenzee with a spectacular landscape of towering sand dunes sheltering tranquil lagoons, reed beds, mud flats and great swathes of wetland plants. Fish spawn and shrimp thrive in the shallows. More than 500 avocets, along with many other endangered birds, have already made the islands their home.
Unlike most conservation zones, Marker Wadden isn't a no-go area for humans. On the contrary, it's been designed for people to visit and enjoy. The largest of the five islands is open to visitors, criss-crossed by eight miles of footpaths and boardwalks leading to secluded beaches, birdwatching hides and a watchtower that offers a spectacular panoramic view. Only small numbers of people are allowed onto Haveneiland by ferry, a few times a week, but sailors with their own boats can visit at any time. There's a good-sized guest harbour with all-round shelter, plenty of depth, marina berths and boxes for at least a hundred yachts and stagings for larger vessels.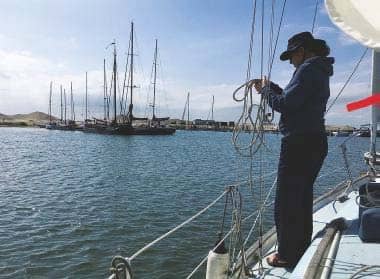 When my wife Rachel and I first cruised there in April 2019 aboard our Twister 28 Cleaver II, Marker Wadden was so new that it hadn't been properly charted yet. No soundings were given on Dutch ANWB charts, which still had it labelled as a no-entry zone. Even Navionics' crowd-sourced Sonar Charts were inaccurate back then, indicating barely a metre of water. Approaching the entrance with only a hunch about the depths, we were reassured to see much larger vessels snugly moored inside. In fact there's a maintained depth of 2.9m throughout most of the harbour including most of the yacht pontoons and 1.6m right up close to the beach. Unlike the havens in the tidal Waddenzee, pilotage in and out of the Marker Wadden harbour is very easy indeed. You just point your bow at the gap between the breakwaters and sail or motor in.
You can read up to 3 premium stories before you subscribe to Magzter GOLD
Log in, if you are already a subscriber
Get unlimited access to thousands of curated premium stories and 5,000+ magazines
READ THE ENTIRE ISSUE
Summer 2020