ADVENTURE ISLAND ODYSSEY
Yachting Monthly
|
August 2020
Erin Carey and her young family cruise the Leeward Islands and discover the region's distinct cultures and topography
As we pulled anchor on Roam, our Moody 47, we waved goodbye to the superyachts and their teams of staff, busily polishing the spotless hulls of the multi-million dollar vessels. Our time in Saint Barthélemy, better known as St Barts, was a reminder of how the other half lived. Convertible cars driven by impeccably groomed women, complete with a headscarf and oversized glasses, zipped past us as we wandered the manicured streets. We were quite the spectacle, my three young boys with their sun-bleached locks and flip-flops, sauntering in and out of boutiques and designer shops, the price tags comparable to a month of our cruising budget. But for a few days, we enjoyed the change that the luxurious island had brought and reminded ourselves that we shared the very same bay and watched the very same sunset as the rich and famous on their superyachts.
With only four hours ahead of us to Saba, my children lazed content in the cockpit, comfortable with the motion of the boat and with the cruising life to which they had become so accustomed. As we passed the uninhabited island of Redonda, the overhead fishing rod trailing from the back of Roam sprang to life, whizzing and zinging in excitement. My three boys snapped to attention, giddy with excitement and anticipation, while my husband Dave sprung out of the cockpit and began reeling in his catch. Considering the size of the little tuna, he put up a mean fight, and we rejoiced when it finally landed on our deck, knowing sushi would now feature on the menu for lunch.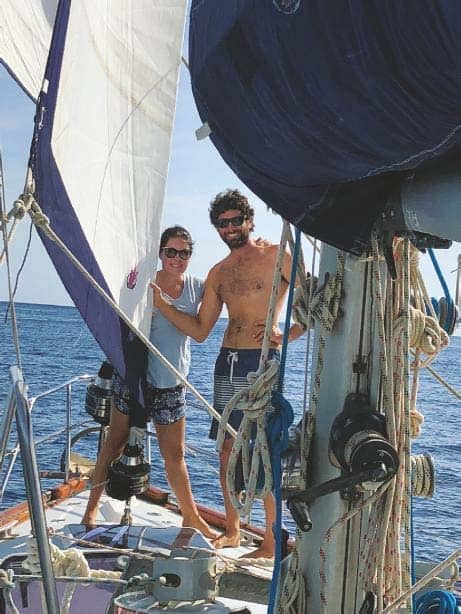 After the excitement of the fish had died down, and the sun continued to warm my body, the rocking motion lulled me into a slumber, comfortably wedged into the lower side of the cockpit. I awoke to towering brown cliffs overshadowing our boat, and I marvelled at the birds in full flight not even halfway up the cliff faces. Mountain goats could be heard bleating in the distance from impossibly high perches, and I watched in awe as a family of goats balanced precariously on a narrow ridge.
UNIQUE ISLANDS
There is always something invigorating about arriving at a new island, unsure of what adventures lie ahead and excited for exploration and discovery. While one may think that all Caribbean islands are the same, with their white sandy beaches and palm tree-lined shores, the truth is, most of them are surprisingly diverse, and the island we were about to approach was the most unique of them all.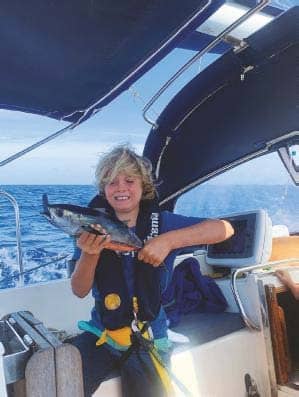 You can read up to 3 premium stories before you subscribe to Magzter GOLD
Log in, if you are already a subscriber
Get unlimited access to thousands of curated premium stories, newspapers and 5,000+ magazines
READ THE ENTIRE ISSUE
August 2020