ADVENTURE HELL OR HIGH SEAS
Yachting Monthly|July 2020
Taylor Grieger and Stephen O'Shea faced pirates, navigated the Furious Fifties and came to blows during a life-changing voyage from Florida around Cape Horn
We were in Roatán, Honduras heading back to Ole Lady when a comment from Taylor about my mishandling of a line resulted in us punching each other in the face. He knocked me onto my back, and I knocked Taylor off the dinghy. He didn't stop, though. He got me in a chokehold from the water, pulling me down from below. We both thought the trip was over then, that we were going to pack it in and return home. However, we came back together in the cockpit that same night. We cried a little, laughed a lot, drank even more whiskey, and finally, made a pact to not punch each other in the face again, no matter how drunk or angry we got.'
SOLACE IN A SAILING MISSION
Sometimes voyages can test any close friendship but add post-traumatic stress disorder (PTSD) into the mix and it is easy to see why emotions sometimes ran high for Taylor Grieger, the skipper of the leaking 1983 Watkins 36CC, Ole Lady, and his crew Stephen O'Shea, 29.
The pair spent 15 months sailing the 36ft sloop-rigged yacht from Pensacola, Florida, through the Panama Canal and down the South American coast to Cape Horn. For Grieger, a 28-year-old retired US Navy rescue swimmer living with PTSD, the voyage was not only a personal odyssey to face his demons but to raise awareness of the difficulties veterans face moving from the military to civilian life; a battle many of them lose including four of Grieger's friends.
'When I got out of the military I was just this angry, mean and confused person who had ruined every relationship I had ever had and had come too close to taking my own life. The last thing I had to hold on to was this sailing trip: sailing and this old boat with too many holes were the only things I had,' explained Grieger, who had always harboured dreams of sailing around the world.
He said sailing to Cape Horn seemed to be the 'biggest, baddest thing in this world' that he could do to highlight the 'epidemic' of veteran suicides, and to prove to himself and others that you can 'conquer something that many people believe is unconquerable'. The result is the documentary film, Hell or High Seas, which follows the voyage of Ole Lady and Grieger's mistakes and struggles to shift from the pace of military to civilian life.
O'Shea, a writer and high school friend, came onboard with the project early, having reconnected with Grieger while writing a collection of short stories based upon interviews with American soldiers who had fought in Iraq and Afghanistan. Whilst studying for his creative writing doctorate at Glasgow's University of Strathclyde in Scotland, O'Shea acted as a sounding board for Grieger during the six months it took them to find the ideal boat.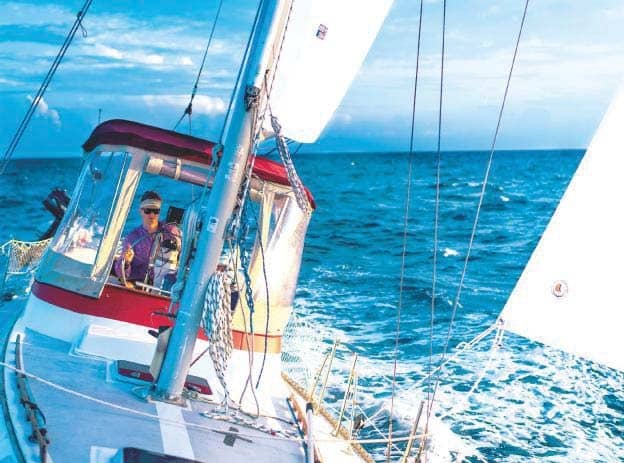 BREAKING HER IN
You can read up to 3 premium stories before you subscribe to Magzter GOLD
Log in, if you are already a subscriber
Get unlimited access to thousands of curated premium stories and 5,000+ magazines
READ THE ENTIRE ISSUE
July 2020