ADVENTURE-77 AND SOLO NON-STOP AROUND THE WORLD
Yachting Monthly|December 2019
Jeanne Socrates battled equipment failure during her record circumnavigation. She tells Katy Stickland how she overcame adversity
'The further I got, the less likely it was that I'd give up,' explained 77-year-old Jeanne Socrates, 'Not that I was ever likely to if I could help it!'
Sailing non-stop around the world solo and without assistance pushes the limits of any sailor. Throw endless equipment failure into the mix and you begin to understand what a special kind of sailor Socrates is. Resourceful, yes. Determined, definitely.
During 339 days at sea in her Najad 380, Nereida, the British skipper, who now holds the record for the oldest person to sail solo around the world non-stop and unassisted, had to endure periods becalmed and problems with many of her instruments, including the chart plotter and autopilot. Broken reefing lines and lazy jacks, badly damaged wind vane steering, and a shredded genoa also had to be overcome, as well as a badly torn mainsail which took months to repair. While some might balk at these sorts of trials, Socrates seems to thrive on them, even though they added four months to her voyage.
'The challenge of managing to keep the boat going all the way around successfully and dealing with any number of unknown problems that were sure to crop up – that was the attraction, with the record resulting from my age being by-the-by,' she explained.
A former maths and science teacher, Socrates starting sailing aged 48, with her late husband, George. She qualified as a Yachtmaster Ocean after the couple had retired early to cruise extensively in their Najad 361, Nereida, before George was diagnosed with cancer, eventually losing his battle in 2003. Alone, Socrates continued their cruising dreams, first sailing solo in July 2003 to spread George's ashes at sea. Three years later she raced in the 2006 Singlehanded TransPac from San Francisco to Hawaii before her first solo round the world voyage in 2007-08, which ended in disaster when Nereida ran aground on a beach north of Acapulco in Mexico, less than 60 miles short of the finish at the port of Zihuatanejo. Unfazed, she commissioned her cutter-rigged Najad 380, also named Nereida, and two years later started her first non-stop attempt around the world, which ended in Cape Town due to rigging and other issues. A knockdown off Cape Horn put paid to her second attempt, causing her to stop in Argentina to make repairs, although she continued sailing, circumnavigating via the Five Great Capes of the Southern Ocean – Cape Horn, Cape of Good Hope, Cape Leeuwin, South East Cape of Tasmania and the South Cape of Stewart Island. Her third successful attempt took 258 days and earned her the world record title in 2013 of the oldest woman to sail singlehandedly around the world. She was 70.
Three years later, and she was ready to do it all over again, although it would once again take several attempts. Storms and broken gear ended two attempts in 2016. A fall from a ladder while Nereida was on the hard ended plans until 2018 while Socrates recovered from a broken neck and 11 ribs.
So why make a fourth attempt? 'I really wanted to experience the Southern Ocean again; it is a very special, remote place with wonderful, though sadly threatened, birdlife. I also wanted to make some long ocean passages again as I had missed those over the years since my last record attempt. A friend pointed out that if I went around solo now, I'd become the oldest person, rather than the oldest woman, to do so,' is her reply.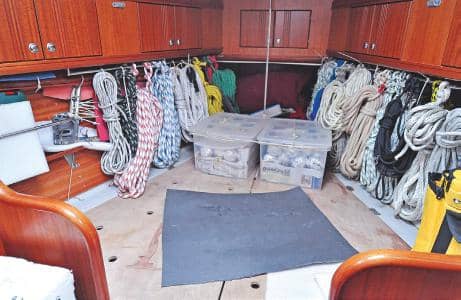 THE BEST LAID PLANS
You can read up to 3 premium stories before you subscribe to Magzter GOLD
Log in, if you are already a subscriber
Get unlimited access to thousands of curated premium stories and 5,000+ magazines
READ THE ENTIRE ISSUE
December 2019