A WEEK AFLOAT GALICIA
Yachting Monthly
|
October 2020
The enchanting Rías Baixas in north-west Spain offer rewarding, sheltered cruising, making them ideal for a sailing holiday
DO YOU ONLY HAVE A WEEK TO SPARE?
For those of us who are time poor but who want to seize the moment, either on our own boat or on a charter, it is reassuring to know that there are plenty of cruising hubs from where we can enjoy some of the best of the region in only a few days. This new series, A Week Afloat, commissioned by Yachting Monthly and Imray, visits some ideal destinations and suggests a one-week itinerary. Each article, complete with expanded information about cruising each area, will be available as a PDF download via Imray's website or Google Play Books. Galicia, in the north-west corner of Spain, offers the appealing combination of a balmy climate and a fascinating and beautiful coast. Between Cabo Fisterra (Cape Finisterre) and the Portuguese border lie the Rías Baixas, a series of beautiful inlets with a gentle microclimate, glorious beaches and a wonderful welcoming culture. The entrances to these rías are largely protected by a chain of offshore islands that break the worst of any onshore wind and sea, making it an ideal cruising area.
This is not the Spain of hot dusty summers, paella and flamenco, thronged with foreign visitors, but a softer Spain of green hillsides, friendly locals and bagpipe music; Galicia is a Celtic region, and proud of it. It has its own language, Galego, which looks like a cross between Spanish and Portuguese.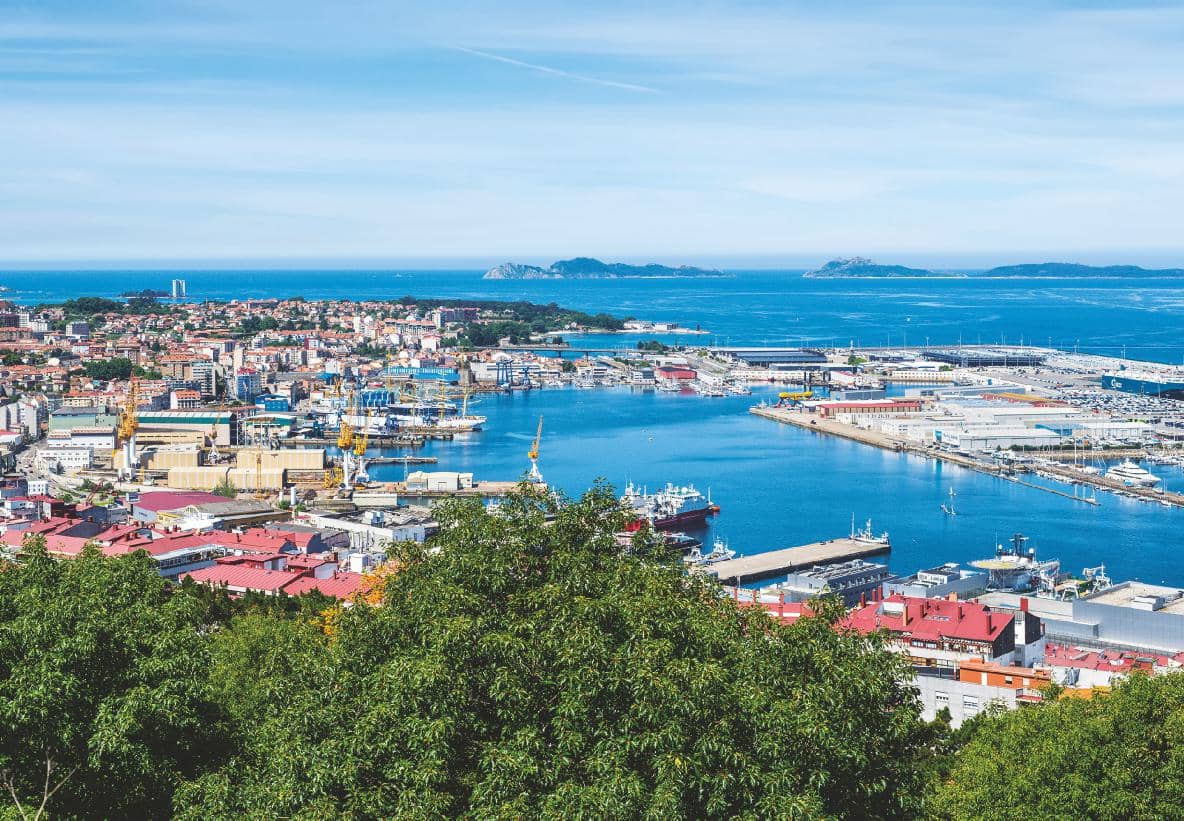 The city of Vigo is the main hub and is a major port and an important industrial centre with many splendid 19th-century buildings. Its fortune was built on fish, and it's very likely that your can of tuna, as well as your Peugeot or Citroen, came from there. There has been huge recent investment in marine infrastructure on this coast. Fishing and aquaculture are very important and almost every coastal town and village has a marina; Vigo has several. Many charming anchorages are similarly available. Local shops, bars and restaurants offer extremely good value for money. Seafood is the speciality, and the local delicacies include pulpo (octopus), which is delicious, and percebes (goose barnacles), which are, shall we say, more of an acquired taste. This is a deservedly popular destination for yachts from many countries, including the UK, Holland, Germany and Scandinavia, and Irish ensigns are particularly common because the popularity of the Camino de Santiago walking routes has traditionally meant good connections by air from Ireland.
The principal offshore islands are within a national park and permits are required to visit them, but these are easily obtained online or through your marina or charter company. Details are on www.iatlanticas.es, which has an English-language version.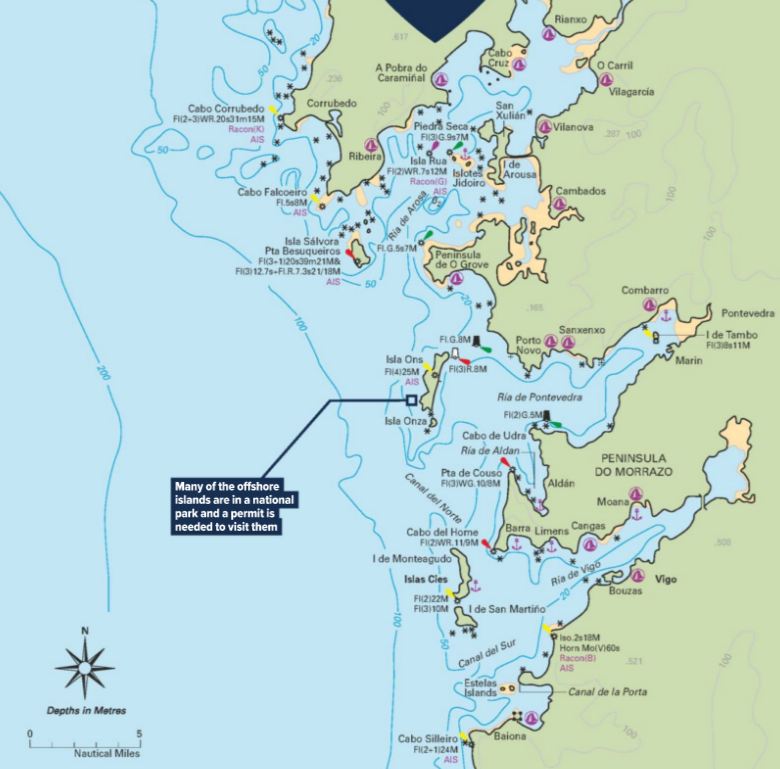 DAY ONE: VIGO TO BAIONA (13/10 MILES)
Start with an easy sail down the Ría de Vigo. You can take the longer passage to seaward of the Estelas and Serrallieras islands where you might briefly meet some Atlantic swell, but in fair weather the Canal de la Porta, inside the islands, is navigable with care and saves three miles. Baiona is dominated by the castle of Monte Real, within the precincts of which is a rather splendid yacht club which welcomes visitors.
You can read up to 3 premium stories before you subscribe to Magzter GOLD
Log in, if you are already a subscriber
Get unlimited access to thousands of curated premium stories, newspapers and 5,000+ magazines
READ THE ENTIRE ISSUE
October 2020