TACK … EVERY TIME.
Windsurf|Issue 395 - May 2020
It's simple enough on day one and painfully elusive as you take it onto smaller boards and into pressurised situations. Here in the first part of a two-part examination, Harty reveals the right methods to nailing your tacks.
The illusion of calm when doing a tack, even over a sinking platform, comes from adhering to windsurfing's basics – leading with the head, keeping the rig away and … going for it! Harty actually not caring if he does fall into Tobago's tepid bath.
"My name is Brian. I've been windsurfing for 30 years and … (pause to sob) … I can't tack." (Ripple of applause from the assembled self-help group, pats on the back and murmurs of 'well done, very brave …')
"Thank you thank … you. Well I can tack … sort of … on a barge … in light winds." Continues Brian through the tears. "But it's rubbish. And as soon as I try it on a smaller board in any sort of chop … well I might as well just jump in and save myself the bother…" "Bravo Brian." Says the chief counsellor. "Now you've finally admitted you have a problem, you've made the first and most important step."
FAILURE TO TACK – UNDERLYING ISSUES
Firstly, if you are a non-small board tacker, don't feel alone. There are hordes of Brians out there. It's neither a blight on your character nor a reflection of some innate technical ineptitude. The tack is a bit special and poses unusual psychological and technical challenges.
Expectation and Pride
You expect to be able to do it. Crashing out carve gybes in search of glory is totally acceptable. But serial plopping while attempting tacks? It's humiliating. I'm not suggesting that certain 'Windies' are proud egomaniacs, but there is a threat to status that persuades many to throw in the towel early.
Bad start
The real issue is historical. That first version of the tack, holding the mast in both hands like as if it were a Zimmer frame, while taking tentative steps around the nose, was a secure way of getting you a tick in the "I've gone out and come back" box. However, the approach and technique is wrong in every way when the going gets tougher.
Unlike other skills, like stance for instance, where the techniques you learn on day one are the building blocks for the future, you have to completely relearn the tack to make it work in advanced situations. Unlearning and relearning is hard. Old habits can stick in a most destructive way.
Respect
Many underestimate what it takes. We must not widdle on our own parade by saying this thing is 'difficult.' However, the tack we're talking about here is fast, snappy and explosive. It's one you can roll out spontaneously every time on any size of board (within reason) in any conditions, even as the world is about to break on your head.
ON MY CLINICS, THE TACK HAS RISEN TO TOP OF THE 'MOVES I MOST WANT TO CRACK' LEADER BOARD FOR INTERMEDIATES AND EXPERTS ALIKE. THE WISH LIST OF JOHNNY WAVEHEAD MIGHT READ, 'PLANE OUT OF MY FORWARDS, IMPROVE ONE HANDED OFF-THELIPS AND… PLEASE PLEASE PLEASE… TACK!'
Method
There are many ways to tack – mast to boom, boom to boom, mast to mast, jump the feet, slide the feet, wrap feet around the mastfoot etc. Whatever a certain coach might preach, there is no right and wrong, just what works for you. It's a functional move. If you're making them all, don't let anyone tell you you're doing it wrong. If you drop a few and all the falls have a familiar ring, that is the time to tweak it. But what is crucial is that you drill your preferred method until it's totally instinctive. This is one instance where a board on the beach can save many swims. Head to wind in a light wind, go for 100 on each side until you feel the rhythm and flow.
Aggression
In the carve gybe, with the wind and momentum up your backside, you can be quite lazy; but in the tack, you're literally battling the elements, so good technique has to be accompanied by controlled aggression. Many fail repeatedly because they're not trying hard enough. They enter with straight legs, so they have nothing to spring with and have to shuffle round like a man in splints. Change your internal dialog from 'step' around the mast to 'explode!'.
Skill
Skill happens alongside technique. It describes how you balance, hold and move your body. Tacking well is very skilful, especially over a sinking board. Over the years I've seen a number of outliers complete amazing tacks with eccentric (you might even say 'wrong'…) technique – but they make it thanks to great posture, lightning reactions and fast, light feet = skill.
RESPECT + METHOD + AGGRESSION + SKILL = CONSISTENT TACKING.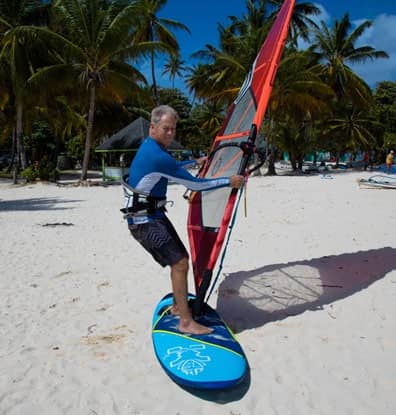 DRILLING THE METHOD I know it's cheating demonstrating the sequence on the beach, but actually it's the place to get the process totally wired. The instability of a board on water focuses the mind on balance, makes you hop back into your cage, get defensive, hug the rig and engrain bad habits. And the fatigue from repetitive plops darkens the mind and attitude. With every repetition you can focus on a different aspect until the sections blend and the sequence starts to flow. Give your self a time frame. Bring it down to 3 seconds total. Most important is that from starting to tack to tacking is about a second. Calm urgency is the way to go.
Everything moves forward. Back foot forward (just behind or in front of front strap), front foot forward (in front of mast), back hand forward (to back harness line), front hand forward (onto mast). Look upwind, project shoulders and hips towards the mastfoot; oversheet and bend the knees! This is your ready to pounce position.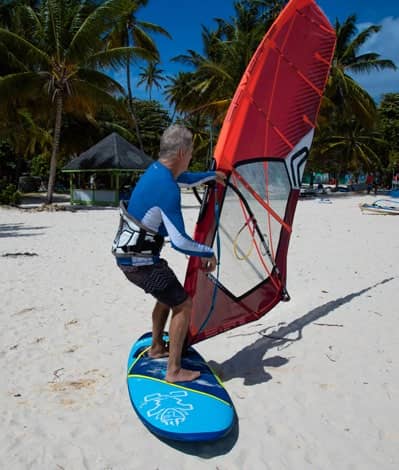 Release the back hand and cross it over to grab the new side of the boom right at the front. Extend the arm and bend the knees even more.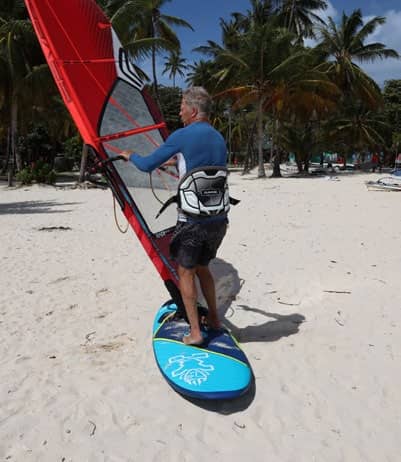 You can read up to 3 premium stories before you subscribe to Magzter GOLD
Log in, if you are already a subscriber
Get unlimited access to thousands of curated premium stories and 5,000+ magazines
READ THE ENTIRE ISSUE
Issue 395 - May 2020