Strategic Moulay Moves
One of my favourite questions on a coaching clinic is, "What is more important sailing strategy or good technique?" The answer is often technique, yet unless we have a sound strategy we cannot utilise our technique. So with the help of two of my students - Gøril Hjelseth and Martin Delaney, I will highlight the strategy of how to sail a side-shore wave sailing spot, using the example of Moulay in Morocco, and give general pointers to help you get the best out of your local wave spot.
THE ESSENTIALS
These are the main areas we should work on:
Fitness and strength. Without fail, the fitter and stronger people on my clinics, and also the most determined, get the best out of themselves and the location. They can handle harder conditions and they also recover better too. Moulay can be brutal, the warriors survive more battles.
Tough Hands. This is one of the many challenges we have in our sport. My recommendations are get in the water, this being WindSup in light winds, foiling or freemove sessions on bigger sails. Gym time, kettle bells and the Concept II rower also helps. My last tip is not to 'over sail'.
Trinity. My fastest improving wavesailors have the best basic skills and have the trinity of skills needed to develop and control power; i.e. - early planing (learn to get planing from the straps), board speed and upwind sailing. You can build these skills up on a freemove board.
Wind range. Moulay, and many wave breaks, will call to account your ability to cope with both light wind sessions and fully overpowered sailing. Therefore, if the wind drops, stay out and learn to wobble out on your gear, or try and keep planing. And if the wind really cranks, get comfortable with being uncomfortable and
Tail up jumps. Yes you have heard this before and yes you definitely need this skill so get out there and jump a lot, few are jumping as much as they could. A good tail up jump with a slick getaway will see you having more fun and also actually getting out the back.
AREAS TO ADDRESS
To formulate our strategy, these are the areas we should focus on:
Tides
The correct tide makes a big difference to a spot. High tide in Moulay is hard, riding the wave downwind can be safer than you think, but you can lose your gear on the rocks so be sure you really want to take the risk. Low tide is fantastic upwind in front of Lawama's guesthouse, with one hour either side of low tide for the best ramps and rides.
Area
I have already mentioned that high tide can be hard at Moulay and it is best to sail the peak more downwind and that low tide is best upwind, so we are now left with the main peak, which is best on mid tide. For a beach at home this might mean you move up and downwind to find better sandbars. For example, I might have had a good session at low tide Lawama's and then as mid tide comes in I head back downwind, come in and tune and get some food so I am ready for mid tide mayhem at the main break.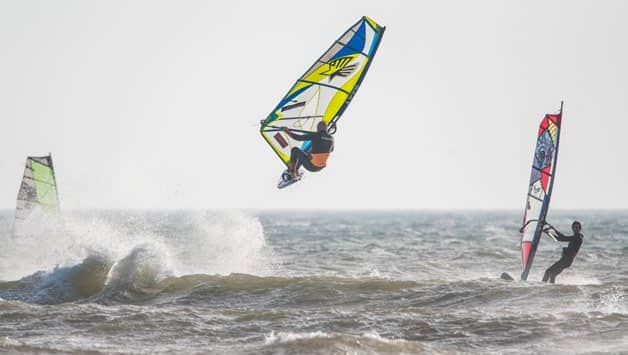 Launch
You can read upto 3 premium stories before you subscribe to Magzter GOLD
Log-in, if you are already a subscriber
Get unlimited access to thousands of curated premium stories and 5,000+ magazines
READ THE ENTIRE ISSUE
Issue 391 - November December 2019