SOUTH' KIPA
Windsurf|Issue 396 - August 2020
Nik tweaking it over home waters.
With classic south coast conditions looming, John Carter launched a plan to head down to Shoreham and Worthing (a.k.a. South'kipa) for a catch up with UK Fanatic, Duotone and ION agent Nik Baker, but at the last minute he heard through the grapevine John Skye was also back in the UK for an RRD Demo! Two of the UK's most successful wave sailors, both retired from full-time competition and now involved in the industry in different roles…surely this was the time to pitch them on the water together for a good old shoot-out and hear about their south coast roots and the good old days! We hand it over to Baker and Skye for the lowdown!
NIK BAKER
UNDER PRESSURE
When I heard John Skye was coming along, if I am really honest, I suddenly felt nervous. It took me back to being a pro windsurfer when everybody was still scrutinizing me performing whenever I sailed. I always felt I had expectations every time I came home of what I was doing on the water. I never wanted to fall off learning moves or make myself look silly and I think I put too much pressure on myself. Even after quitting competing I did that for a long time. It has taken many years to let go of that pressure and realize I am not a pro sailor anymore and I have not been for ten years. I am just out sailing the same as everyone else. I actually sail a lot less than most guys because I am busy with work. So now I feel I don't have to prove myself anymore, I am not paid to go windsurfing. I am going out because I love it. As long as I walk up the beach with a smile, I don't care what anybody thinks. When JC said Skye was coming along, I suddenly thought, 'I am going to look daft!' as I know he sails a lot. Then I thought, who cares, it will be nice to see him, he is a lovely guy and I have always liked him on and off the water. We are both still in the industry from slightly different angles and we are both retired from competition, so I guess we have a lot in common. He has a family as I have, so it was lovely just to sit and chat and catch up. Because he was on the water, it actually pushed me. Rather than sitting on the beach chatting with the boys every half an hour, I stayed out on the water and kept going. My forearms at the end of the day were in agony from hanging on in the wild gusts! I absolutely loved it. Skyeboy is such a good sailor and made it more of an exciting session. After the day I sat and had a chat with Sam Latham and we were just recalling what a great day it was. I did not expect to be sailing with John Skye and we had some great conditions. I was well stoked.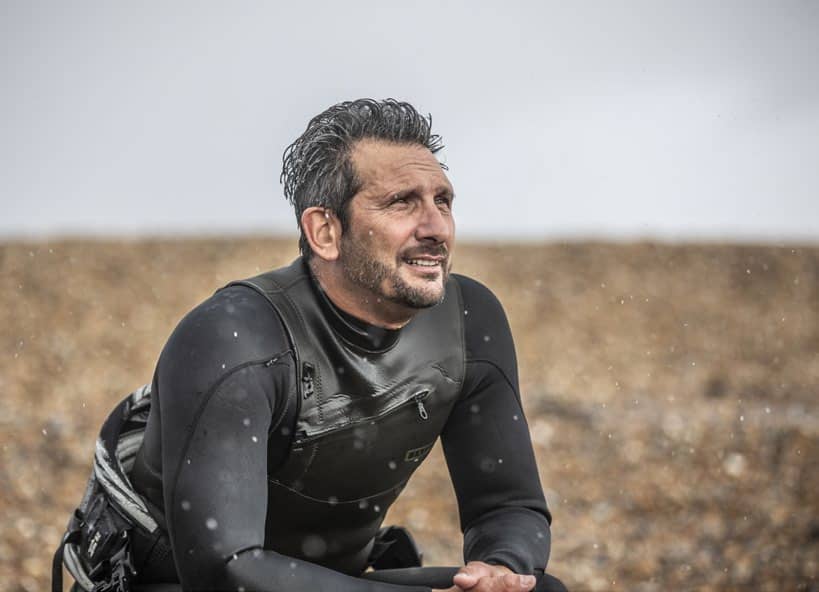 BACK TO THE ROOTS
It is interesting to me to look at where we both started, what we have both achieved and where we are now. John is in the industry with RRD, while I am involved with Fanatic and Duotone. We still have our interests in the sport that we love and we still have our most fun from a good old session back doing what we did originally – going sailing on the south coast of all places, in rain, sunshine and gusty wind at Shoreham and Worthing. It did not matter, we both came off the water agreeing it was an awesome day.
It did not have to be mast high in a pair of shorts and down the line. I love south coast sailing and I always have done. Coming from these roots massively benefitted me on the world tour. I think it helped me that I do live in this location and was forced to sail in these conditions. Guys like Jason Polakow probably never even sail in these conditions, he would be out riding motocross! He is only in it for the upper end of extreme sailing. I am back where I started and it is just as much fun for me, it really is. I can do a lot of other sports, but ultimately if I had to pick one day of a sport it would be wave sailing, absolutely. I am lucky I can still do it. I am not too old, not too fat and my job allows me the time to still do it. I cannot complain.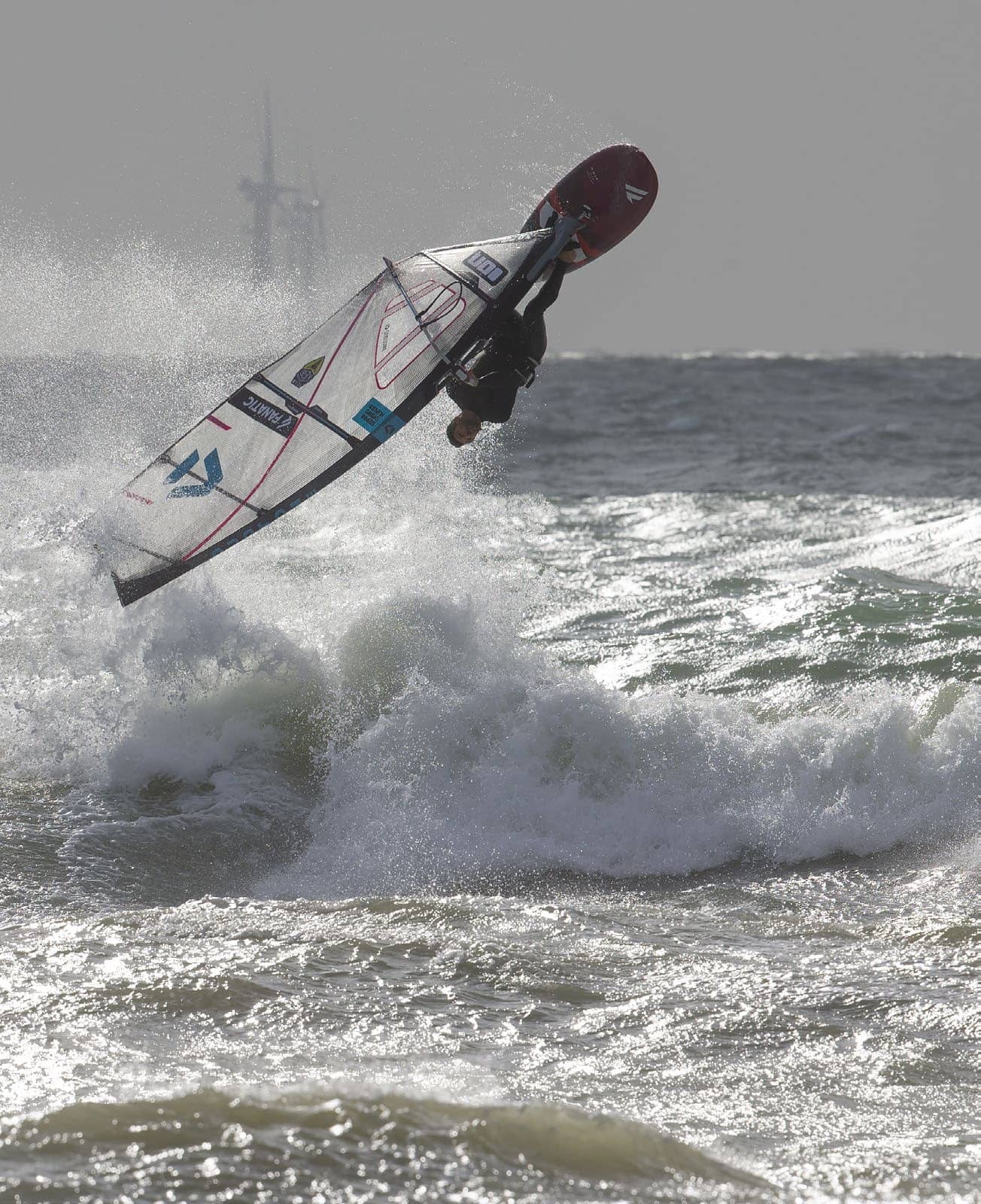 EARLY DAYS
I moved to live beside the beach in Shoreham when I was nine, but I was mostly into whitewater canoeing, BMX racing and skating. On my 12th birthday my dad got me a kids rig so he could teach me. I learned outside our house. Once I got my teeth into it, pretty much all my other sports fell to the wayside. I was very light so I could plane in bugger all wind. My dad used to tie my rig with a piece of rope to the groyne so I could not go too far out. As a kid, once I was planing I was so excited I always forgot I was tied to the groyne so I went over the handlebars countless times. I could not get enough of windsurfing. My first real board was a BIC Show, which was about 3 metres long and a supposed short board. It was amazing, I loved it. I went from that to a Limited Edition 250. When I was 13 or 14 I had custom Teltale sails made in black, with a lower clew and lower cutout. We went on the water regardless of conditions. When my dad was working, I would walk my kit up to the car park on a trailer with Danny Seales. It was summer sea breezes and 15-20 knots and we would sail on the lake which was only 80 yards wide. I did so many gybes I reckon that is how I got quite good for indoor (laughs). I have so many good memories of those days. I lived on Pot Noodles so I could eat quickly and get back out on the water.
I started out racing when I was 15. My dad switched from a recruitment business to a windsurfing shop, which really changed his life as well as mine. I went along to an event at Worthing and Fanatic distributor Mike Prout, who had just received the new Fanatic Ultra Cat, offered to lend it to me for the weekend. It was an amazing board with cool graphics. I followed the leaders around, especially a guy called Chris Lovelock, and won all the races in my class. At the time there was a Robby Naish trophy for the youth that won the series and we made a deal that if I won it then my dad and Mike would work out a way of getting me to Hawaii to meet Robby Naish. I won everything after that, Robby Naish was my hero, I guess he still is; I was going to Maui come hell or high water! I enjoyed all the racing and the technical side of it, but ultimately I was into the waves after I had my first taste at the South West Funboard Cup down in Cornwall where I saw the likes of Duncan Coombs and Stuart Sawyer sailing.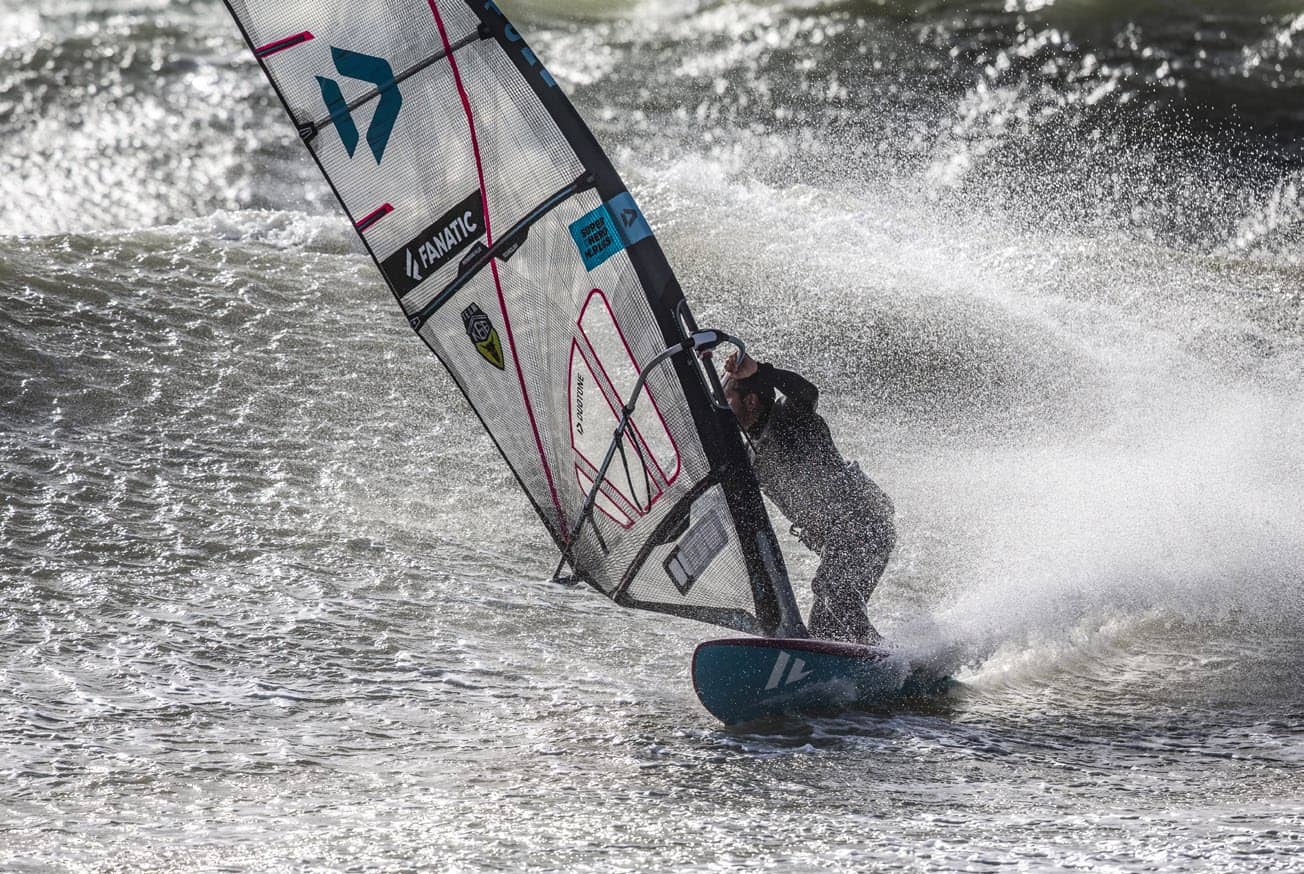 SOUTH COAST
You can read up to 3 premium stories before you subscribe to Magzter GOLD
Log in, if you are already a subscriber
Get unlimited access to thousands of curated premium stories and 5,000+ magazines
READ THE ENTIRE ISSUE
Issue 396 - August 2020