REDEMPTION DAY!
Windsurf|Issue 396 - August 2020
Renowned for its windsurfing and variety of spots to sail at, Kimmerdige Bay is a wave sailing jewel on the south coast of England. Timo Mullen gives a guide to its shores while reflecting on why a recent session there was a reminder that there is no place like home!
K-Bay firing!
'K-BAY'
When I decided to move to Poole in Dorset, the range of quality windsurfing locations nearby was a major drawcard. One of the best in Dorset, if not the whole south coast of England, is Kimmeridge Bay, or 'K-Bay', as it is often known. It has a couple of really world-class breaks. The main part of Kimmeridge is the actual bay, which is kind of known as a more intermediate sailing spot. I actually sail the bay 90 percent of the time when I sail at K-Bay. The jumping is insane and also the wave riding on the west side of the bay can be really fun. The wave can be pretty hollow and I have had some of my best hits and wave rides actually just in the bay. The 'Ledges' are a series of rocky ledges east of the bay; they are a more 'bowly' wave and get a lot bigger than the bay. We generally sail the 'Ledges' when the wind is from the west, which is dead side-shore and it can be quite a challenging wave to sail. A lot of guys have broken equipment out there and I would say the 'Ledges' is more for experienced sailors only, stick to the bay if you have just bought some nice new gear and you want it to remain shiny! The jewel in the crown of Kimmeridge, and definitely only for expert wave sailors, is 'Broad Bench'. Lying on the western side of the bay is a world class right hand point break. It is extremely heavy and one mistake on the 'Bench' and you have a high chance of breaking a mast and a long walk back to the car park. The walk back is about thirty minutes across the rocks with broken equipment and it is not a pleasurable experience. The wave breaks offa slate sea bed and dumps fast and heavy onto the reef. But, if you score a good one, the wave riding can be as rewarding as anywhere in the world.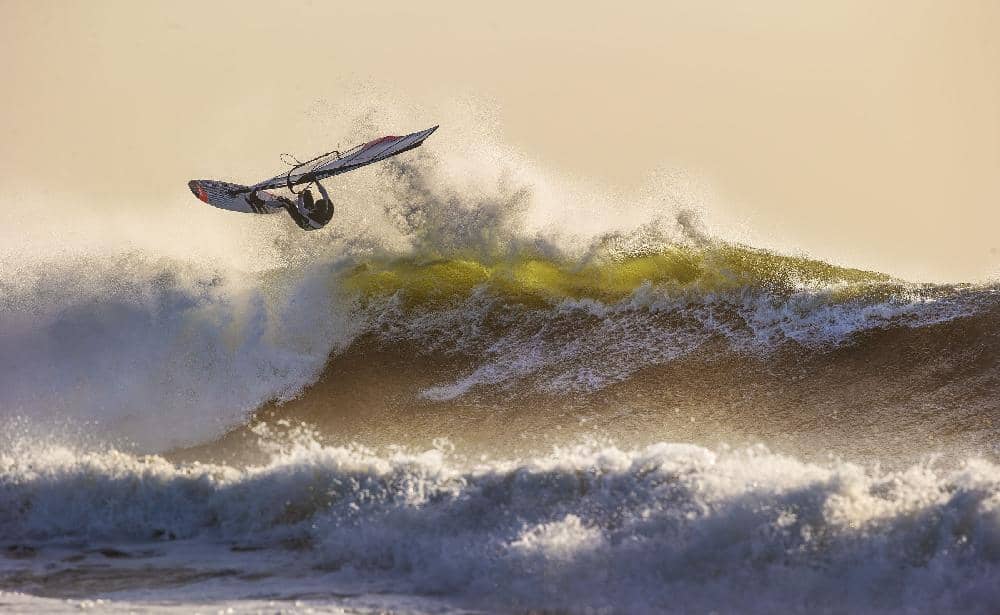 Timo bangs an air out over a chunky south coast section at K-Bay.
TOO MUCH TO HANDLE
You can read up to 3 premium stories before you subscribe to Magzter GOLD
Log in, if you are already a subscriber
Get unlimited access to thousands of curated premium stories and 5,000+ magazines
READ THE ENTIRE ISSUE
Issue 396 - August 2020