Peter Hart Masterclass - Staying Upwind-the Ultimate Balancing Act
Windsurf|Issue 391 - November December 2019
The nagging doubt that you may not make it back upwind is the windsurfer's most primeval concern. By popular request Harty offers technical and tactical upwind advice.
Freeride sports are governed by the same maxim. You first have to deal with any psychological issues before you have any chance of tackling new tricks and techniques. Windsurfing is especially special in that regard. Sailors of all standards need a psychiatrist's couch more than an instruction manual.
If you see someone delaying their launch while staring forlornly at the ocean, you can be sure they're contemplating their immediate future. At the darkest end they may be tormented by a litany of 'what happens if …' thoughts - the commonest of which is 'What happens if I end up downwind?' At remote wave locations it might mean having to clamber back in over urchin infested rocks. At the milder end, it may just mean an upwind walk of shame in front of jeering peers. But in both cases, the effect is to pour treacle on technical ambition. On clinics, whether people are learning to plane, gybe or sail waves, the simple equation is that those having the most success are staying upwind. All that's good in windsurfing, planing, gybing, jumping, wave riding – and even upwind moves – are better executed when you bear off to accelerate. If you doubt your upwind competence, you don't have that freedom. So what's the problem?
A TECHNIQUE FINESSE TEST
Upwind sailing is harder technically. Try this analogy. Planing off the wind is like waterskiing behind a powerful speedboat, hanging onto a thick, unbreakable rope. You can be as unsubtle as you like and the boat has plenty of torque to cover for your imprecision. But as you turn upwind, two things happen. Firstly the motor loses horsepower; and secondly, that thick rope turns into a thin and easily breakable filament of cotton. If through heavy feet you cause sudden drag, the motor doesn't have the guts to keep you gliding. And if you heave back violently on the handle, the filament breaks.
Basically upwind sailing demands that you make much more efficient use of the wind and power available. Sinking the tail or over-sheeting is all it takes to break the cotton. I'm going to cover those the technical issues later. The good news is that you can improve the situation just by being smarter tactically and through your kit choices and setup.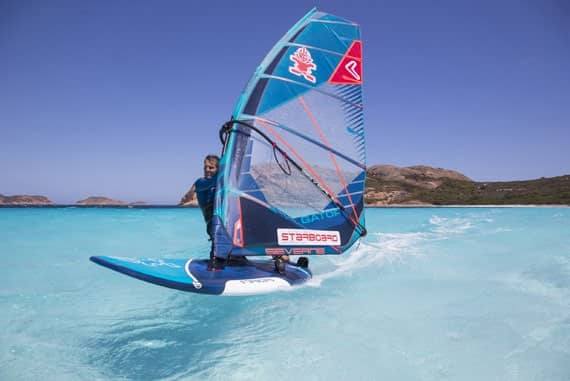 AVOIDING THE WASTAGE
Often I head out for a one to one with someone in the waves or on flat water, and I'm amazed how within a minute of launching, I find myself 100 metres upwind of them. It's not a race. I'm not trying to humiliate them. It's not that I'm better. It's just that experience (often bitter) has taught me to value upwind yards like a desert dwelling Bedouin treasures water.
The biggest steps towards upwind improvement come not from technical refinement, but from just being tactically smarter, being more aware of how wind and water can help or hinder – and from not wasting any yards. Some of the following points may sound simple – but they're also the easiest to ignore..
Where's the wind coming from?
One of the commonest upwind issues arises from 'empty horizon syndrome.' It's where you scream away from shore happy as Larry towards the open sea the happiness coming from the speed generated by an unintentionally broad reach. It's only when you turn around and spot your vehicle a mile downwind that you realise the error of your ways. It also explains why many claim they can plane on the way out, but not on the way in; because on the way back, they're reluctant to bear away below their intended goal, for fear of ending up even more downwind.
It's very obvious, but clocking the wind direction relative to the shore gives you an upwind/downwind demarcation line and tells you in which direction you need to set off in order to stay upwind of that line. Initially physical objects - buoys, moored boats, headlands etc. acting as upwind transit markers - help to keep you oriented. However, gauging your point of sailing relative to the land is ultimately flawed, because the wind direction, even in un-gusty places, is forever changing.
USE EVERY GAP IN THE GUSTS TO MAKE UPWIND METRES.
Feeling the shifts
You have to be able to feel what point of sailing you're on from how the pressure loads your hands, harness and feet – and by the same token feel when the wind shifts. Apologies for teaching experienced racers how to suck eggs, but here is the briefest explanation on how to recognise wind shifts. Changes in direction are known as either 'lifts' or 'headers.'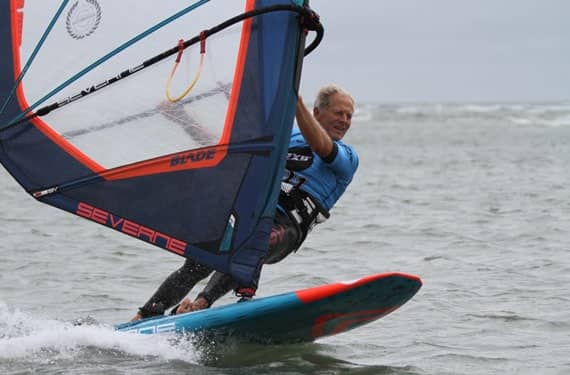 A lift. We like a lift. It's when the wind swings to your rear quarter effectively placing you on a broader reach.
Symptoms: it feels great. You accelerate as if you've just beared away. An increase in power pulls you inboard and opens you out (makes you sheet out). The balance of power moves to the front hand and the front foot – and yes, it can provoke the odd catapult. A 'lift' is so called because it 'lifts' you up towards your upwind destination. But to exploit it you have to head up as soon as you accelerate. If you carry on straight you're effectively going downwind. A header. It's the opposite in that it 'heads' you away from your upwind goal. The wind has swung to hit you more on the nose placing you on a tighter reach. Symptoms: you slow down; drop off the plane (if you were on it). The sail shakes and staggers; you tend to fall back and over-sheet. The pressure moves to the back foot and the back hand. To keep going you have to bear away; or, and this is the way to gain ground, tack! On the opposite reach that header becomes a lift.
If only it were that simple. Decisions have to be made like, will the wind shift last? Is it substantial enough to warrant a tack? Or will the speed and ground you'll lose by the act of tacking outweigh any gains from the lift itself? And there begins a whole tome on racing tactics.
Waves – when and when not to use them
You can read upto 3 premium stories before you subscribe to Magzter GOLD
Log-in, if you are already a subscriber
Get unlimited access to thousands of curated premium stories and 5,000+ magazines
READ THE ENTIRE ISSUE
Issue 391 - November December 2019