PWA Youth - The Watch List
Windsurfing has a future if we have kids ripping and thanks to the efforts of the organisers of the PWA wave events in the Canaries the PWA youth fleet is flourishing with a group of young women and men who are multi-skilled, multi-lingual and bursting with talent and ambition - nearly all of them want to be world champions! Read on as we find out more about some of the top performers and characters along with two of the UK's own flying the flag in the fleet.
Marino Gil, Miguel Chapuis, Alexa Escherich, Takara Ishii, Titouan Flechet, Liam Dunkerbeck, Julia Pasquale, Hayata Ishii, Maria Morales, Alexia Kiefer Quintana, Carlos Kiefer Quintana, Pepe Krause, Ruaraidh Somerville and Lucas Meldrum
MARINO GIL
"I REALLY LIKE EVERYTHING ABOUT WINDSURFING."
I'm 17 and live in Gran Canaria, Spain; I'm Spanish but my parents are from Argentina. I speak English and Spanish and hopefully I can learn something else! I learnt to windsurf in Bahía de Formas, a beach close to Pozo; my father started teaching me when I was 7 years old. I really like everything about windsurfing, but most of all is feeling free in the water and always being connected with the sea. Outside of windsurfing I like to chill with my friends, go skating or surfing or just do other sports.
I use Goya sails and Goya boards and love them! My favourite move is the one-foot backy or the stalled forward, is hard to decide! If I could steal a move from anybody it would probably be the push-forward from Ricardo! My dreams are for sure to become world champ one day, I will try my best to make that possible. My funniest windsurfing experience was trying to find a new spot with one of my friends and nearly falling off a cliff!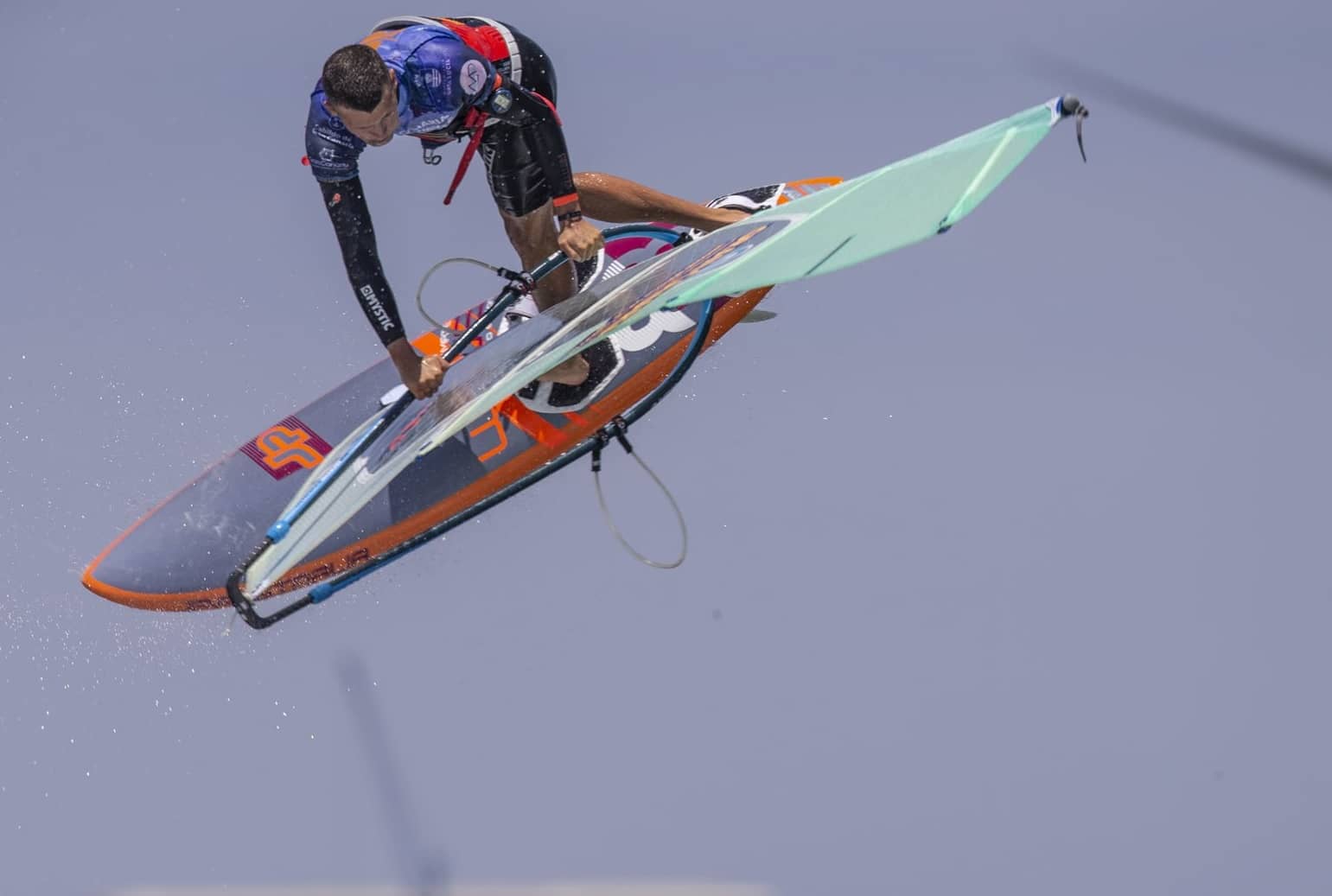 MIGUEL CHAPUIS
" IT WOULD BE PRETTY SICK TO INVENT A NEW MOVE."
I am 18 years old. I live in a small town in the south of Spain called Tarifa, famous for its strong winds and beautiful landscapes. I always train in Tarifa and during the winter you can get some good conditions and a lot of variety. My favourite spots are Playa Chica and Caños, which I enjoy a lot and it's where I feel the most confortable.
I'm from Spain, but my father is from France so I also have French nationality, and I can speak Spanish, French and English. I started windsurfing at the age of 9 in Tarifa and I have to be honest that I had a hard time, but once I got it I was hooked. My parents both know how to windsurf so they taught me and are the ones that got me into it.
What I love most about windsurfing is the adrenaline of flying or riding waves and sharing sessions with friends. Outside of windsurfing I love hanging with my friends and wakeboarding or fishing with my brother, but when I'm alone I really like playing the guitar. I also like Rubik's cubes a lot, I have a collection and love resolving them as fast as I can.
My favourite move is the tweaked push loop and my favourite windsurfer is Marcilio Browne; if I could steal a move it would be Alex Mussolini's 360. My ambitions are to be in the top 10 of the PWA and also be able to travel to places with good waves around the world and also it would be pretty sick to invent a new move. One of my dreams is also to make a windsurfing movie with other riders. Kit wise I use Neil Pryde Combat sails, JP Australia Ultimate Wave boards, Tectonics Maui fins and Mystic wetsuits and harness. Funniest windsurfing experience - I once got a new set of fins and was so exctited to go in the water to try them that I forgot to screw them in, so when I got in the water I did one run and lost them, that was the end of that session as I didn't have any others!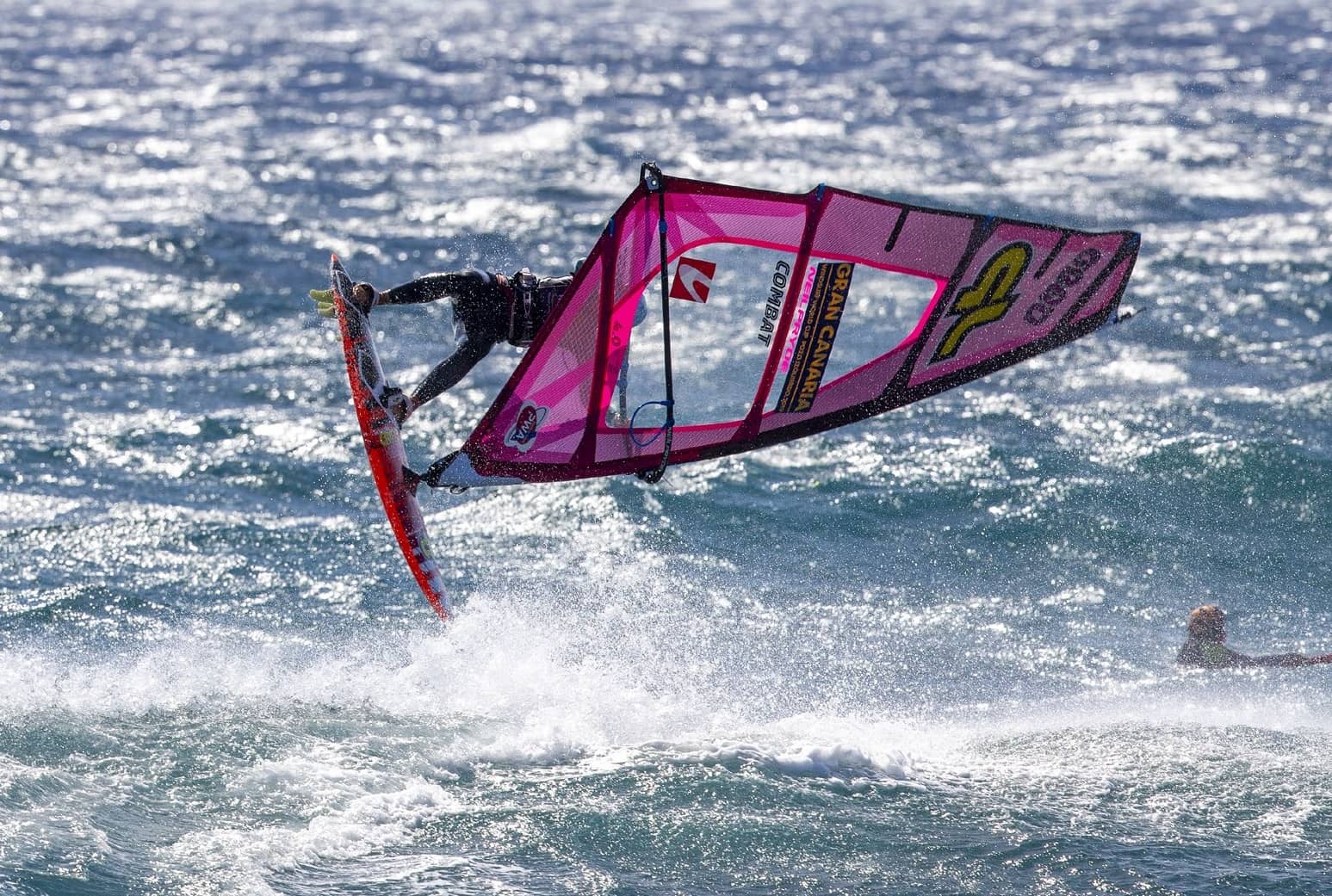 ALEXA ESCHERICH
" WINDSURFING GIVES ME A FEELING THAT I CAN'T GET FROM ANY OTHER SPORT."
I'm 17 years old and live in Munich, Germany. It's not the best place to windsurf, that's why I always train in Fuerteventura/Gran Canaria. I speak German, English, Spanish and a little bit of French. I learnt to windsurf in Risco del Paso, Fuerteventura when I was 5 and have trained there every year since then. Windsurfing gives me a feeling that I can't get from any other sport especially when sailing with friends. Outside of windsurfing I love to play the piano, it's something that I've been doing for as long as I've been windsurfing. I also really like to surfskate and as for other skills, I like to think that I'm good at photography and calligraphy.
I use JP / Neil Pryde gear, my favorite move is the Funnel and I'd like to steal the Bonka of Yentel Caers. My ambitions and dreams are to make windsurfing a well known sport again. The funniest thing that happened to me windsurfing was in El Medano 2017. The men's heat was running and I wanted to test my gear to see if everything was working properly for my upcoming heat. As I was sailing I wiped out and my kit ended up stuck on the infamous Godzilla rock and I was swimming for quite a while. Rather than filming the guys ripping, the live streaming guys thought it was more entertaining to film me struggling to get to my equipment!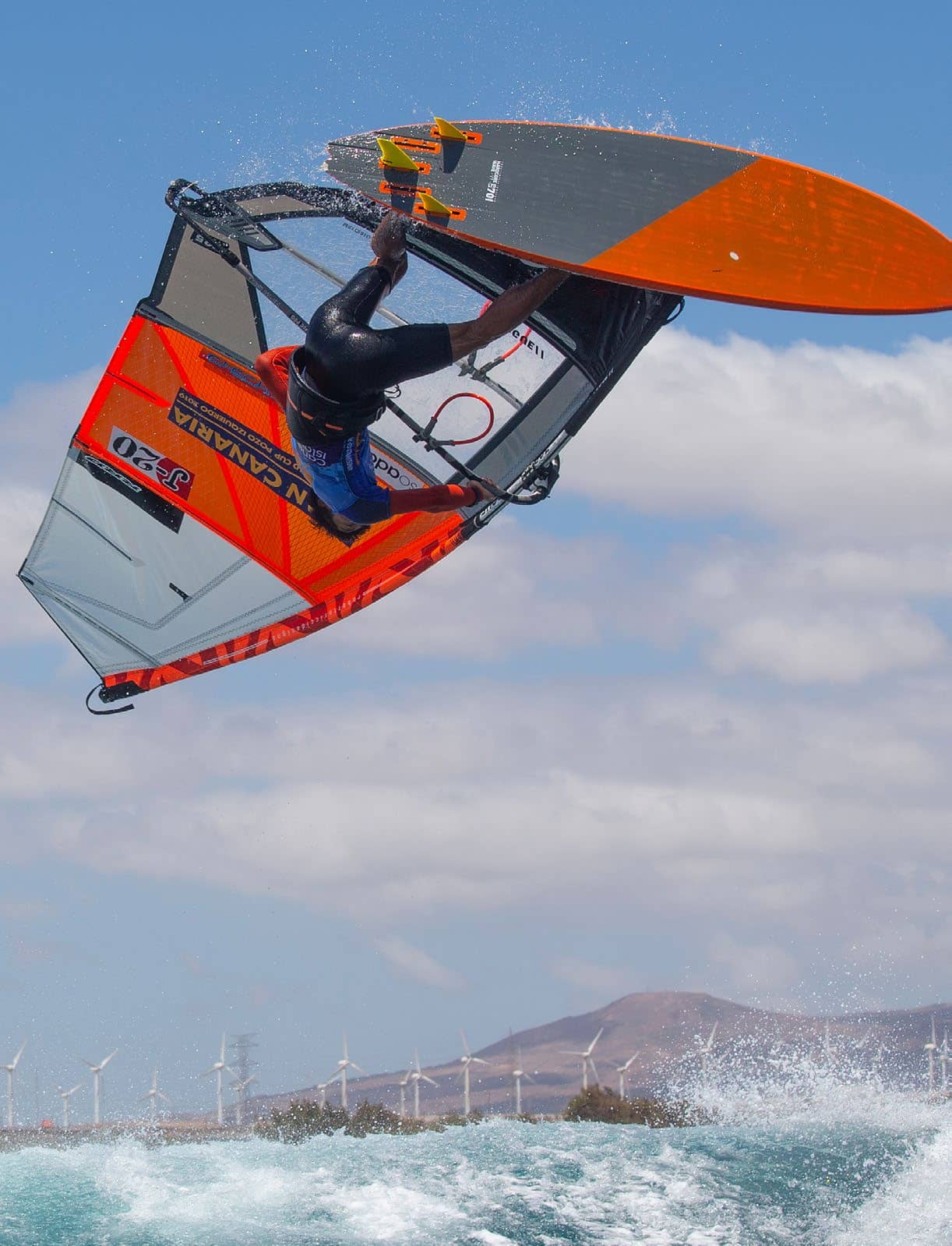 TAKARA ISHII
"MY FAVOURITE MOVE IS THE DOUBLE FORWARD."
I 'm 18 years old and am from Japan. I live in Omaezaki and that's where I learnt to windsurf at 5 years old, my dad taught me and he also windsurfs and had a windsurfing school. Omaezaki is the most famous wave riding spot in Japan and works from November through until March. I started out as a racer but when I saw Alex Mussolini come to my
home spot when I was 14 I wanted to learn waves and be like him! Now the PWA judges call me 'Mini Musso', so I must be on the right track! My ambition is to win the PWA and one day become world wave champion. I am training as much as possible and competing in all the PWA and IWT events I can! One day I would like to beat Koester and all those top guys. I need the push loop forward and maybe a triple loop (laughs)! I don't get scared when I go really high, it is fun! I also like big waves, so one day I also want to ride Jaws and other big wave spots.
I have some Japanese companies that sponsor me which my dad helped me get, the biggest is a hair removal company 'WAX XXX'. I also have a few other outside sponsors as well as RRD within the industry; RRD designs are so nice, I tried lots of different gear but RRD suited my style the most. My favourite move is the double forward, I can't land them consistently, but I like trying them! I often decide to train a move when I go on the water and just keep trying it until I get super tired. I also watch moves I'm trying to learn on video so I can get it in my head how to do it. I have a professional trainer to help me offthe water and I have a fitness training programme I follow every day. I travelled to the Canary Islands this year with my brother and a few friends but sometimes I go alone. I finished school last year so now I am free to windsurf full time. I have a driving licence in Japan so can rent cars when I am abroad but I find driving them scarier than doing a double forward! The only thing I miss from home though is Japanese food; I miss that after one day of being away! Other than windsurfing I like to do all the other outside sports like surfing and skateboarding. I also like computer games when I am relaxing at home. My worst experience windsurfing was in Morocco last year when the waves were 5-6 metres. I broke my UJ after a wipeout on the most powerful point of the wave, I lost my sail in the water and spent a long time swimming, it was pretty scary.
You can read upto 3 premium stories before you subscribe to Magzter GOLD
Log-in, if you are already a subscriber
Get unlimited access to thousands of curated premium stories and 5,000+ magazines
READ THE ENTIRE ISSUE
Issue 391 - November December 2019