PHILIPPE BRU
Windsurf|Issue 395 - May 2020
Philippe Bru is the man who has put long distance windsurf racing on the map and most certainly has a vision for our sport, he gives us an insight into his life and his legendary DéfiWind events.
ROOTS
I was born in Africa 53 years ago; it is where I spent the first 20 years of my life! During a summer stay in France in 1977 when I was 13 years old I discovered windsurfing through my uncle, one of the first windsurfers in the Mediterranean. Back in Dakar, Senegal, our "elders" had brought back some windsurfing kit and quickly set up a structure to take people from initiation to competition standard. And now here I am in 2020, still with a passion for windsurfing intact! I have been practicing our sport for more than 40 years now. I have tried everything, done everything, practiced all aspects - Windsurfer / Dufour / Open / Pan-am / Funboard ... and of course more recently foiling!
CAREER
Back in France in the 80s, I studied sports management in Montpellier and then went to Gruissan, the land of Tramontane wind, and never left! For 20 years from 1990 to 2010, on assignment for the town of Gruissan, I organized, structured, promoted and developed the practice of watersports in the region. My first 'event' was the French championships back in 1991. Now in 2020, my headquarters remain in Gruissan, but I spend most of my time travelling around the world, windsurfing and surfing, accompanied by my sons, Paul & Julien, who are now friends and business partners. I am currently president of PBO - "Philippe Bru Organisation", an event agency specialized in watersports.

DÉFI WIND JAPAN
Miyako Island in the province of Okinawa, 2000 km south of Tokyo, near Taiwan, is a small tropical island. There is not much going on there beyond tourism, 99% of which is the domestic Japanese market. It's a peaceful place and the leisure market is oriented towards golf and cycling, with little devoted to windsurfing previously. Some people are windsurfing there, but there's a really strong potential for Miyako to become a prime windsurfing spot given the island's tropical nature and wind stats. DéfiWind Japan is a tool to promote the destination and show its suitability for recreational watersports. The first edition of the DéfiWind Japan took place in 2019. Its origins began in 2017 when a Japanese delegation came to the Défi Wind in Gruissan and asked me to duplicate the concept in the land of the rising sun, and here we are!
After the first edition in 2019, the local organizer wanted to add a second part, reserved for the best sailors in the world wSuperstars was born. When you have in front of you the best windsurfers on the planet, big prize money and committed organizers providing good logistics, the game will be clear – for racers it won't be "easy money"! It will be a question of "playing" with the natural elements and variations of the water, islands and landmarks, without limits and without rules except "your responsibility". It will be a question of being more than the best, it will be necessary to have endurance, speed and be a real seaman.
The DéfiWind wants to be and will always be "different" by proposing really committed races. For DéfiWind Superstars we gave a nautical chart of the event site to the riders and had done a scout by boat beforehand to check the area was clear and all routes were possible. We could start from point A and come back to point A and the distance was about 70 km – and we did it! One cannot organize an ambitious event like this, bringing together the best in the world, without being fit for the task and without placing the riders at the heart of the event. Discussions on the amount of prize money were therefore along these lines. The local organizer, who has significant financial means, wanted to follow my lead and do something exceptional and in the end we offered a 50,000 euro prize fund!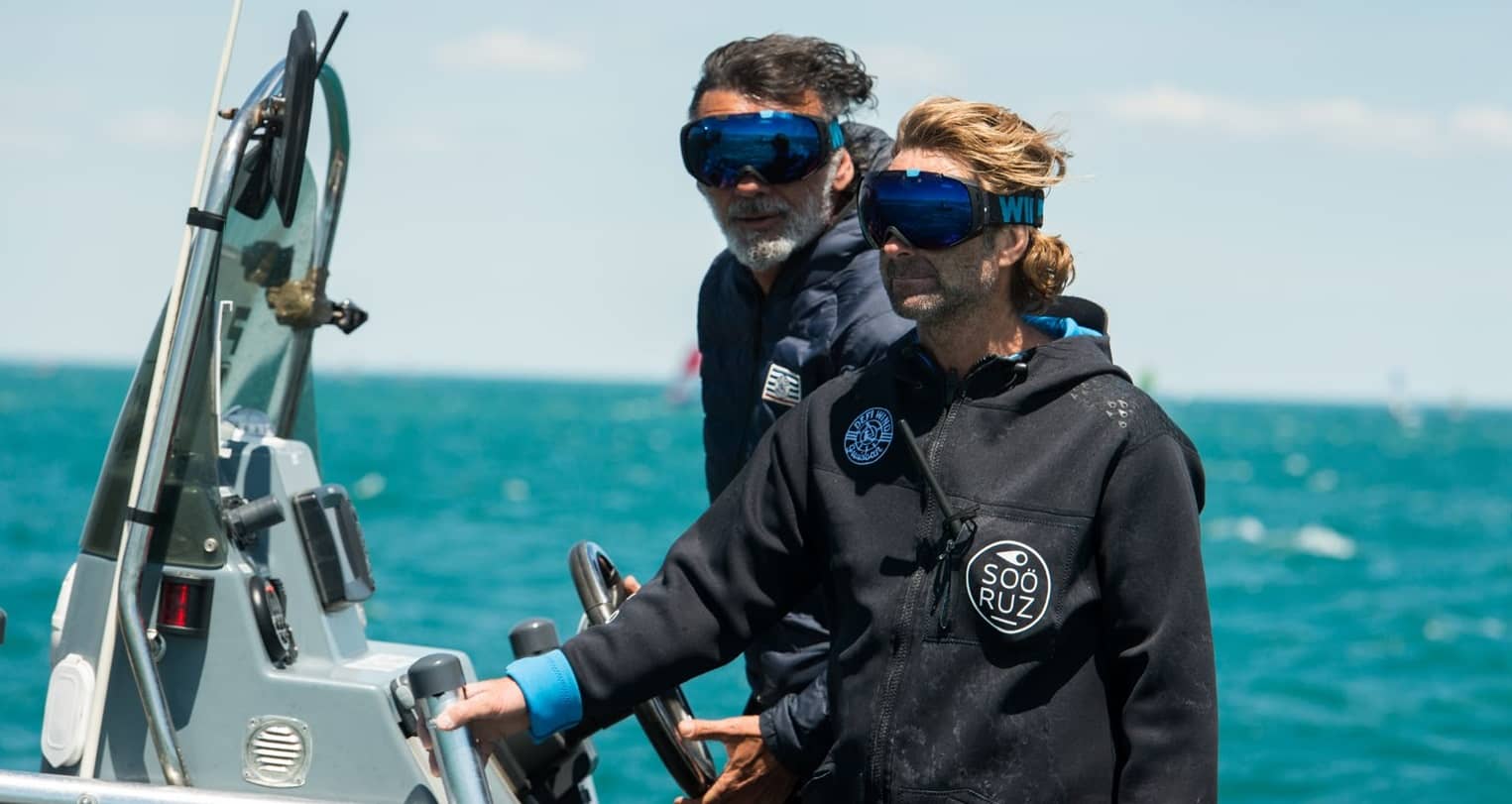 DÉFI WIND GRUISSAN
You can read up to 3 premium stories before you subscribe to Magzter GOLD
Log in, if you are already a subscriber
Get unlimited access to thousands of curated premium stories and 5,000+ magazines
READ THE ENTIRE ISSUE
Issue 395 - May 2020