Marcilio Browne
Windsurf|Issue 395 - May 2020
Touted by many as the best wave sailor at Ho'okipa, Marcilio 'Brawzinho' Browne narrowly missed out on his second wave sailing title when events did not go his way at the 2019 Aloha Classic. But with a new baby in his life and an epic winter season to look forward to, Brawzinho didn't waste time dwelling on the past and rode his way into the new decade with some of most insane airs and hits ever witnessed at Jaws. With a car rental business also keeping him busy, as well as wave sailing clinics with his Goya teammate Levi Siver, John Carter sat down with the 30-year-old Brazilian to hear how he is living his best life!
ALOHA CLASSIC
The 2019 Aloha Classic was not an event that worked out for me. I did not sail that great and it just was not a normal Ho'okipa situation. The wind was very light, there was a lot of current and a huge swell. Even with twenty-minute heats, time would pass really quickly the way it was on the water. From the moment you fell, it could easily take 15 minutes to be back in the lineup. With so much on the line it was hard to start taking risks at the beginning of the heat. It felt like I was out of sync with the conditions. I was waiting for a north peak set and it just never came. After my next wave I was swimming and lost many minutes. I felt like I only caught a few waves all competition. I feel like I hardly sailed at this event. I felt like I was swimming, trying to get past the rocks, trying not to sink or trying to not get a wave on the head. I would go sailing on a day like that, but it was the kind of day you really needed to take time to pick off the cherry waves. Maybe two waves an hour and avoid going on the rocks. The way it was we had to go on anything and risk breaking gear. Twenty minutes felt really short. We had to do it like that. It was not prime and clean Ho'okipa. The girls had a good day and it was ok for the juniors. It would be nice if the pros could have sailed in proper Ho'okipa and not just when it was huge when the other fleets could not make it out. Hopefully next year we get the prime of the forecast. That was nobody's fault, it was just the weather. I am not complaining. It was good for the sport. I am sure people loved watching the guys go on the rocks in those survival conditions.
It could have been worse. I finished second overall for the season. I am happy with that. I obviously would have liked to be number one, but for the Aloha I just felt like I didn't even sail the event. It was like a blank. Nothing much happened and I was swimming and getting pounded. It was not like the days and weeks before. It stings a bit at the moment but does not change anything in my life. I am going to keep doing what I do at the moment. I am happy with the year, second was still my second-best result in waves. It is so competitive with the crew of sailors that we have. It is even hard to make the top ten.
KAI LENNY
He was scary in the Aloha Classic. I was really happy when I saw him on the other side of the bracket. He is a really good down-the-line sailor. He knows Ho'okipa as well as anybody. He has spent a lot of time windsurfing and he is an incredible talent. It was great to have him in the contest. He not only raised the bar on the water, but he also brings all his followers to the event and increases the exposure for all of us. I hope he keeps on doing it.
JAWS
I feel like a lot of guys have had good sessions there over the years - Polakow, Scott Carvill, Sierra Emory, Levi Siver and Kauli. As far as my own level, those sessions were by far the best ones I have had. I had a lot of fear when going for those big hits, but also lots of adrenaline. I did not really plan either! They kind of were just decided a couple of seconds before, pretty much as I was going into the bottom turn. The setup on those waves felt right and from there I didn't think much more and just went for it. It wasn't like in a heat where you have a game plan before you go out; my goal was just to be on sets and to ride them in the pocket. The reaction to those sessions has been really positive! It is really nice to receive positive feedback from people on social media and have them stoked for something I am doing.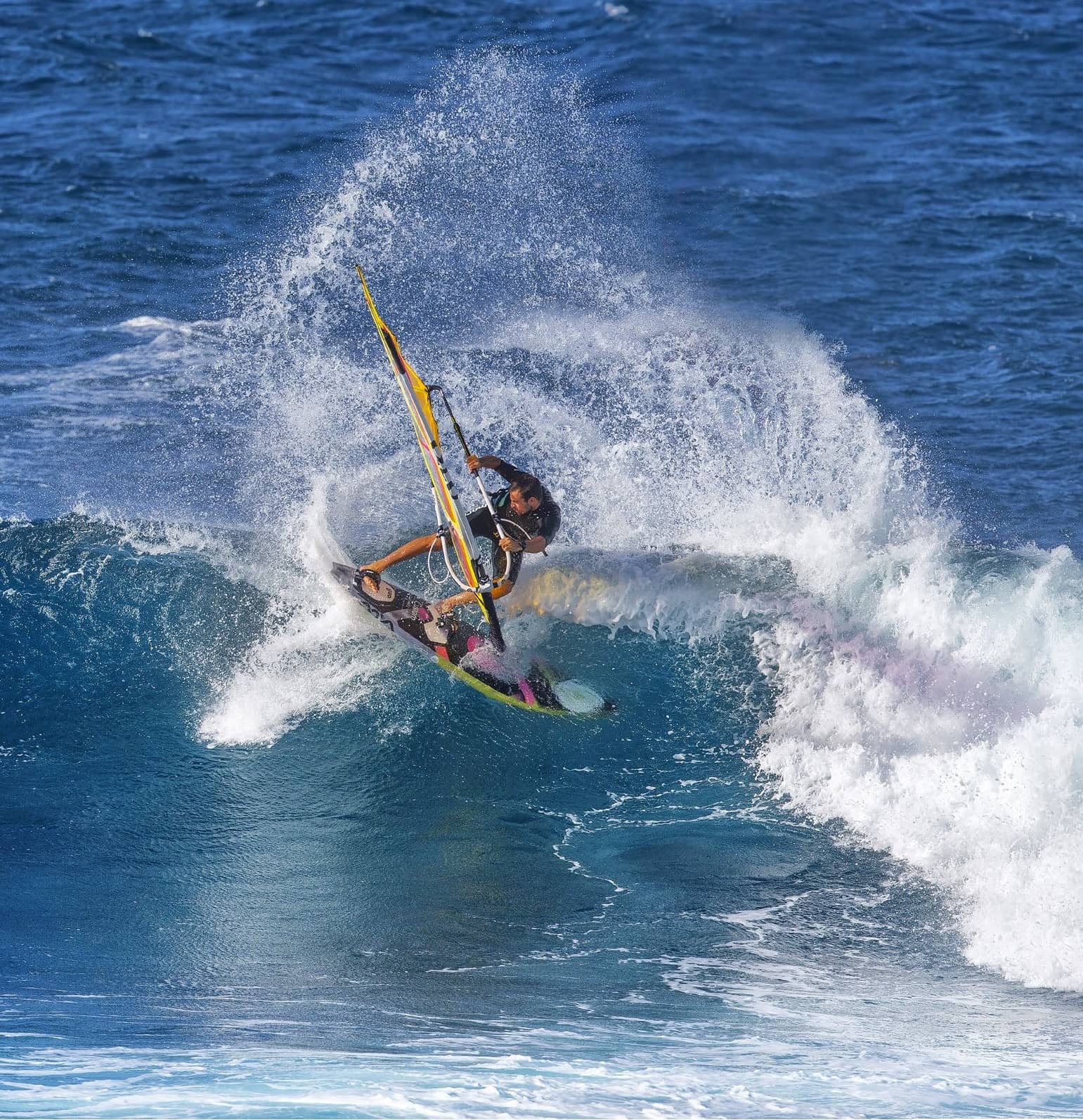 "I FINISHED SECOND OVERALL FOR THE SEASON. I AM HAPPY WITH THAT."
You can read up to 3 premium stories before you subscribe to Magzter GOLD
Log in, if you are already a subscriber
Get unlimited access to thousands of curated premium stories and 5,000+ magazines
READ THE ENTIRE ISSUE
Issue 395 - May 2020