Living The Dream?
Windsurf|Issue 391 - November December 2019
Are the current crop of pro windsurfers living the dream, or has life as a pro sailor become a stressful job involving pressure with a tonne of associated hard work for meagre rewards? John Carter does some research whilst on assignment for the Starboard team's photo shoot in Western Australia.
John Carter, Sarah-Quita Offringa, Lennart Neubauer, Boujmaa Guil Jaeger Stone, Matteo Iachino & Gonzalo Costa Hoevel
John Carter – "The playing field has vastly changed for a professional windsurfer over the past decade. With the advent of social media, stiffer competition and less money in the pot, even the world champions have to work harder to justify their salaries. Competitors halfway down the fleet have now closed the gap through the hard grind in the gym, winter training camps and boosting their profile and sponsorship opportunities by promoting their lifestyles and passions on the internet. All in all though, life as a pro sailor has become a tough survival of the fittest battleground as sailors vie for the limited sponsorship deals up for grabs. So with this increased competition and workload in mind, I posed the question - are pro windsurfers still living the dream? Of course, there are benefits and perks, but with the amount of hours they put in, is the training and testing all worth it at the end of the day? Let's face it, back in the heyday of windsurfing, most of the guys at the top did a lot less and were paid shed loads more!

I decided to investigate and what better place to do some research on the subject than on a ten-day trip to Australia with the Starboard 'dream team' on their annual photoshoot, as surely trips like this are the icing on the cake for any pro rider? The sailors invited were Philip Koester, Matteo Iachino, Jaeger Stone, Sarah-Quita Offringa, Boujmaa Guilloul, Gonzalo Costa Hoevel, and young German freestyler Lennart Neubauer, with the team all piling into seven heavily laden vehicles for the mobile shoot. It was a good mix of world champions, experienced campaigners, up and coming talent and even a young grommet. Taking part in something like this, an all-expenses-paid shoot in Australia, is surely what these sailors dreamed about when they were aspiring pros? Complaints about being a pro windsurfer would probably seem churlish to most but perhaps there is a side to their profession that we don't get to see; read on and decide for yourself if they really are 'living the dream'!

SARAH-QUITA OFFRINGA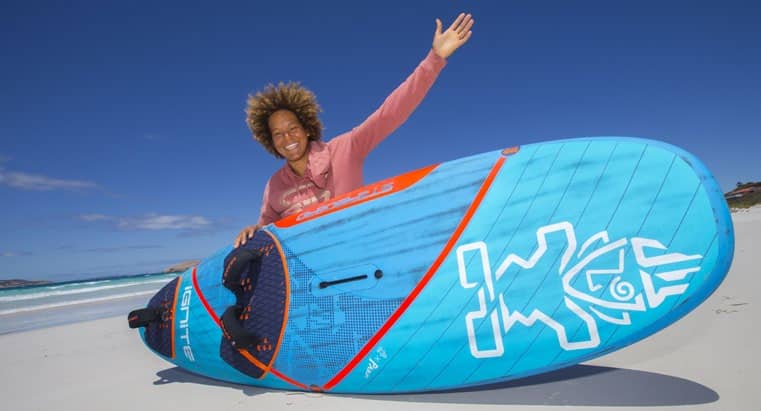 Are we living the dream? To me, that depends on how you look at it. From the outside, I feel like it looks very glamorous, which technically it is, but I can assure you that everyone is hustling hard to make this life happen. Traveling and windsurfing for a living is a lot of fun, but it can be a bit lonely some times, and carrying all this baggage with you all the time is the least fun part. But for now, I would still choose this life over a 'stable' 9-5 job simply because of the freedom I have right now.
Generally, it's a very free life and you get to fill in your calendar the way you want to. Nobody tells you what to do. As a professional windsurfer, you are your own manager. So this is definitely what makes all this fun but that's also exactly what makes it hard. To sum up a couple of aspects. There is no coach that tells you what to do, you need to motivate yourself to go to the gym, to put the hours in on the water (which is usually a lot of fun), but I also have days where I completely lose motivation because I've been out there too much, or I just can't land a certain move, so I need to remind myself every now and then to enjoy my sessions. There's no manager, so you book your own tickets, organize accommodation, and promote yourself on social media since that has become so important to sponsors. When the contests come around, it shows if you were able to put it all together to finally perform the way you want to. I think the hardest part at the moment is that from windsurfing itself no one is earning as much as before, so everyone is working to a small budget, or they have extra jobs on the sides. Everyone hustles a lot to be able to live this windsurfing life. So for that reason, I think that literally everyone is in it for the love of the sport. There are only a handful of riders that are earning enough to live off of it, but not enough to say they're in it for the money. Talk to any windsurfer on tour, and they will all explain it in their own way, but the underlying feeling is that they're all in it for the love of windsurfing.
I love competing, but the moment the contest is over, I'm probably happier to go out for "free sessions" again without time limits or move restrictions, just to enjoy the pure joy of windsurfing itself. In my opinion something that sets windsurfing apart from other sports, is for example, when people retire from the tour and traveling from contest to contest, you can be sure you will meet them in Cape Town, Australia, Mauritius, Brazil or the Canaries, any of the hot spots of windsurfing really, still chasing the best conditions and looking to improve. I mean, I'm sure that's what I'll be doing after my pro career.
Right before the competitive season, I feel like it's a nine to five job when I'm behind the computer a lot looking for the cheapest tickets, finding accommodation and organizing car rental. Once I have that stuff done and am actually on a trip it's a lot of fun. Once I'm at my training destination then I fill my days with going to the gym and hours on the water. And this is the fun part. So being on tour is both my favourite thing as well as a grind. I love all the people I'm surrounded with and have an absolute blast sailing with the best in the world and all the adventures we go through together make for ridiculous stories. At the same time, we're competing which adds some pressure and stress to your days. And when it's a couple of contests in a row, for example for me when I do all three Canarian events, even though I love it, when I arrive in Tenerife after 6 weeks in nuclear Pozo and 10 days being sandblasted in Fuerteventura, I'm absolutely knackered. Then the European leg is up, which I do enjoy, but the wind isn't as consistent so we don't get enough sailing, unlike in the Canaries, and after 2 months that usually starts getting to me. So I'm quite happy around October when I get to fill in my days with my own trips for the offseason.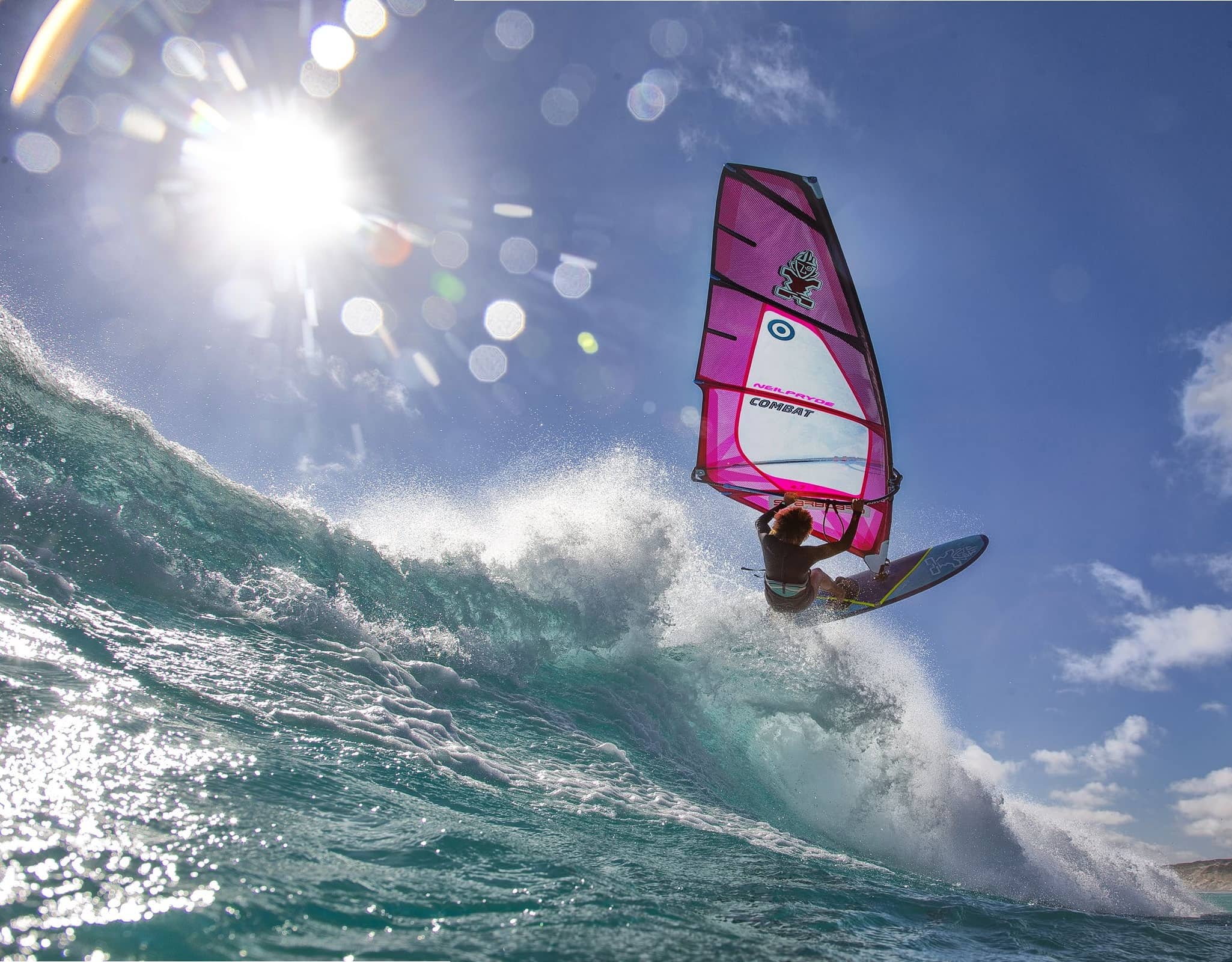 You can read upto 3 premium stories before you subscribe to Magzter GOLD
Log-in, if you are already a subscriber
Get unlimited access to thousands of curated premium stories and 5,000+ magazines
READ THE ENTIRE ISSUE
Issue 391 - November December 2019