2020 VISION
Windsurf|Issue 395 - May 2020
We asked leading figures in the windsurf industry to give their thoughts on the next decade, covering everything from cost, competition, accessibility and most importantly, their vision for the next 10 years. Candid, controversial and unplugged – here are their informed opinions about our sport's future!
Robby Naish, Roberto Ricci, Craig Gertenbach, Werner Gnigler, David Ezzy, Monty Spindler
Robby Naish in his office! PHOTO Aerial Video Maui.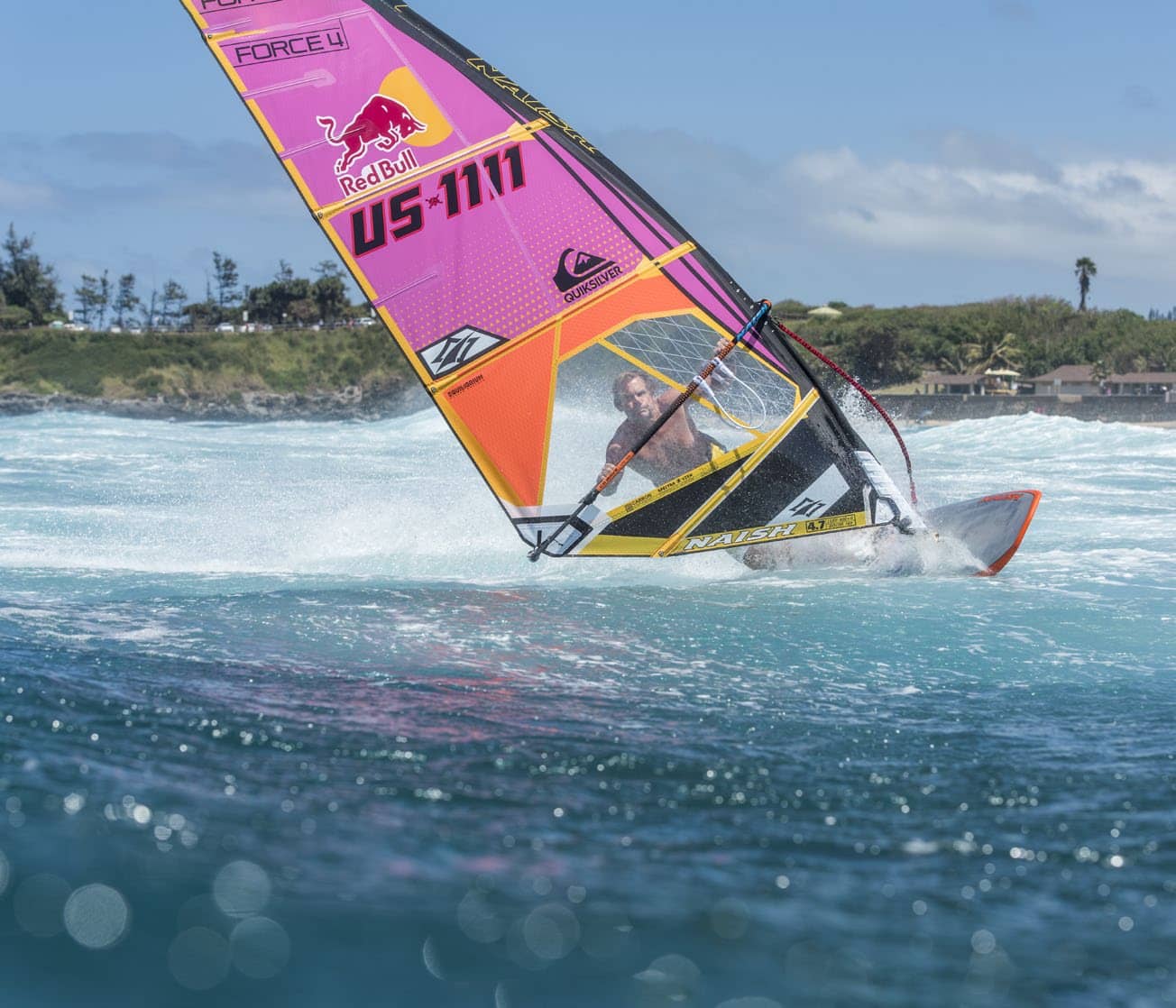 Robby ripping at Ho'okipa. PHOTO Fish Bowl Diaries.
ROBBY NAISH – NAISH WINDSURFING FOUNDER
I can honestly say that I have never really had a "vision" for the company beyond a couple of years…. about the time that we tie things up commercially with a product line. We are an organic machine that moves and adapts with the wind and tides and trends. I certainly hope to be around in ten years continuing to develop great product for the sports that we love. I am optimistic about windsurfing over the next decade. For Naish there is a lot of room for growth on the windsurfing side of things. I love the sport, and hope to stay active both on the water myself and through the Naish brand. At the moment we are investing in windsurfing and will see where that takes us.
Windsurfing is what it is. I think we're there with the equipment. It is as accessible as ever, and as high performance as ever on the opposite side of the spectrum. We have great light wind gear now, especially with foiling added to the mix. It is always going to be pretty exclusive due to the costs and time needed to really get "good'…. but that's ok. It does not have to be for everyone.
I am not really in a position to comment on the pro tour. I think that the level is amazing, in both the men's and women's fleets. It is just a matter of gaining enough of a following to justify sponsors putting money into it. The PWA has a pretty small footprint these days, compared to decades past. We had much more prize money on the tour thirty years ago than they do now… which is a shame. But it is a reflection of the size of windsurfing as a sport and the industry. I think the PWA is doing the best they can do with the resources that they have…. a great job in fact. You'll have to wait and see if there are many major development changes. Things never stay the same, though I am not really foreseeing "major changes" any time soon. Usually when I say that though, something really big happens… We need to make the sport more attractive and more accessible to younger people. To make it cheaper we could go direct to the consumer, but cutting out the distributor / dealer in a sport like windsurfing has equal and opposite negative consequences. They are what feeds the customers interest, gets people into the sport through windsurfing schools and do after sales service etc. etc.
I really want to see Naish become a real player in windsurfing again. I do not need it to be the biggest, but we have been too under the radar for a while. My roots and heart are in the sport, and though I do many other sports as well and have grown the Naish brand around those other activities, I still love windsurfing. Naish certainly does not live and die from windsurfing…. it is a very small percentage of our global sales. The desire to grow that aspect of Naish is less economical than it is a matter of personal pride. Small and exclusive is cool… but we are a bit TOO exclusive in windsurfing at the moment. Is the next decade an exciting time for windsurfing? I think so!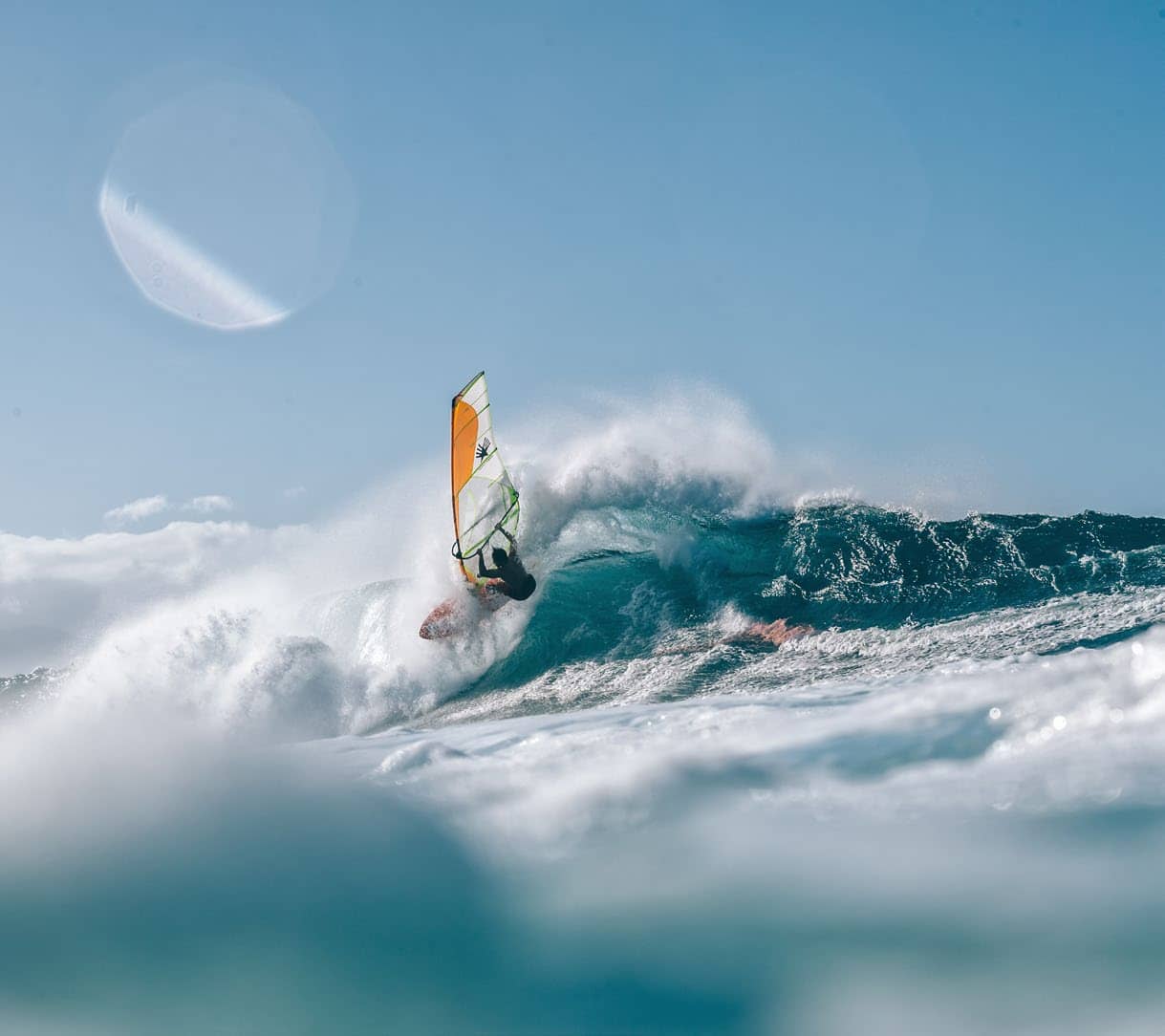 Graham Ezzy slicing off the top. PHOTO Si Crowther.
DAVID EZZY – FOUNDER EZZY SAILS
My vision for the company never changes. It is to keep improving windsurfing sails. My ultimate goal is to make it easier for people to choose the right sail by having fewer sail lines that work in more varied conditions. Over the next decade I would like to see windsurfing return to the lighter wind spots where people sailed in the 80s. I think foiling can help do that.
On the professional / competition side of the sport the PWA needs to develop a model that would allow all sailors and small manufacturers to participate. Trying to generate revenue from windsurfing manufacturers, as they do now, is not the right way to fund the PWA because the manufacturers are squeezed between high manufacturing costs and a limit to what the public wants to pay for windsurfing products. The PWA needs to find money from outside the industry and allow any rider, or brand to compete. I never chase change just for the sake of change. I seek improvements. For me, that means following idea paths by making one change at a time and testing if it is really better. This process is slow and boring, but it is the only way to make lasting improvements.
Making windsurfing cheaper is hard, at least for the high-end stuff. We are all used to electronics going down in price every year, but this model doesn't apply to windsurfing sails. Sails use high-tech materials that go up in price every year. Sails are made by hand by real people that must receive a living wage. There are about 8 hours of labour in one sail, so when you add in the materials, overheads, and shipping costs, current sails are actually a very good deal. Ezzy's attempt at "cheaper" is our Legacy sail line. It is a high performance sail at an affordable price. After 40 years of making sails, I am not even close to being where I want to be with my sails, so my goal in the next decade is to keep trying to improve them.
Will the next decade be an exciting time for windsurfing? Absolutely. To me, every day I wake up, I feel blessed to be doing something I truly love in a sport that still consumes me.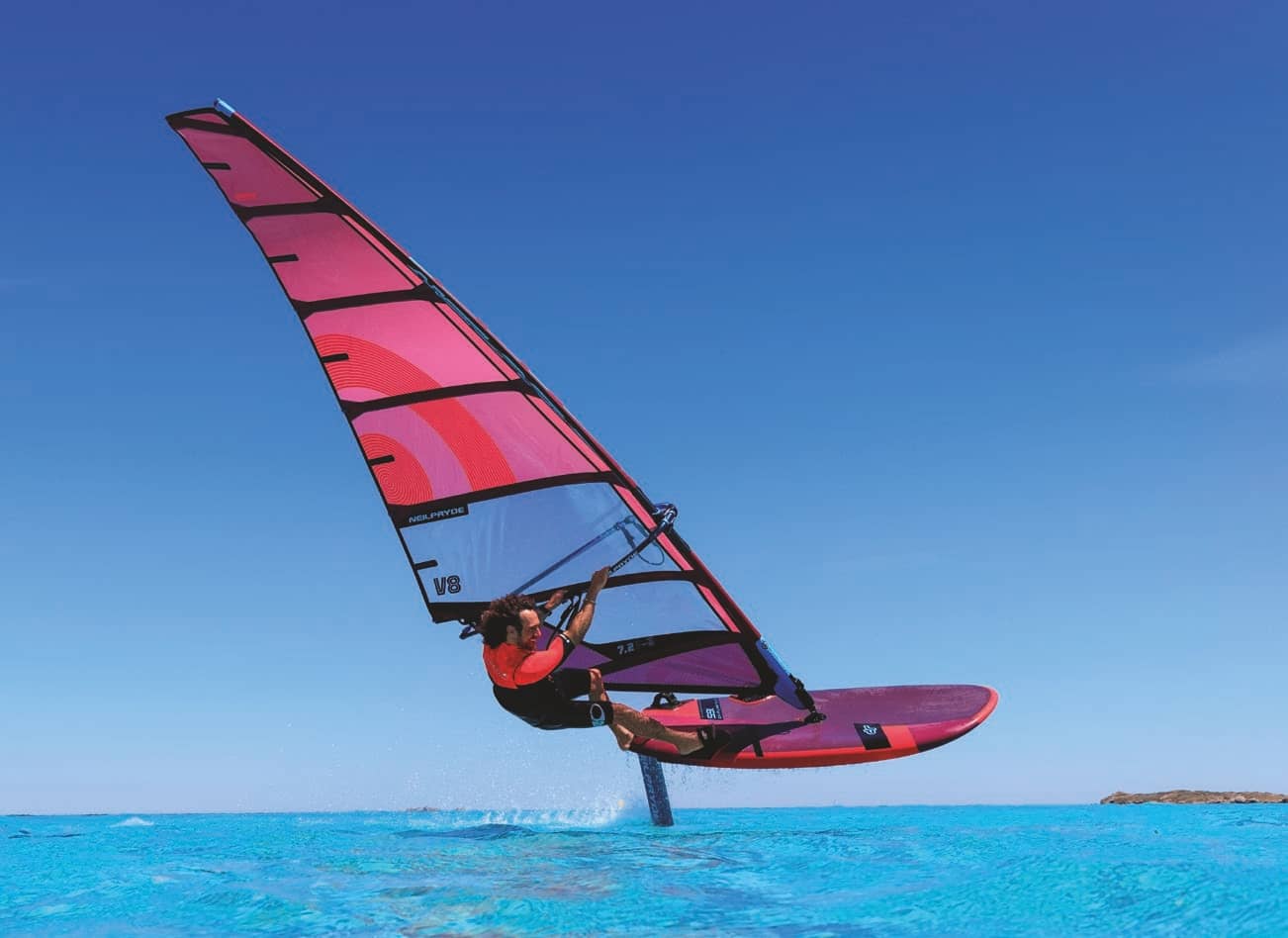 Nico Akgazciyan flying in Corsica. PHOTO Jérôme Houyvet.
WERNER GNIGLER
HEAD SHAPER JP AUSTRALIA
My vision for the company is to stay innovative and come up with top-level products that set the standard in our sport, for the mass consumer demand and on the competitive side. Due to the latest developments, we'll need to grow; on one hand cover more specialized products and on the other hand offer products with a wider range of use. This means we have to deal with a bigger range of products.
It is too difficult to foresee the decade ahead because 10 years ago, nobody had any idea about inflatables, the wing or foiling. Trends like these come up with the development of new ideas, concepts and technologies mostly from outside the windsurfing industry. We windsurfers will try to embed these new developments into our sport(s) and our product line. We need to be ready and open minded, but at the same time must keep in mind to further develop our core products for our core customers. Apart from unforeseeable developments, we will see more specialization and at the same time a wider appeal. For example wave boards and performance boards will become more specialized for their discipline and also will become easier to use in a wider range. All-round boards will be more user-friendly, but may come with additional benefits like a special foil-ability. There will be more crossover ideas and concepts.
You can read up to 3 premium stories before you subscribe to Magzter GOLD
Log in, if you are already a subscriber
Get unlimited access to thousands of curated premium stories and 5,000+ magazines
READ THE ENTIRE ISSUE
Issue 395 - May 2020