THE PERFECT STORM
Surfer|Volume 61, Issue 2
The Brazilian Storm cracked the code to competitive surfing dominance, but Brazil's next generation faces an uncertain forecast
Italo Ferreira is sitting underneath a boom mic and a florescent studio light in the front of his house in Baia Formosa when he lets out a big yawn and blinks a set of heavy eyes. It's been a long day for the 2019 World Champ, to be sure, but it's also sort of a funny sight, considering how Ferreira tends to come across on the World Tour—an endlessly-energetic, spring-loaded ball of fast-twitch muscle fibers, more akin to an avatar from Kelly Slater's Pro Surfer than a flesh-and-blood wave rider. Joel Parkinson once described him as a "minion who can bounce everywhere." But while Ferreira can light up multiple heats in a day and backflip off the podium afterward, being a newly-crowned World Champion in Brazil is draining even for him.
When he returned home to Brazil the week after the Pipe Masters in December, Ferreira stepped off the plane with his world title trophy in hand (he brought it as carry-on) and arrived to a chanting crowd of family, friends and fans, who proceeded to parade him through the busy streets of Rio Grande do Norte's largest city. His day-to-day since then has been a barrage of interviews and TV appearances with some of the biggest news outlets in Brazil. He just finished filming his new reality TV show— "Parque do Italo"—for the Brazilian sports channel "Canal OFF". Just in the few days before my visit, he pin-balled between sponsor photoshoots in Los Angeles and São Paulo, and within a half hour of arriving back home, he was mic'ed up and at it again—this time filming an ad for, of all things, a fintech startup that helps middle-class Brazilians secure personal loans.
Being a Brazilian World Champ courts a type of sponsorship seldom seen elsewhere in the surfing world. Look at the heavily-stickered boards of Gabriel Medina, Adriano de Souza and now Ferreira, and you'll see the logos of Ford, Mitsubishi, Audi, Ralph Lauren, Bridgestone Tires, Guaraná Antarctica, Corona, Oi, an orthodontic company and—let us not forget the brand behind Medina's dolphin-smooth armpits—Gillette.
Waiting for the startup's shoot to end, so that my interview can begin, I settle into an extra director's chair towards the back of the space. When it's not filled with cameras and interviewers, it serves as Ferreira's gym and board shed, and I spot Ferreira's money-making sleds sitting in a pile just behind the production crew. Propped up next to them is the famous cooler lid—a weathered, 3-foot chunk of foam that Ferreira learned to surf on when he was a skinny 9 year old and has since become a favorite point of discussion among interviewers like myself. His dad, who bought fish from local fishermen and sold them to restaurants, constantly had these coolers lying around the Ferreira household. It's easy to understand why the lid gets so much attention, considering that Ferreira is the first World Champ in history who learned how to surf on a food storage container.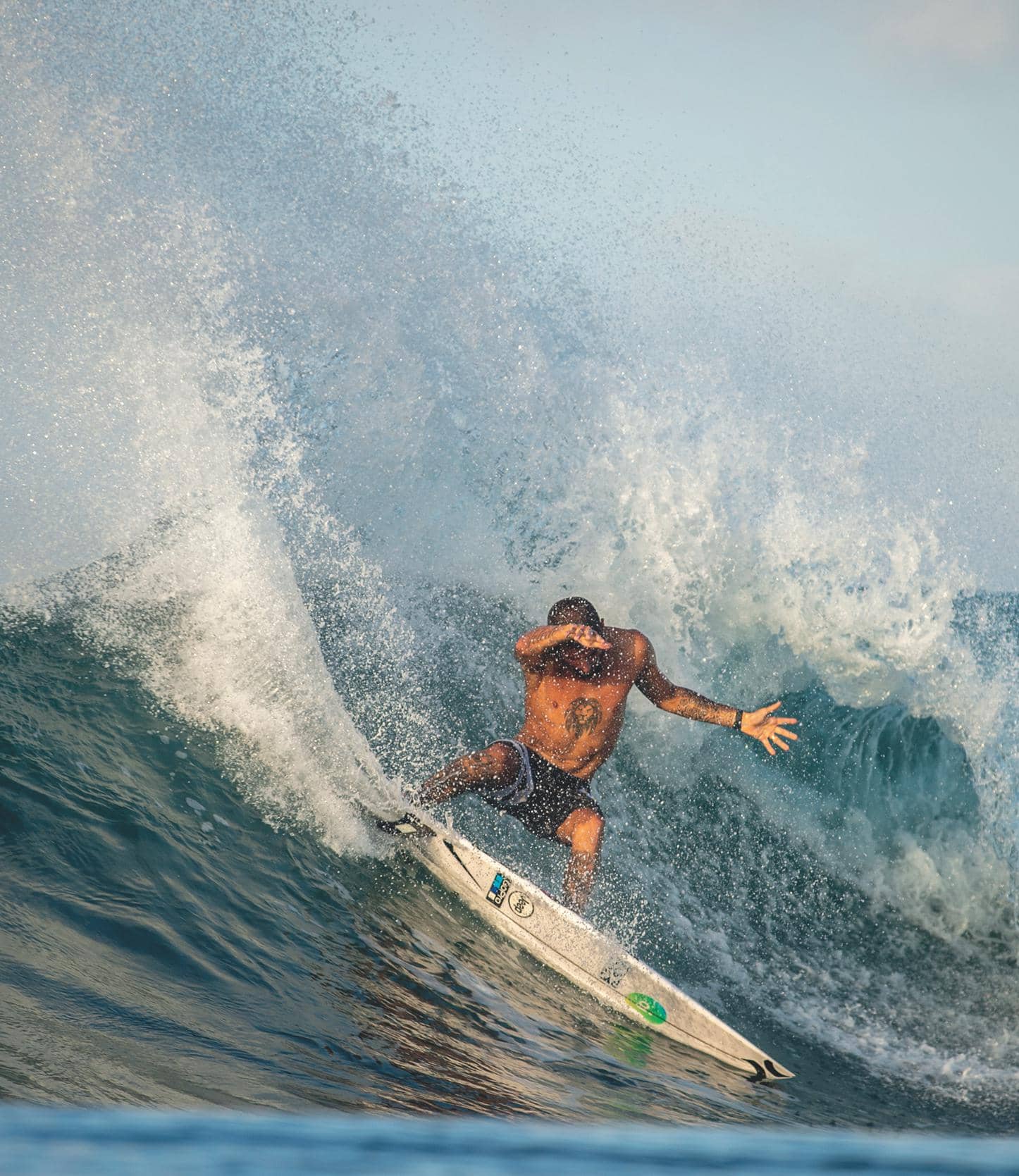 In a sense, Ferreira's humble rise to surf stardom reflects the larger shift in Brazil from a third-tier surfing nation on the competitive circuit to its most dominant force. In just the past 6 years, Ferreira—alongside Medina, de Souza, Filipe Toledo and the rest of the generation of rippers dubbed "The Brazilian Storm"—have led Brazil in claiming four world titles and winning 30 out of the past 66 'CT events. And while Brazilian surfers have maintained a presence on Tour since the '80s, with some even cracking the top 10 in the mid-'90s and 2000s, this generation represents a seismic shift for Brazilian competitors onto an entirely new plane.
Medina's first title in 2014 marked the moment when Brazil effectively planted its yellow, blue and green flag in the sand. Suddenly there was a generation of young Brazilians who could not only win in 2-foot Rio but also cavernous Teahupo'o, who could huck technical airs and also powerfully lay it on rail. And, most importantly, they could win world titles.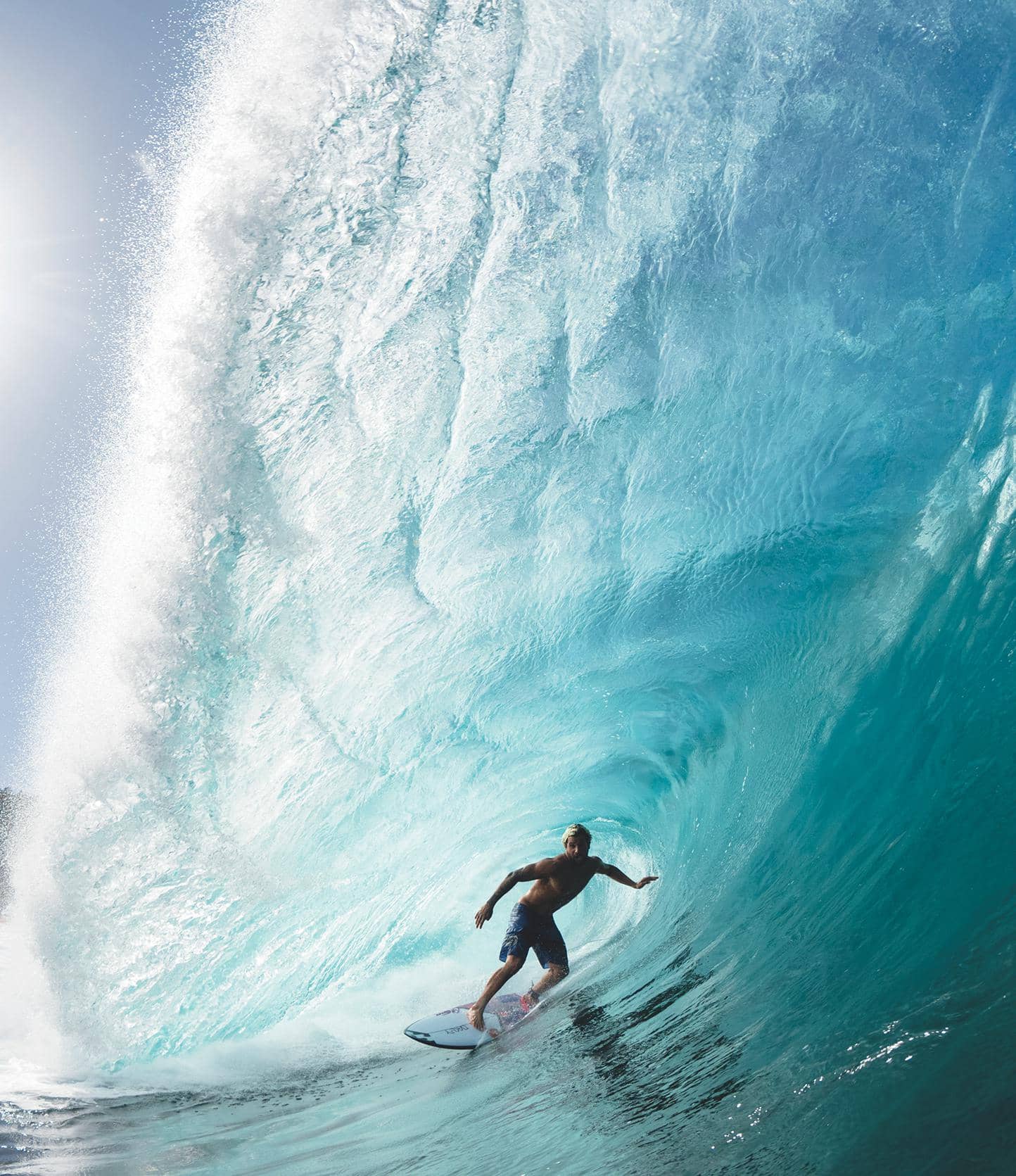 Outside of Brazil, many of these surfers were completely unknown before they qualified for the Tour. Within a few short years, they've overthrown the Tour's old guard and established themselves as the surfers to beat at any given event. Whether or not Brazil is the World Tour's most dominant surfing nation isn't even really a debate—the results speak for themselves. So how, exactly, did Brazil suddenly become the biggest exporter of world-beating competitive surfers, and will its dominance last?
You'd never know it from Ferreira's Instagram posts, which regularly show him doing things like throwing rooster tails of sand in his supped-up dune buggy along the local beaches, but Baia Formosa is a rather sleepy little town. The 8,000-person coastal enclave is a tangled web of cobblestone streets that lead to a beautiful bay. Ferreira's house—a modern single-story with a huge rectangular pool—sits just up the beach from Pontal, a rippable right point he grew up surfing multiple times a day. "We have three rights here, which is why I can surf good on my backhand," he said with a laugh as we spoke in his backyard.
After Ferreira made a few attempts at surfing on the cooler lid, his dad bought him a real surfboard, paying a local shaper half in cash, half in fish. It didn't take long before Ferreira was competing in local amateur competitions, even securing a small local sponsor. "I started winning events and I would take the money and help my dad and my mom," said Ferreira. Sometimes he'd sell the prizes he won at contests—sunglasses, boardshorts, T-shirts—to pay for airline tickets to get to other contests, using the remaining money to help support his family.
Around the time he was 13, a talent scout and manager named Luiz "Pinga" Campos spotted Ferreira at a local contest and offered him a sponsorship with Oakley. Campos, now in his 50s, grew up surfing in Rio de Janeiro and began working in the surf industry in the mid '80s. After stints with Lightning Bolt, Quiksilver and Hang Loose, Campos became Oakley's Latin America Sports Marketing Director and team manager and built a structured program for groms that altered the trajectory of the Brazilian Storm.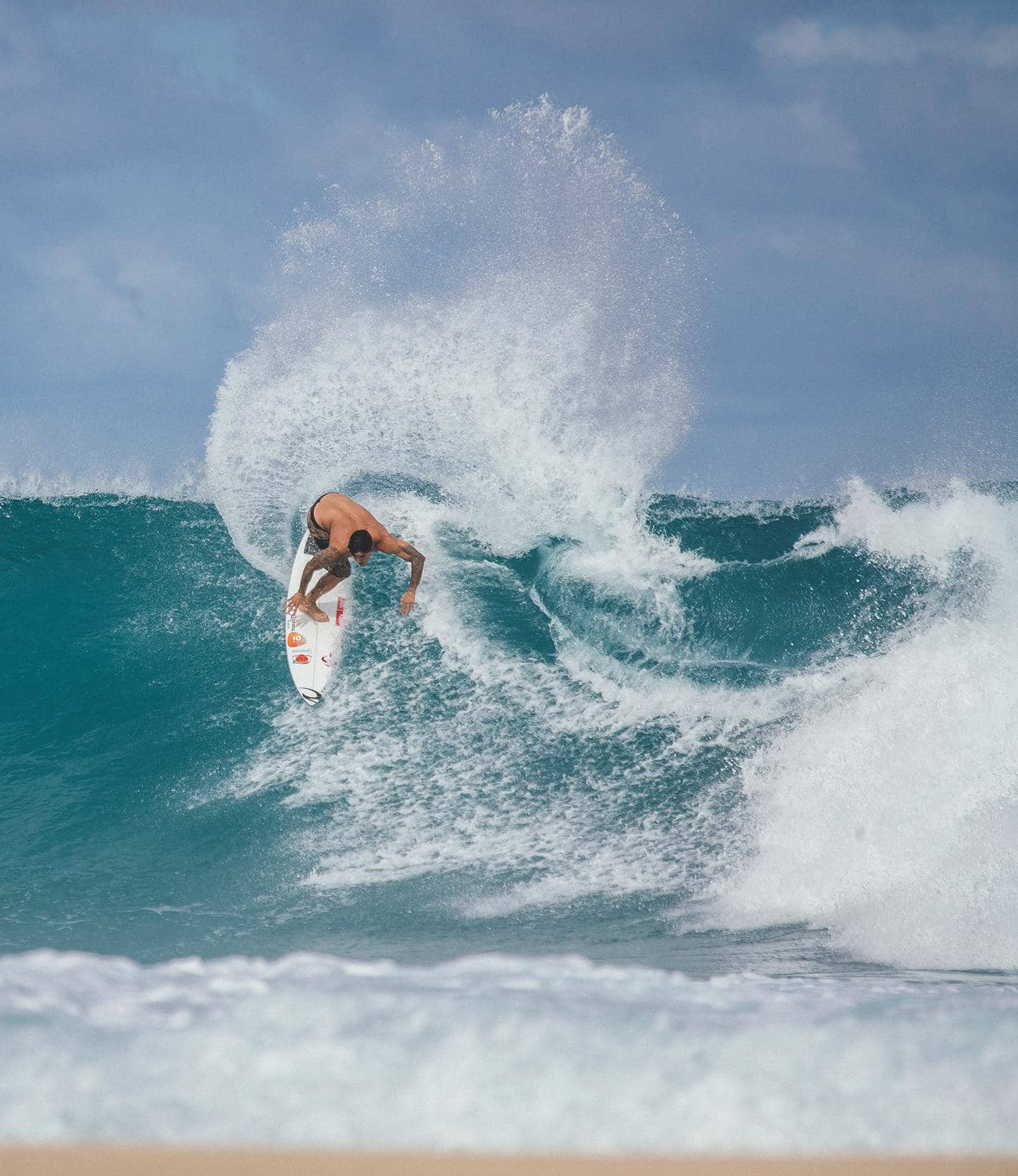 You can read up to 3 premium stories before you subscribe to Magzter GOLD
Log in, if you are already a subscriber
Get unlimited access to thousands of curated premium stories and 5,000+ magazines
READ THE ENTIRE ISSUE
Volume 61, Issue 2