No Man Is An Island
Surfer|Volume 60, Issue 1
At the intersection of modern science and Hawaiian tradition, Cliff Kapono is uniquely poised to affect positive change along his home coastlines and beyond
I was sitting on my board at the opening of a river mouth just outside hilo, hawaii, getting jostled in cloudy, brackish water by sizeable swells that had looked much more manageable from the shore. Now in the lineup, the unruly surf was only made worse by backwash as waves warped and crashed on a sinister row of boulders just 10 yards inside. "Hey, don't get too far out!" yelled Cliff Kapono, who sat on my inside, an anxiety-inducing distance from the rocks. "The current will pull you out, and the closest place to paddle in would be…" He paused for a moment to think. "Just don't go too far out."
I nervously scratched against the current until I was next to Kapono, who then informed me that I shouldn't paddle too far inside, either. In addition to the boulders, he said, there were also jagged chunks of concrete and rebar that lurked just below the surface—remnants of the sugar industry that had long since withdrawn from this particular valley.
Outwardly, I nodded like I understood completely. Inwardly, I wondered why Kapono had taken me to a deathtrap masquerading as a surfable wave—until he swung around on an ugly-looking 6-foot lump, smoothly linked a few well-timed pumps and then blasted a clean frontside air somewhere in that extremely narrow safe zone he'd described.
It made a perfect kind of sense that Kapono would find that middle ground and turn it into his own personal dance floor. Kapono is a great surfer, sure, but more broadly speaking, Kapono's life has been defined by his ability to deftly navigate the spaces between, to find a middle ground where few others could—and use it to do incredible things.
Kapono has long inhabited disparate worlds. On one hand, he's a pro surfer who gets paid to chase waves, ride them with panache and get his picture taken wearing the products made by his various sponsors. On the other, he's a doctor of chemistry, currently working at University of Hawaii alongside some of the foremost coral experts in the world to better understand and protect reefs.
In the world of professional surfing in 2019, it's common for team riders to catch their sponsor's eye with their non-surfing interests as much as for their abilities on a board. Sponsored surfers who moonlight as shapers, artists, photographers, musicians and environmental advocates are familiar freesurfing archetypes. But a skilled wave rider who conducts experiments and gathers data between swell chases around the world? That's something few in the surf industry knew what to make of at first.
"It's funny because people see sponsored freesurfers as guys who hang out and paint or whatever between sessions," Kapono told me after our surf. "I thought, 'I don't use a paintbrush, I use a pipette. But that's just as cool, right?"
In the academic world, Kapono's college professors also raised a collective eyebrow at the ambitious young scientist who kept showing up to the lab with wet hair and pterygium-reddened eyes. But who Kapono was, and the value of his ability to connect those disparate worlds finally began to come into focus for both his professors and surf sponsors in 2016, when Kapono embarked on the Surfer Biome Project.
The Surfer Biome Project was an ambitious experiment in which Kapono traveled around the world collecting fecal samples from surfers (yep, you read that right), then used something called mass spectrometry to map the microbial communities within each sample to better understand the correlation between our environments and the microbes inside of us.
It's Kapono's hope (the research is currently under peer review) that his research will show that the chemicals we encounter while surfing in the ocean can't just be washed offat the public shower following a session, but that they actually change the chemistry within us—as good a reason as any to better police the pollution of our oceans and waterways.
After the media caught wind of the project, Kapono was as famous for his endeavors in the laboratory as he was for his skills in the lineup, and he'd received as much coverage in The New York Times science section as any traditional surf media outlet.
"So much of my life, surfing has felt like a barrier to me achieving something," says Kapono. "But when I started the Surfer Biome Project, that's when I realized that people outside of the surf community are interested in surfing and how you can use the learnings from surfing to be productive and impact the world in a positive way."
For the outside world, Kapono's existence at the intersection of surfing and science is something curious and novel. But to Kapono, the two have always gone hand-in-hand. Because before he ever inked his first surfing sponsorship, or began working on his dissertation, Kapono was a Hawaiian, and that cultural identity has done more to shape his view of surfing, where knowledge is obtained and how it can be applied to his surroundings than anything else.
"I always felt that the things I learned through surfing, through my ancestors' stories and through the culture of my Hawaiian heritage are very similar to this thing called 'Western Science,'" says Kapono. "So I wondered, 'Why is there a distinction between them?'"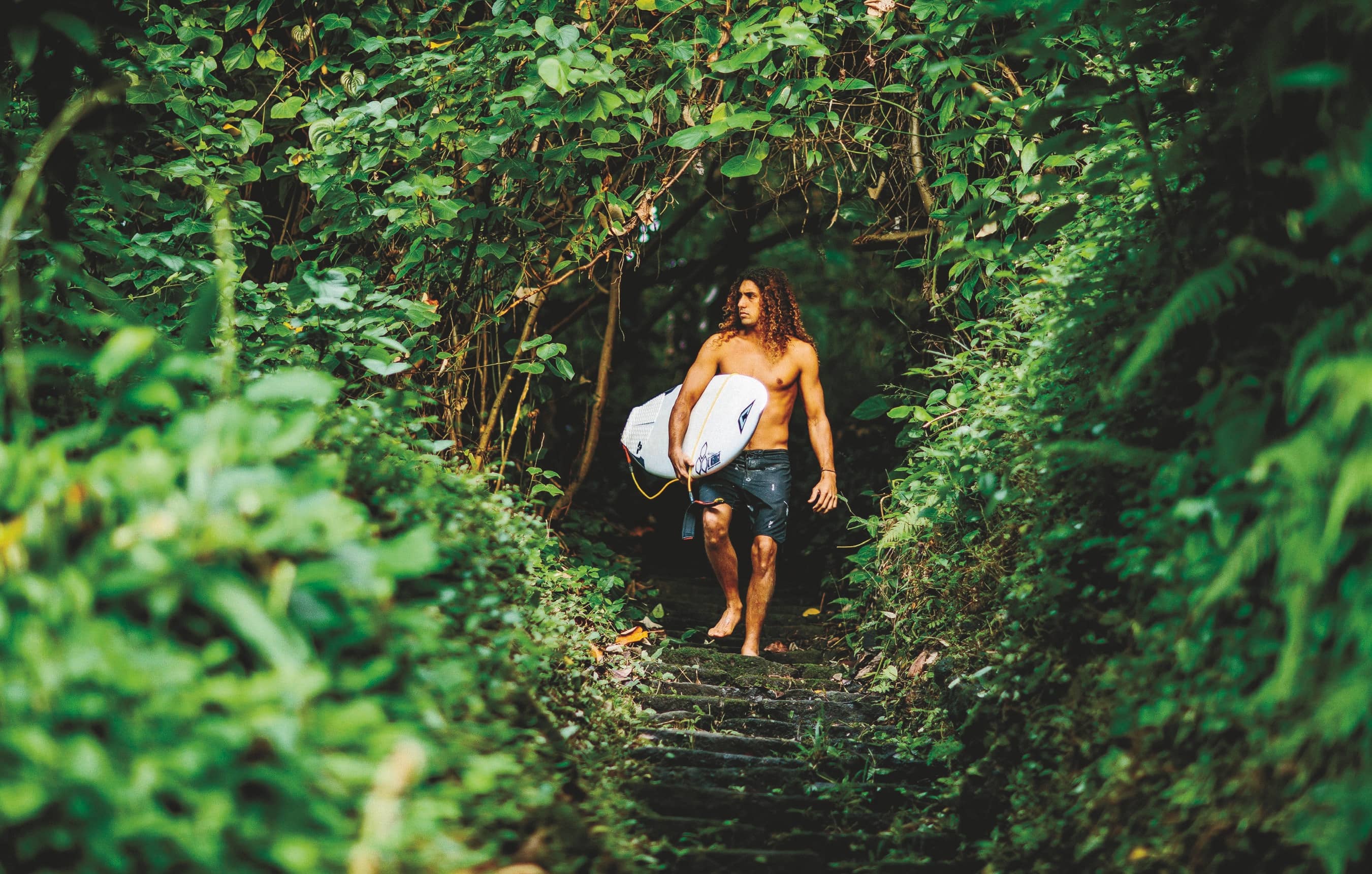 A few days before our nerve-racking session, we'd just left Hilo International Airport and were driving down Kamehameha Ave in true Hawaii fashion, with Kapono, SURFER photo editor Grant Ellis and I sandwiched together in the cab of an early-2000s Tacoma, passing gorgeous waterfronts and quaint buildings nestled in overgrown foliage.
Hilo is classic small-town Hawaii, with no shortage of small-town charm. The sleepy commercial center fronting Hilo Bay consists of original single or two-story structures built in the early 1900s, now occupied by health-food markets, restaurants and tourist shops. The downtown area is framed to the west and the east by the Wailuku and Wailoa Rivers, respectively, which filter into the enormous, tranquil bay. Wave energy is blocked from the bay by a long breakwater, allowing cruise ships into port to give mainlanders a chance to stretch their legs and see an authentic Hawaiian town.
We turned left before Wailuku River and started heading up the hill toward Kapono's sister's house, where we'd be staying for the next week. As we made our way up the hill, Kapono pointed out the row of schools starting with Hilo Union Elementary near the bottom, then Hilo Intermediate a little further up on the left and finally Hilo High School on the right.
You can read up to 3 premium stories before you subscribe to Magzter GOLD
Log in, if you are already a subscriber
Get unlimited access to thousands of curated premium stories and 5,000+ magazines
READ THE ENTIRE ISSUE
Volume 60, Issue 1