Handmade
Surfer
|
Volume 59, Issue 8
Sculpting foam and creating fun with some of the world's most dynamic surfer-shapers.
"On day two I got some other tools, because the cheese grater wasn't really cutting it," deadpanned a dust-caked, purple-haired Andrew Doheny. He was describing his first handshaping experience—one that apparently involved various kitchen utensils— as we stood in front of a barn-turned-shaping-bay nestled among towering pines in Moss Beach, California, some 8 hours north of Doheny's home in Newport Beach.
Unsurprisingly, the board that came out of that first slapdash shaping session looked like "quite a piece of shit," according to Doheny. "But, sure enough, the board kind of worked. My friends were riding it and they were doing airs on it, and it was pretty cool to have a board that looked like a piece of shit, but was really fun and could still put a smile on your face. Ever since then I've been hooked on shaping my own boards."
Ten years and a whole lot of handshapes later, Doheny was just finishing up a nearly-rockerless, 5'6" swallow tail in the makeshift shaping bay. The low rocker is a staple of Doheny's boards, which you've likely seen him putting through their paces in web clips filled with wild fin-ditches, layback snaps and white-knuckle carves in everything from pulsing Newport Beach to perfect pointbreaks in Mainland Mexico.
"I enjoy riding small, fast, flat-rockered boards in good waves—waves they're not meant for," he explained. "Even if everything else sucks on a board, with no rocker, you're going to go fast. You're really feeling the wave. You're really flying."
Doheny is an interesting case study in professional surfing, backyard board building and where the two intersect. A surfing prodigy who grew up in the surf industry epicenter of Newport Beach, Doheny turned heads and telephoto lenses as a grom by slashing and punting all over 54th Street peaks, earning himself sponsorship at an early age. Doheny had access to the best surfboards in the world, spending much of his early competitive career riding for …Lost, a label widely considered the standard bearer for modern high-performance surfcraft.
So why is it that Doheny (or any professional surfer, for that matter) would opt out of high-end, tailor-made surfboards to instead hack away at foam blanks himself, diving headlong into the ever-humbling, often-frustrating, endless learning process that is hand-shaping your own surfboards? Hell, even after years or decades spent sweating and mowing foam in a tiny, dust-filled room, odds are you still won't end up with a surfboard as technically "perfect" as one you could easily get from one of the monolithic surfboard manufacturers churning out uniform performance craft for 'CTers and average Joes alike.
"It takes a certain type of person to figure it all out," Tyler Warren had told me earlier in the barn as he ran a sanding block over a nearly-finished fish. "To want to be in this room with these lights on and make a board and do it well."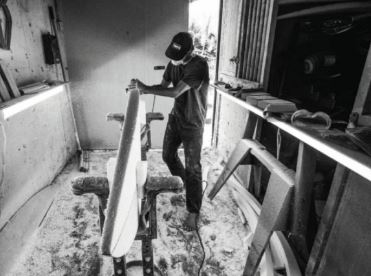 Doheny and Warren, along with Ryan Burch, Jared Mell, Derrick Disney and Zack Flores, are all that type of person, which is why we invited them to this isolated Northern California nook. The group drove over 400 miles, cleared a small mountain of cobweb-covered junk out of the breezeway of a barn and set up sawhorses holding LED shop lights and shaping stands cemented into spray-painted Home Depot buckets.
Why the hell would we do that, you ask? Did Southern California suddenly run out of shaping bays? Had there been a sandpaper shortage at lower latitudes? Not quite. We wanted to gather a handful of surfer-shapers who inspire with both their handmade creations and the lines they draw on them in the water. We wanted to get them together in a room (or, more accurately, a barn) to break from routine, get rid of any and all distractions and put these characters in a situation where they could swap ideas over beers, share tools and templates and mow foam until 5 a.m. if they felt so inclined (which, as it turns out, they did). Once they'd each finished a board, we'd drive the shaped blanks up to Playland Glassing in San Francisco, where a crew of (clearly-masochistic) glassers volunteered to work around the clock to get six handshapes rideable within 48 hours of dropping them off. And hopefully, at some point, we'd surf.
But more importantly than capturing these shapers building and testing handmade craft, we wanted to explore the draw of handshaping in the modern era, and better understand the ways in which shaping the things that you ride in the surf can end up shaping you.
The sun had been down for hours and the foggy, tree-lined canyon just outside the barn was dark and still and, by some in the group's assessment, at least somewhat haunted. And perhaps it was. Inside the barn, Warren, Burch and Mell were shaping like men possessed, cackling maniacally as they took sandpaper, surforms and files to various parts of a blank simultaneously.
The funny thing about handshaping today is that when you pick up the tools and put them to foam, you're following the same process used by Dale Velzy to pioneer the wide-hipped pig design, by Mark Richards to rejigger the early twin-fin and by the Campbell brothers in pursuit of the first bonzer. Some might call it backwards to cling to those old school tools and methods to make yourself a board when you can literally design a surfcraft on a laptop with the right software and get it machined to near completion without getting so much as a grain of dust on your shirt. But Warren, Burch and Mell would argue that you develop a deeper understanding of what makes surfboard's tick when you build them by hand. They'd also argue that it's a hell of a lot more fun.
You can read up to 3 premium stories before you subscribe to Magzter GOLD
Log in, if you are already a subscriber
Get unlimited access to thousands of curated premium stories, newspapers and 5,000+ magazines
READ THE ENTIRE ISSUE
Volume 59, Issue 8