A Few Things We Got Horribly Wrong
Surfer
|
Volume 61, Issue 3 / Winter 2020
You don't make 60 years of magazines without dropping some balls. Here are a few
Not to toot our own horn or anything, but making a magazine isn't easy. Ideas don't grow on trees, intros and columns don't write themselves and the mountains of photos that pour in daily must be painstakingly winnowed down to best illustrate the stories. Then everything must be assembled like a puzzle by overworked art directors, making sure everything lines up properly in layouts to make a book that's enjoyable to read. Any hiccups along the way can mess up everything. Getting all the nuts and bolts right is mandatory, but even when you do, there are plenty of other opportunities to mess things up. Did every decision made by the editors work? Did it have the right blend of stories? Will the opinions expressed feel dated and seem trite in a few years? Is it missing any trends that are about to light the surf world on fire? Answer those questions, then do it all over again next issue. Obviously, we aren't perfect. Nor has any editorial staff in SURFER's history ever been. And in a strange, masochistic kind of anniversary celebration, we've picked a handful of our most embarrassing misses, errors and goofs from 60 years in print. Please facepalm along with us.
Shaun "MR" Tomson
In the late 1970s, Shaun Tomson and Mark Richards had a kind of friendly rivalry centered around busting through performance barriers and looking stylish as hell while doing it. MR, with his knock-kneed, wide stance and spread arms was flowing, barely contained exuberance. Tomson was refined, smooth, gentlemanly even while being radical. He could have worn a tux into the tube and it would have seemed perfectly reasonable.
In 1978, MR was just a year away from peeling off a string of four World Titles in a row; his star was red hot and rising. SURFER interviewed MR, turned it into a big six-spread feature and called it out on the cover. The opening spread was a gorgeous land-angle shot of MR racing through a North Shore tube. Except it wasn't MR. It was Tomson.
Tomson's head was blocked from view by the falling lip; it was an honest mistake to make. The knock-kneed style, the front arm curved back at the elbow—it certainly looked like MR. It's as if his stardom blinded even the SURFER editors. Tomson and MR were both gifted tuberiders, and likely there was a bit of two-way emulation in their styles. But still, the wrong surfer in the opening spread? "A bit of a mistake" Tomson said of the goof-up. Gracious, of course.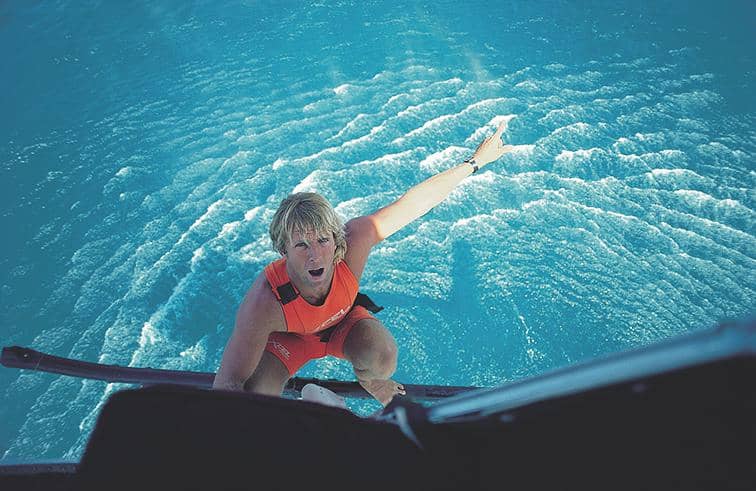 Really Ace'd That One
You can read up to 3 premium stories before you subscribe to Magzter GOLD
Log in, if you are already a subscriber
Get unlimited access to thousands of curated premium stories, newspapers and 5,000+ magazines
READ THE ENTIRE ISSUE
Volume 61, Issue 3 / Winter 2020