On The Beach at Cedar Key
Small Craft Advisor
|
March - April 2020
The annual gathering of small craft happens each year on the first weekend in May. It is perfectly located on the tip of a peninsula tucked up in the panhandle of the Gulf of Mexico.
The small community of Cedar Key is found at last—about the time you've given up—after a long drive down Route 24. The place is as spaced-out and hard to describe as its location. During the long approach, land has seemed to disappear as you cross several swamps, channels, causeways and canals…finally into a town with a mystifying tangle of streets, islands, docks, piers and launching ramps. Water trumps land here.
All a fitting home for an event that has no advertising, no rules, no contests, no activities, no entry fees, and no awards. I think it does have a name: "Cedar Key Small Boat Meet." But if you have a boat or some manner of watercraft that fits on your car roof, in your trunk, trailer or truck bed, you are graciously welcome. It's a sailing free-for-all.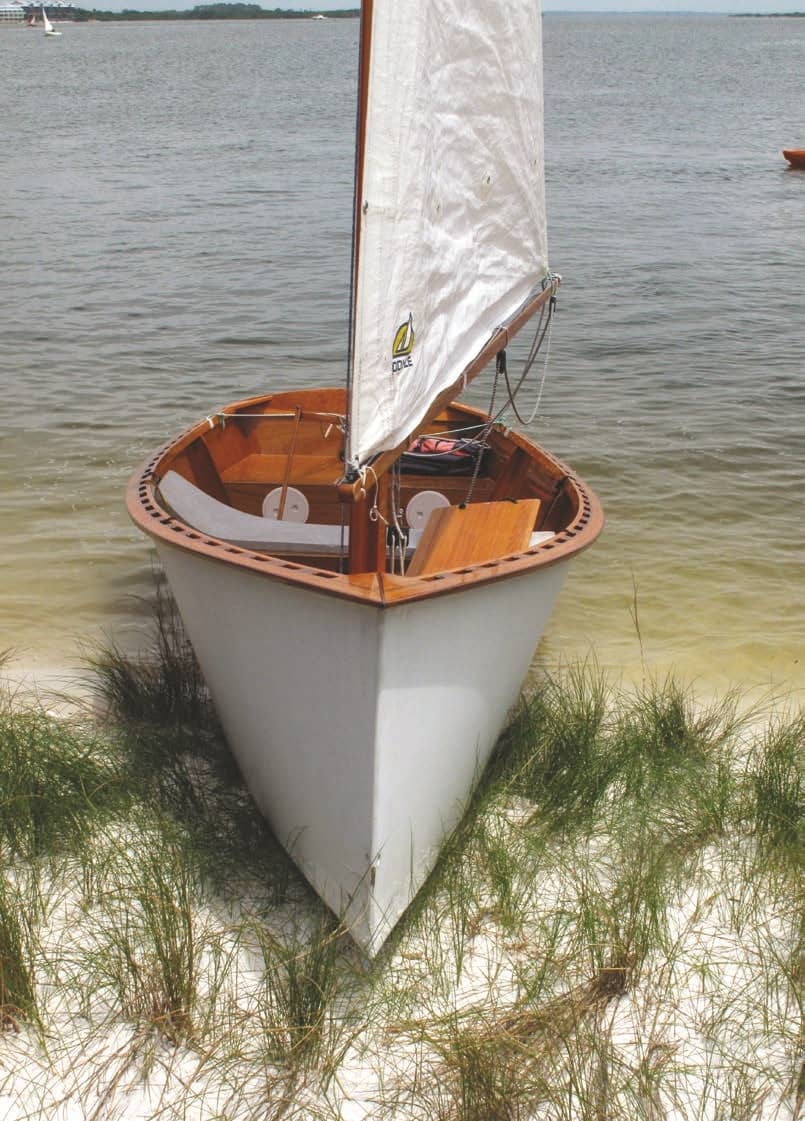 Participants roll in one by one from Thursday on, looking for a coveted spot on the main beach in front of the Island Place Hotel. Old acquaintances are renewed, new faces appear, unloading and rigging begins, questions are asked and sometimes are answered. Owners bring watercraft that run the gamut from production boats, to traditional replicas, original designs, and prototypes made from an assortment of materials, propelled by all categories of rigs, pedals, paddles and oars.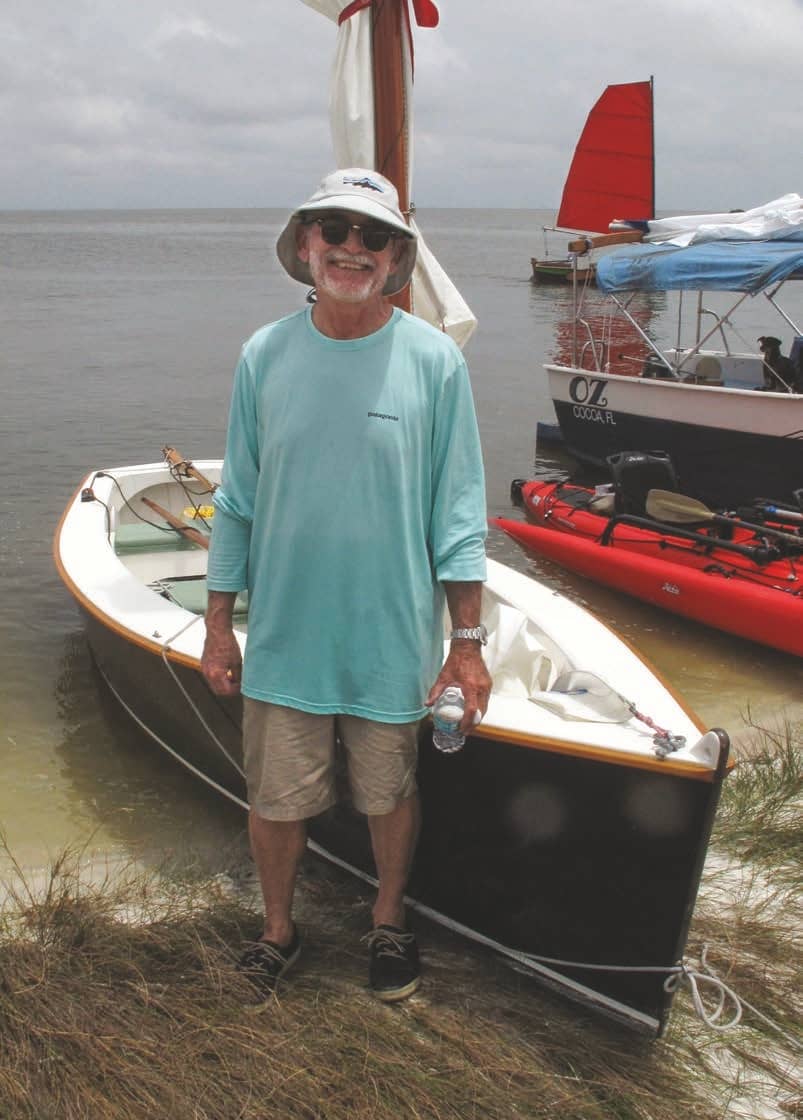 Hovering over all of this disorganization is Hugh Horton, known to readers for his regular Cartop Cruising column in this magazine. Hugh lives in Cedar Key and is the heart and soul of the event. He is also the guiding light for a small group of younger, talented designers and builders of small craft that includes JF Bedard and Simon Lewandowski. Although younger than Hugh, they are equal in passion for pushing the envelope in design, choice of materials and construction techniques. They attended the meet and spent hours together examining, critiquing, sailing, agreeing (or not) on the relative merits of a particular boat, or boats. The topic of most conversation was Hugh's most recent build, Clam Girl. In Hugh's words she is "an Optimist pram designed for the aged sailor." A unique craft that makes frequent appearances in Hugh's SCA column.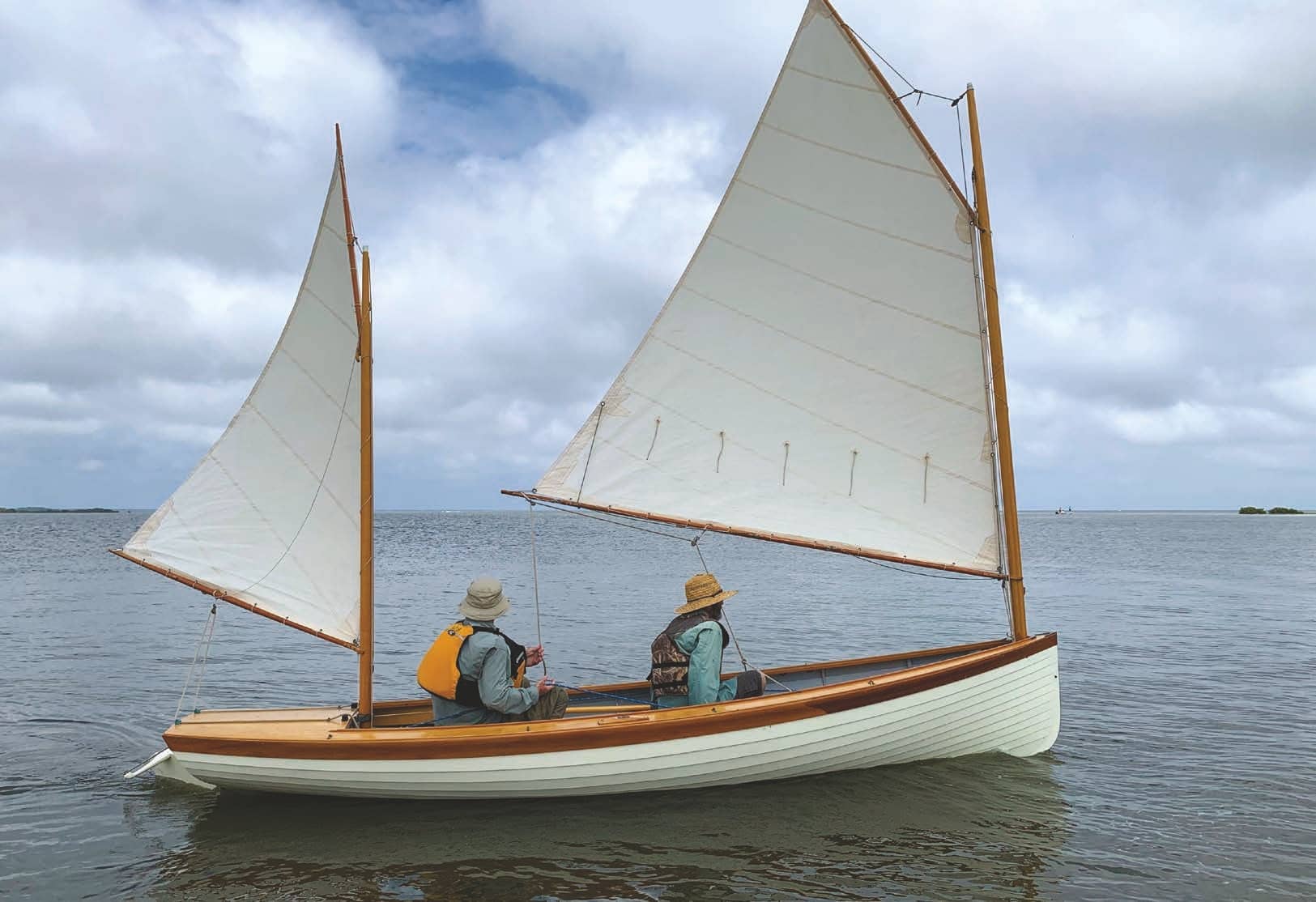 There is one more soul hovering over the event—the memory of Meade Gougeon, who is remembered and revered as a god in the world of small boats and by this particular group of sailors. Almost everyone who frequents the event has been touched in some way by Meade. His friendship, his influence, his support and his connectivity are an essential part of the event's success. Still on-board, though, is his good friend Andy Zimmerman. Andy, like Meade, is a serial entrepreneur in the world of small-boat design and manufacturing.
During the better part of each day, sailors and paddlers launch off the beach and sail across the half-mile channel to Atsena Otie Key, an island within the Cedar Key National Wildlife Refuge. All afternoon boats arrive, are pulled up on the beach, pushed off for a sail, then it's back to the beach trying to find a parking place that can be more difficult to locate than those at a shopping mall on a Saturday afternoon. When not on the water, captains, crews, wives, kids and the occasional writer or photographer mill about the tide line, looking, touching, talking and dreaming about boats. It's a great place to be.
You can read up to 3 premium stories before you subscribe to Magzter GOLD
Log in, if you are already a subscriber
Get unlimited access to thousands of curated premium stories, newspapers and 5,000+ magazines
READ THE ENTIRE ISSUE
March - April 2020