Bahamian Beachcruising
Small Craft Advisor|May - June 2020
Chartering a Sea Pearl 21 in the Exumas
Steady easterly winds, warm rain clouds in the distance, and crystal-clear blue waters set an idyllic scene for that first day of our sailing adventure. Amy, Kate, and I planned to sail, camp and explore the mostly-uninhabited Exuma Islands for the next nine days. The idea for this trip began the previous year, when I had a powerful urge to quit my job and sail around the world. Reigning-in this desire, I came up with a more realistic and immediate plan: a sailing trip in the Bahamas. At that time, I had no boat of my own and considered myself a novice sailor. My only experience was lake sailing on small boats with my dad. In preparation for this dream adventure, I took an American Sailing Association Basic Keelboat course in Kemah, Texas, on Galveston Bay. Kate and Amy had minimal sailing experience but were adventurous spirits eager for a unique experience.
A company called Out-Island Explorers, based in Georgetown, Great Exuma, Bahamas—just over 300 air miles southeast of Miami—rents sailboats and camping gear for a reasonable price. Dallas, an owner of the company, gave us a quick introduction to our boat, a 21-foot Sea Pearl named Feather, and all of the gear. He also provided a detailed chartbook of the Exumas, and we excitedly mapped an itinerary on that first day. Dallas said there were many private islands in the Exumas and to avoid landing on them. Our planned endpoint was Staniel Cay, about 50 miles north, and from there we planned to have a tow back to Great Exuma Island.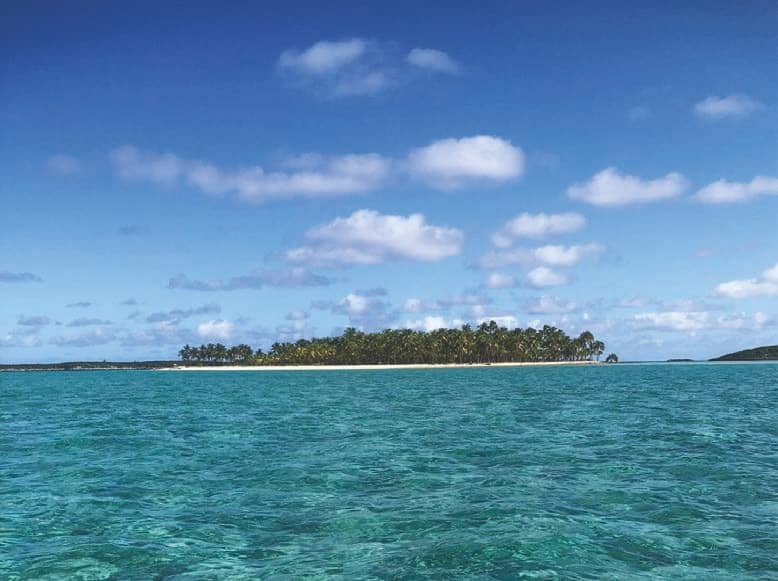 We began packing nine days worth of gear into Feather and discovered she was impressively spacious. Leeboards instead of a bulky centerboard allowed for ample storage space. By early afternoon, we were finally set to launch from Barraterre dock on the north side of Great Exuma Island. I was shaking with nerves as I climbed aboard Feather from the rickety wooden dock, feeling the weight of responsibility for a smooth and safe experience for my crew. We secured our life jackets and started off with reefed sails to ease my nerves. The Sea Pearl is easily reefed by wrapping her mainsail and mizzen sail around their independent and respective masts. Dallas threw us the dock line as we launched, and Feather gracefully sailed on a close reach and later shifted to a beam reach. With the sound of the water flowing around Feather and the fresh, warm, salty air on my face, I began to relax and got a feel for how she handled. We sailed a smooth two hours without incident to our first destination, Norman's Pond Cay. Here, we set up camp, cooked some freeze-dried food, and celebrated our successful first day with a beer. It was already a dream come true.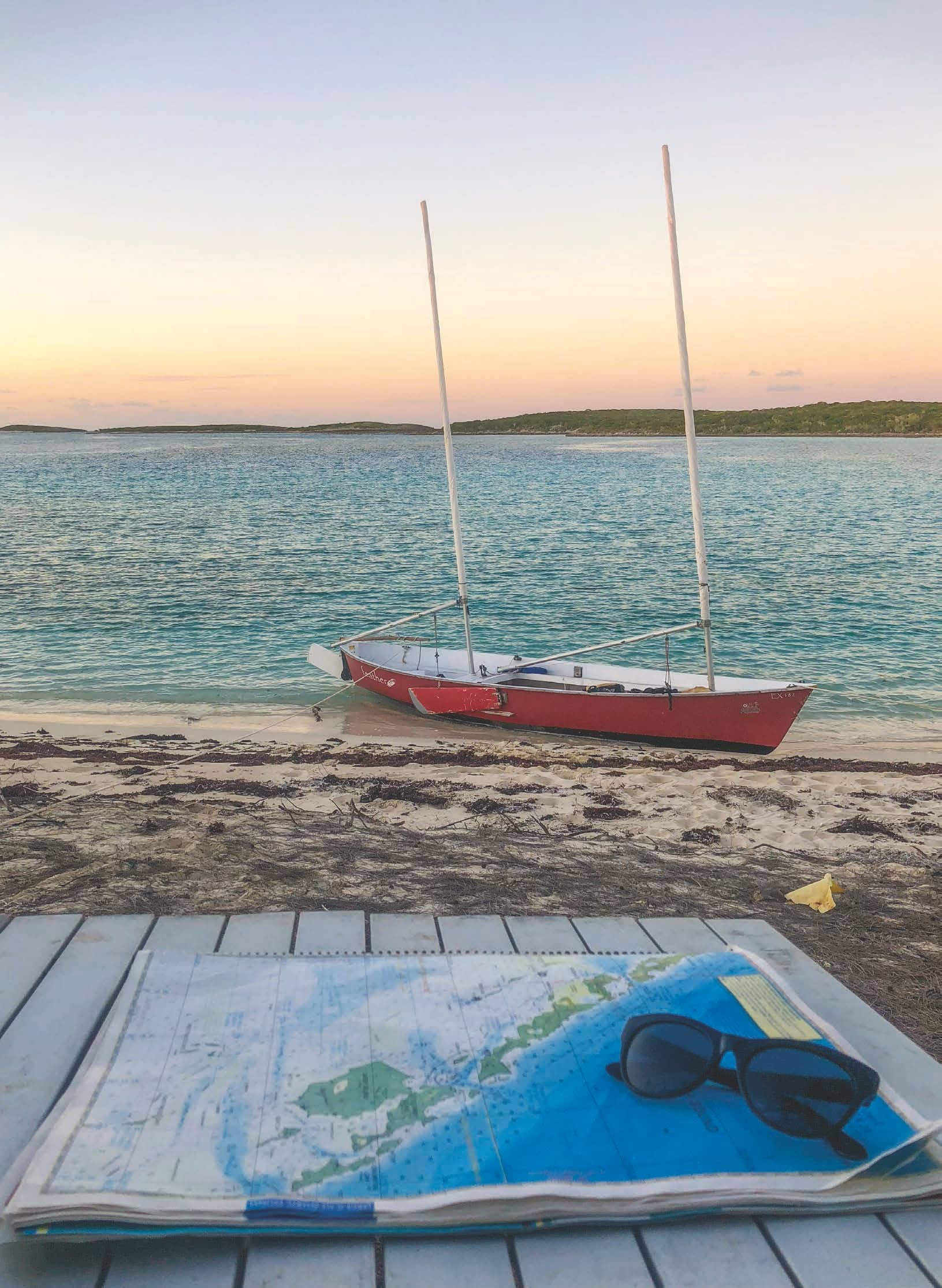 The following morning we awoke to our private island with no wind, glasslike water, and many rainbows. The morning's peaceful beauty was rudely interrupted by the vicious sandflies—ruthless critters that weren't deterred by our Deet bug spray. We were covered head to toe with bites within a few minutes of sunrise. As the sun came out and the sandflies retreated, we decided to pack up Feather and try for our next island. This was a mistake, as we had only light and variable breezes and the ocean current was working against us. As a mainly lake sailor, I found current to be a new and frustrating element. We needed to sail northeast to reach our next island, but the current was pushing us west, between Norman's Pond Cay and its northern neighboring island. The day's inconsistent and fickle wind was no match for this unseen force.
After a few hours and minimal progress, we decided to head back to Norman's Pond Cay for another night. As we approached the shore, a short and heavy rain shower surprised and soaked us. After beaching the boat, we laid our gear out to dry and decided to set off in search of a recommended snorkeling spot around the west side of the island. Along the way, we discovered what seemed like a massive graveyard of conch shells, deteriorating on the beach. We then misread the map and accidentally snorkeled in some mangroves, where I scraped my knee. After some disappointing snorkeling, we decided it was time to head back to camp. As I was sitting on the beach dressing my injury, I was startled when I saw a small shark dorsal fin in shallow water, high on the beach, swimming towards me. It was a juvenile blacktip shark! We were all pretty excited, and he was curious about us as well, following as we walked down the beach before swimming away.
The next day brought more favorable winds (stronger and from the east), and we had a beautiful sail toward our second island, Lignum Vitae Cay. We were cruising where most sailboats cannot dream of, because the Sea Pearl draws only 6 inches with the leeboards up. We were sailing in 1 to 3 feet of the bluest water I had ever seen. Kate was on leeboard duty as we watched for shallow sandbars. The lighter the water was, the more shallow we were. She would raise the leeboard just enough to get us over the shallows and then lower it again to help gain control. It was not only a beautiful sail, but an exciting one!
As we approached Lignum Vitae Cay, it became apparent that we would need to change course and head upwind to make our campsite in a cove on the east side of the island. While tacking, a surprise snap occurred. Amy looked up at me, holding the broken port leeboard line in her hand and asked with concern, "What do we do now?" Without the leeboards, it is impossible to steer Feather. "Drop anchor and drop sails!" I declared. There we were: anchored between Goat Cay and Lignum Vitae Cay with a dilemma.
You can read up to 3 premium stories before you subscribe to Magzter GOLD
Log in, if you are already a subscriber
Get unlimited access to thousands of curated premium stories and 5,000+ magazines
READ THE ENTIRE ISSUE
May - June 2020