The Future Of Yacht Racing
Sailing Today
|
August 2020
We're offering this story for free to read so that you can stay updated on the COVID-19 outbreak
Stan Honey makes 5 predictions
As a navigator, making predictions for what the weather and sea state will look like in a few hours or days is something I'm comfortable with. Making predictions for what our sport will look like in five or 10 years is not my area of expertise. In fact, despite a lifetime at sea I am only really experienced in a small sub-set of yacht racing. Nonetheless, I thought I would take advantage of that and use my experience to make some calls on where we as a sport might be headed in the future.
I wrote the following ideas before the world changed and the Covid-19 pandemic shattered so much of what we thought lay ahead. As I write now, there are still personal and global issues at stake. Within our bubble of sailing, it seems that much of the 2020 racing season has been written off. We are slowly getting afloat now and can only remain hopeful that at some appropriate time before long we'll be back under starter's orders again, no doubt savouring our racing more than ever before. Looking forward to that time, for sailing and for the wider world, I hope you enjoy the following predictions.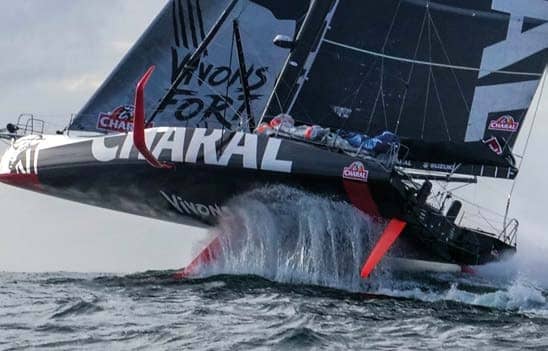 1. FOILING AND RECORD-BREAKING
It was only six years ago that I attended a debate at the Yacht Racing Forum where people were discussing whether or not foiling would be possible other than occasionally on a reach, and whether it would be effective in a windward/ leeward race. It's interesting to see how much easier foiling turned out to be and how quickly it has spread.
The thing that interests me about foiling is its influence on offshore records because the record-breaking world has hit a plateau. There used to be six or eight improvements on the big records every year, out of 15 or 20 attempts. Now only one or two successful attempts are made every year. Improving those records is very, very difficult, partly because people are doing a good job of picking the weather, partly because their equipment is very good.
However, as offshore foiling boats are introduced that have computer-controlled ride-height control, all of the WSSRC [World Speed Sailing Record Council] records are going to be back in play.
What about offshore sea states? Today all the offshore records are set in flat water. That's what we do as navigators. When we set the Transatlantic Record on Comanche, the biggest wave we saw was 18 inches.
So with foiling, which works particularly well in flat water, all of the offshore records are there for the taking and I think the World Sailing Speed Record Council will be very busy over the next few years.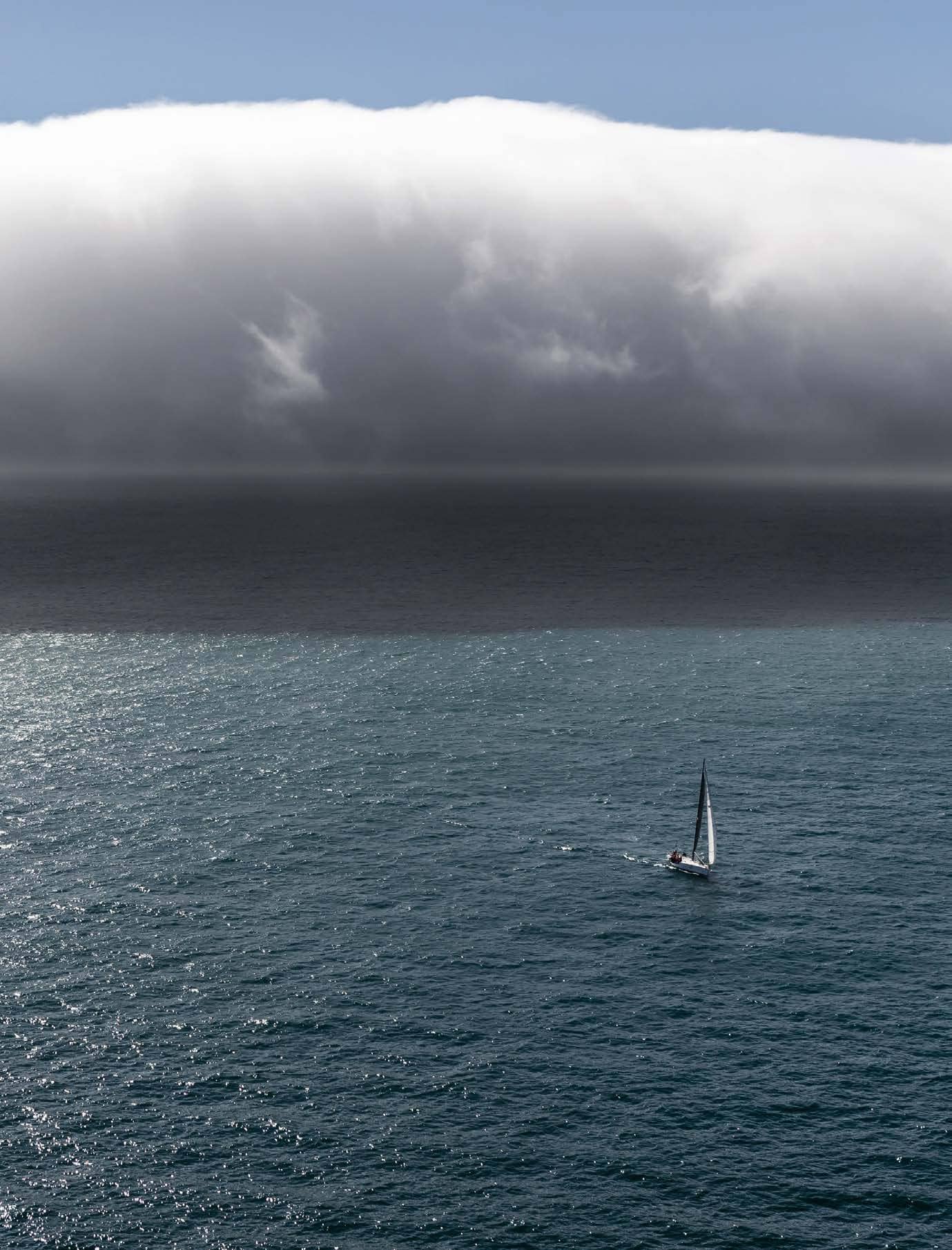 2. THE IMPACT OF BETTER WEATHER PREDICTION
I've been navigating since I was in high school. Back then there was a real art to it. We did position determination via celestial navigation and dead reckoning, with occasional use of radio direction finding. We had to be meteorologists and we had to be able to look at the sky and figure it out ourselves. Often we'd copy "Fleet Code" via Morse Code, and draw our own connect-the-dots weather maps. The official weather data wasn't very good and you would only use the official forecast as a general direction for your own local interpretation.
It's still helpful to have those skills, but things have changed. The European Centre for Medium-Range Weather Forecasts (ECMWF) is extraordinarily accurate, as is the American GFS model – both are very reliable for three days out, and worth serious consideration out to 5-6 days
The image below shows the start of the last Transpac. I was navigating Comanche and the forecast shown is for a Catalina Eddy, one of the most complex local weather patterns a sailor ever has to navigate. It covers only 150 miles across but within that you can have four circulating systems.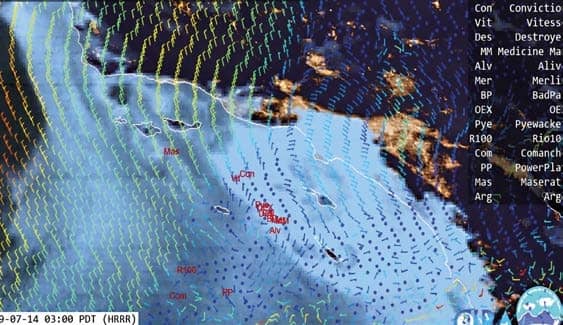 In the old days sometimes before the start of a Transpac, I would charter an aeroplane, fly out and take a look the night before the race, and fly out again the next morning.
But now the HRRR ["High-Resolution Rapid Response" weather model from the US national weather service NOAA] updates every hour and has become so good that when you're out there on the boat, you realise that it almost always agrees with what you're seeing in the sky.
You can read up to 3 premium stories before you subscribe to Magzter GOLD
Log in, if you are already a subscriber
Get unlimited access to thousands of curated premium stories, newspapers and 5,000+ magazines
READ THE ENTIRE ISSUE
August 2020