Dare to dream
Sailing Today
|
August 2020
The idea of selling up and sailing into the sunset is something most sailors dream of. Jenevora Swann explains how she did it
It was Valentine's Day and my husband Fergus and I were spending our first night onboard, Two Drifters, a secondhand Lagoon 440 catamaran we had just purchased in Toulon in France. But it was a far cry from the romantic dream I had envisaged.
We couldn't get the heating to work, it was pouring with rain and the hatches were leaking, there was no gas to light the stove, the bilge alarm kept going off and we had just one sleeping bag and a pillow between us to keep warm. This was the start of our liveaboard life and I had never felt so disheartened. Our dream of sailing around the world suddenly didn't seem quite so appealing.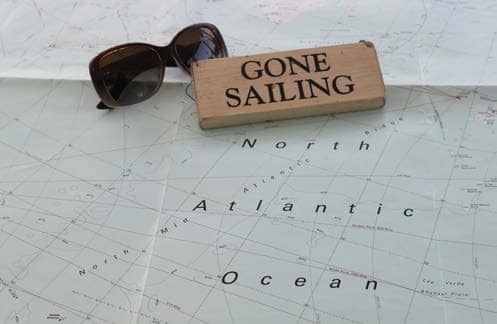 For many years, we discussed selling the business and the house, buying a yacht and sailing off into the sunset. I thought it was a pipe dream, but then one day everything fell into place and it all came together very quickly – although not entirely smoothly!
A troubled start
When planning to leave the UK to start this new life, we had already suffered a set-back as the self-drive van which we had hired one-way to transport our worldly goods to France had fatally broken down just 48 hours before we were due to leave the country.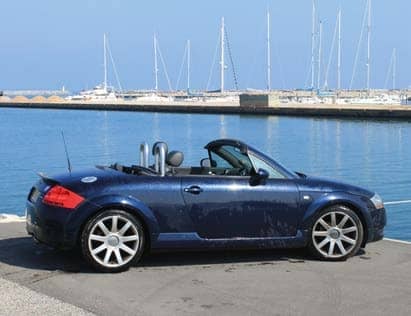 With no replacement van available, no refund given and new owners moving into our house, we were left to our own devices to resolve the issue. In my former day job as MD of a PR agency, I was well-versed to dealing with crisis management, but when this happened to us, I was so stressed out that I totally lost the plot.
Stepping into action, Fergus arranged for our boxes to be transported to France by courier, but the earliest they could get them to us was the following week. Thankfully, we had left selling our small sports car till last minute. So, we piled the car full to the gunwales and with Molly, our cocker spaniel, on the parcel shelf, we left Hampshire and headed for the Eurotunnel.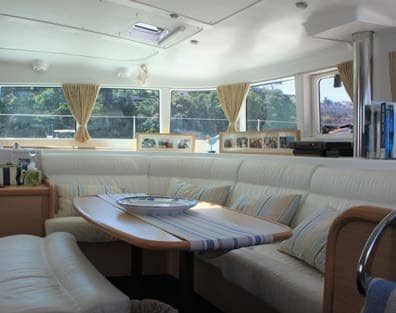 Arriving in Toulon, with a mixture of anticipation and anxiety, we boarded the boat. This was the first time I'd seen it. While I'd been on a Lagoon 440 before, I hadn't been able to take the time away from the business to view this actual boat, so I trusted Fergus to make the decision it was the one for us when he took a fleeting day trip to France with a broker to view it two month's previously.
A few days later, when the courier arrived with our belongings, he was greeted like a long-lost friend. Now it was time to make this boat my home.
My next dilemma was space. When you pack up your house with a view to fitting it on to a boat; you cut down to the absolute minimum.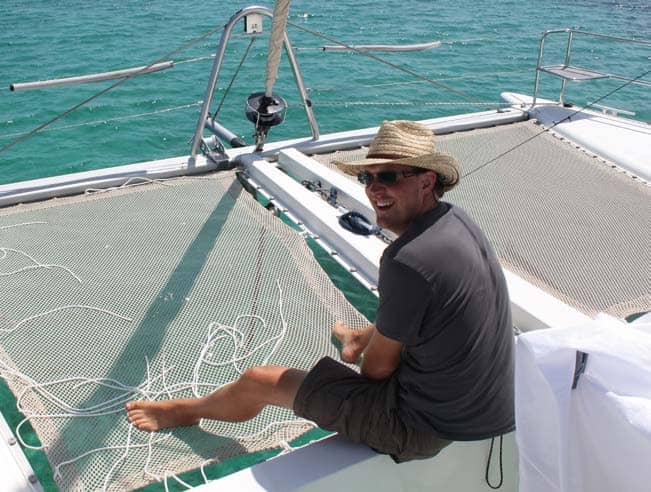 Except, my minimum was still way too much and I had to perfect the art of shoe-horning items into various cupboards, lockers, cubby holes and the bilges.
Out of my depth
For six weeks, we waited out the worst of the winter weather and strong north-westerly Mistral winds in Leucate, southern France, while also carrying out some essential maintenance and improvements to the boat.
My initiation into liveaboard life had begun, as normal everyday tasks involved a great deal more effort and planning.
Buying a local SIM card to put in our MiFi device meant we could link our phones, tablet and computer to the internet at the same time; but we had to keep a close eye on data usage. We soon became quite adept at finding local cafes, bars and libraries that had the best wifi for Skype calls and downloads.
You can read up to 3 premium stories before you subscribe to Magzter GOLD
Log in, if you are already a subscriber
Get unlimited access to thousands of curated premium stories, newspapers and 5,000+ magazines
READ THE ENTIRE ISSUE
August 2020