Adriatic alternatives
Sailing Today
|
September 2020
Nicola Beykirch works her way north from the Ionian islands to explore Albania and Montenegro two Balkan nations of contrasting allure
Regular readers may recall from the April edition of Sailing Today that Captain Barry and I had spent a couple of weeks exploring Greece's Ionian Islands on Bella Rose, our Oyster 545. After that we decided to challenge ourselves by sailing up the Adriatic to Albania before concluding our latest voyage in Montenegro.
Albania conjured up thoughts of isolation and mystery and appeared a bold place to visit, let alone sail. We relished the challenge, and so one August dawn we found ourselves setting sail from Erikoussa Island, northwest of Corfu, to commence our adventure.
Arrival in Albania
A sloppy sea and erratic winds over 50 miles transported us to Vlorë Harbour, the only harbour in Albania that permits foreign boats to check-in.
We arranged a clearing agent who assisted us in tying up. Grabbing our documents, he hopped on his bicycle and sorted out the paperwork at the harbour office.
We then sailed 6.5 miles to Marina Orikum, the only marina in Albania, where we spent two nights. The marina was run by an Italian company with prices to match at €180 per night. Booking proved challenging as they didn't reply to email or calls; fortunately, they responded to the Navily app.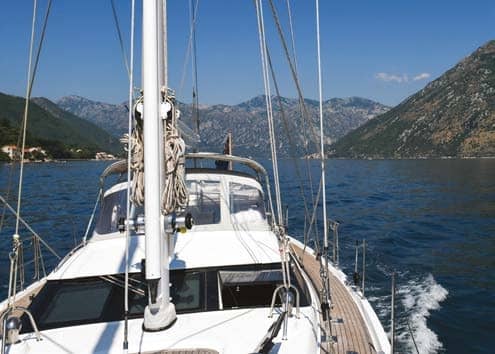 Upon entering Marina Orikum, the depth meter suddenly dropped from 3m to 0.6m as we did the final turn into the channel. Closing my eyes, I couldn't look. Captain Barry appeared calm enough. Relief, we made it!
Assistance came thick and fast; three men and a young boy guided us with ferocious hand signals. At the office, the Italian official didn't speak much English. However, he understood and easily organised us a hire car, which arrived outside the office moments later. A Fiat Panda was the only model available for hire in Albania at €35 per day.
The weather felt hotter and closer than the Ionian islands. Outside the marina, we turned left and drove 2km to the centre for a snack and sim cards. Crumbling shops and blocks of flats lined the two wide, straight roads on either side. The square and rectangular buildings appeared tired; the remnants of communism evident. Only the Albanian Lek currency was accepted at each of the establishments we went in to, including Vodafone, restaurants and hotels. "Visa not permitted!"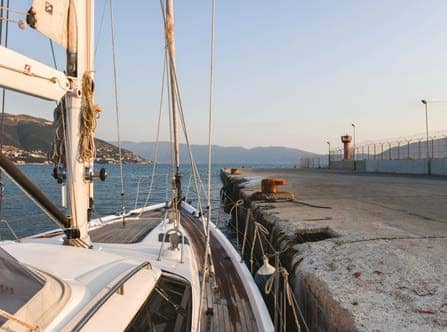 You can read up to 3 premium stories before you subscribe to Magzter GOLD
Log in, if you are already a subscriber
Get unlimited access to thousands of curated premium stories, newspapers and 5,000+ magazines
READ THE ENTIRE ISSUE
September 2020