A man with a passage plan
Sailing Today
|
September 2020
Clive Loughlin invites you to look over his shoulder as he plans a seven day cruise to the Channel Islands
The Channel Islands provide fantastic scenery with a challenging 8m tidal range and 6-knot tidal streams. Within easy reach of our home waters, they provide a wonderful addition to our cruising grounds. It's also a really interesting area for passage planning.
As with any passage plan, my first priority is to make copies of relevant hour-by-hour tidal stream chartlets, marked up for every hour of every day.
I like to look at the start and the end of a trip first, then fill in the details in between. I'll also always include alternatives - never stick to a plan that has become a bad idea!
The earliest I can realistically leave is about midday on Monday 6 July, returning to Shamrock Quay Marina, Southampton by 1400 the following Sunday. I'm assuming a F4-5 from the southwest - the prevailing conditions.
On the Monday HW Portsmouth is at 1309 (I use BST throughout) and the stream in the Solent starts flowing west about an hour and a half earlier, and stays heading west until about 1730. It's a window of six hours, plenty to get to Yarmouth (18nm), or even further onwards to Poole (34nm).
Next, I check my options for the following Sunday, to get back to base on time: I could either spend Saturday evening in Yarmouth or Portsmouth. On the Sunday the tidal streams are heading east in the Solent from 0930 till 1530, so Yarmouth is favourite.
Monday – Old Harry
Back to the start, and with new crew and a new boat I would not be keen on heading straight across the Channel. We could either stay in Yarmouth on the Monday evening, or get across to Poole. Tidal streams in the Solent for Tuesday remain heading east until about 1200, which is far from ideal. However, from Poole I can leave anytime and will also be about 10nm further west at the start, which gives me a better chance of being able to sail straight across in the assumed southwesterly winds.
The Needles Channel can be ferocious in strong wind-against-tide conditions and I therefore want to tackle it either at slack water or with the last of the ebb to help me on my way. This means heading out past Hurst Point at about 1700.
I hope to be at Poole Harbour entrance at 1930. This will give us a brisk flood tide into the harbour, or we can drop the hook in Studland Bay with a view of Old Harry Rocks.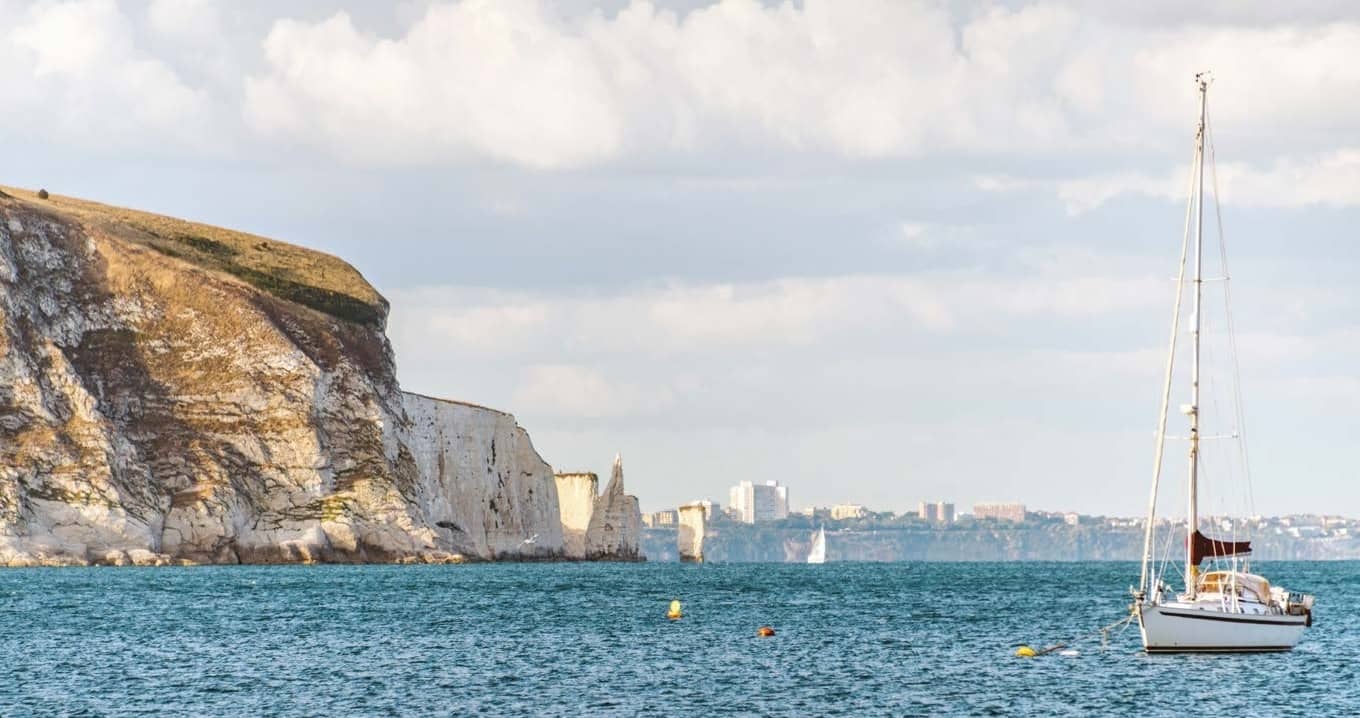 Tuesday - Where to go?
Our mission is to cross the Channel and the nearest destinations are Cherbourg or Alderney. I really like Alderney, but have never found Braye Harbour to be comfortable for an overnight stay, and arrival needs to coincide with a very brief period of slack water. I am also more likely to be able to sail directly to Cherbourg, 25nm further east - so, Cherbourg it is.
You can read up to 3 premium stories before you subscribe to Magzter GOLD
Log in, if you are already a subscriber
Get unlimited access to thousands of curated premium stories, newspapers and 5,000+ magazines
READ THE ENTIRE ISSUE
September 2020