Paddle Technique: It's Not About The Hinge, It's All Torque!
SUP International
|
Issue 26 - Autumn 2019
A common method to coach SUP technique is to hinge at the hips, drive power into the water and to stack the shoulders – this is an outdated method but produces some lovely Facebook profile pictures!
These are my thoughts on how to move technique forward in SUP. These are based upon my experience when I first started paddling SUP, casual conversations with some of the World's best, Casper Steinfath, Jim Terrell and more recently Daniel Hasulyo and Sonni Honnscheid along with exercise professionals such as Physiotherapists, Sports Scientists, and Biomechanists. Plus, reading around the area and watching plenty of footage of paddlers and other athletes from different sports.
Before you ask; what qualifies me to pass comment?
I paddle things! I have been fortunate enough to race internationally since 1994 for Great Britain in Surf Ironman and Ocean Ski and was part of the British Olympic Sprint Kayak squad, more recently I have competed at two World and European championships in SUP (distance and technical events). I hold a Masters Degree in Sports Science, written an undergraduate degree in Sports Science and Coaching, and have coached from grassroots through to elite international levels with athletes across all four paddle sports who have medalled at European and World levels.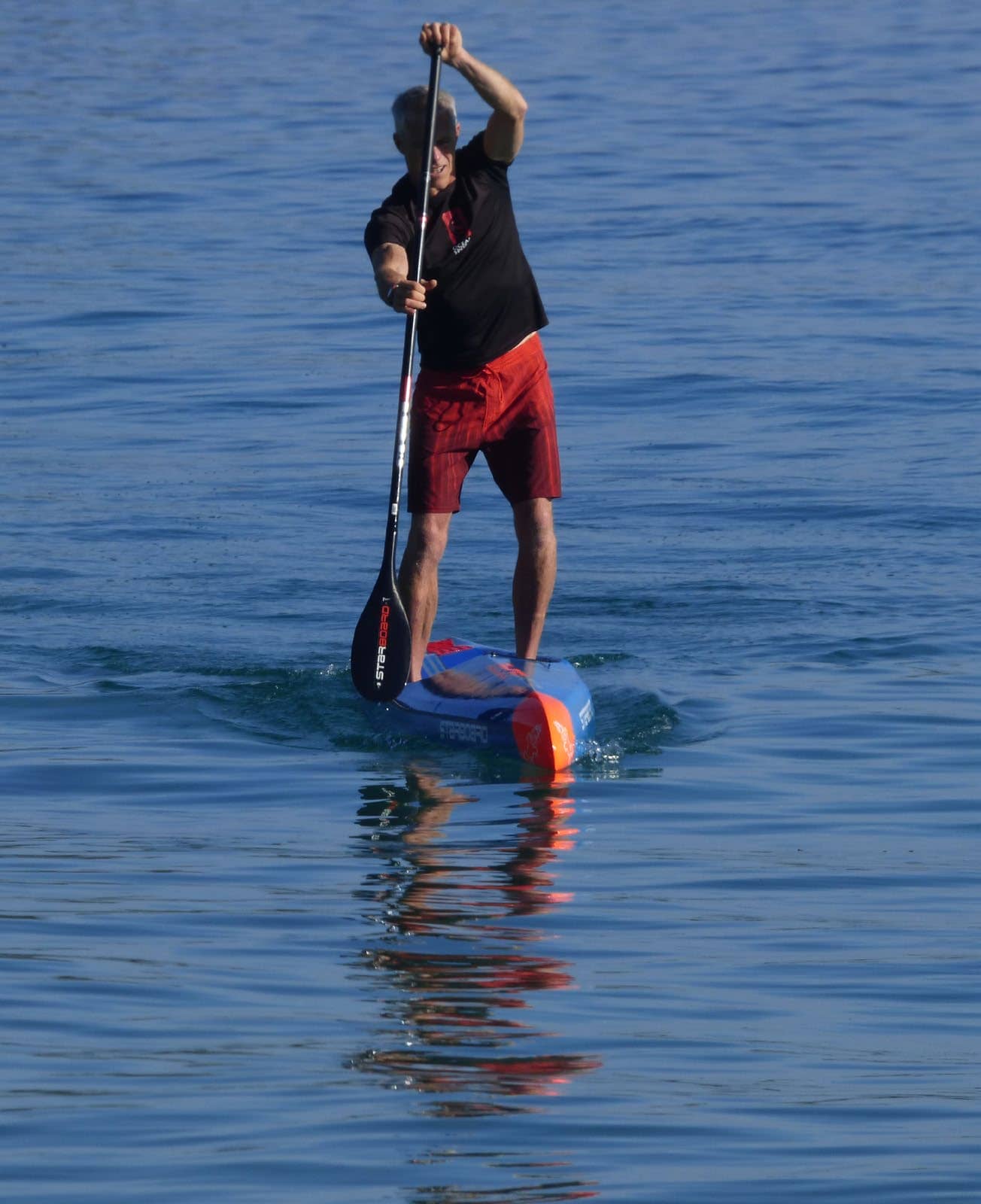 General Principles
Where possible I try to simplify complex phenomena into simplified aspects – there are three key elements here:
1. What the craft does on/in the water
2. Production of the greatest force efficiently
3. Reduce the potential for injury.
But, first, what are we actually talking about with the SUP technique? Discussions often relate to paddling in general rather than specific aspects. In a race there are likely to be three different types of stroke, at least, e.g. stroke technique is different while sprinting - at the start of the race, pushing for a bump or runner or making a break from a group. Similarly, high-end threshold pace several minutes after the start (using aerobic and anaerobic energy components in almost equal measure) technique, in turn, is also different in mid-race slower grinds (almost extensively using oxygen – aerobic); stroke mechanics paddling in chop will be different to that on flat water, and female vs. male. The latter point has important implications and needs a slight detour to expand. Rather than specify gender differences it is better to focus upon athletes with varying muscle mass and lever ratios e.g. arm span to height or leg to torso rather than absolute measures of height alone. For example, making gender generalizations means that if a female should paddle a specific way or say a youngster what happens when that youngster or female exhibits the same or similar body morphology as a male? By lumping all of the above together serves only to convolute the situation. So where do we start?
Keeping it simple I will focus upon flat water high-end threshold pace with a touch of grind! For now, lever length and body mass will be left to one side. Sprint and grinding are the topics for another article as are variances in morphology (body type) and optimal cadence (stroke rate). But first, I will address a broad understanding of how a board might move through the water. If a basic model can be formed, that allows a better grasp of how this might affect stroke mechanics or how to stroke mechanics affect the board. I often look toward other sources of information that can help describe these patterns and will draw upon Nordic / Cross Country Skiing (XC) and structural engineering in the form of tensegrity – after all, few concepts are ever truly original, why reinvent the wheel when it has been done so several times to great effect.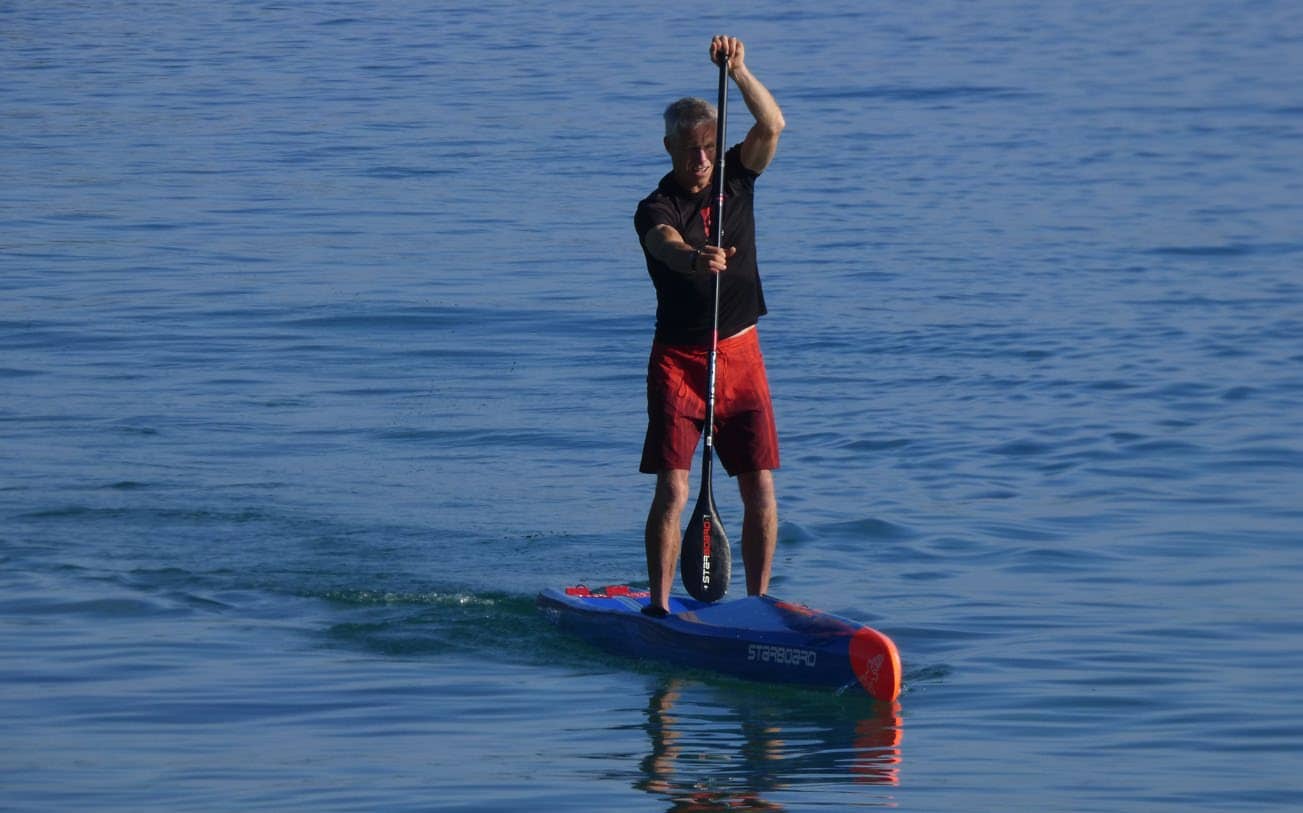 Universal principles that apply to paddle sports:
1. To harvest energy from a system (glide in the recovery phase); we must first input energy to start the process (kinetic chains and power phase).
2. An object will continue along its path until another body acts upon it (board movement) - equal and opposite reaction.
3. Almost all race boards, at the speeds we paddle them, are displacement hulls (this does not include riding chop or waves).
4. The deeper an object sits in the water greater amounts of energy are required to overcome additional drag.
5. The further force is applied away from the centerline of an object, greater torque (turning force) is produced e.g. paddling on one side of aboard.
6. The further away force generation is created (top hand is approximately two meters from the blade in the water and the bottom at least one meter) is from force application (blade in the water) torque is also increased.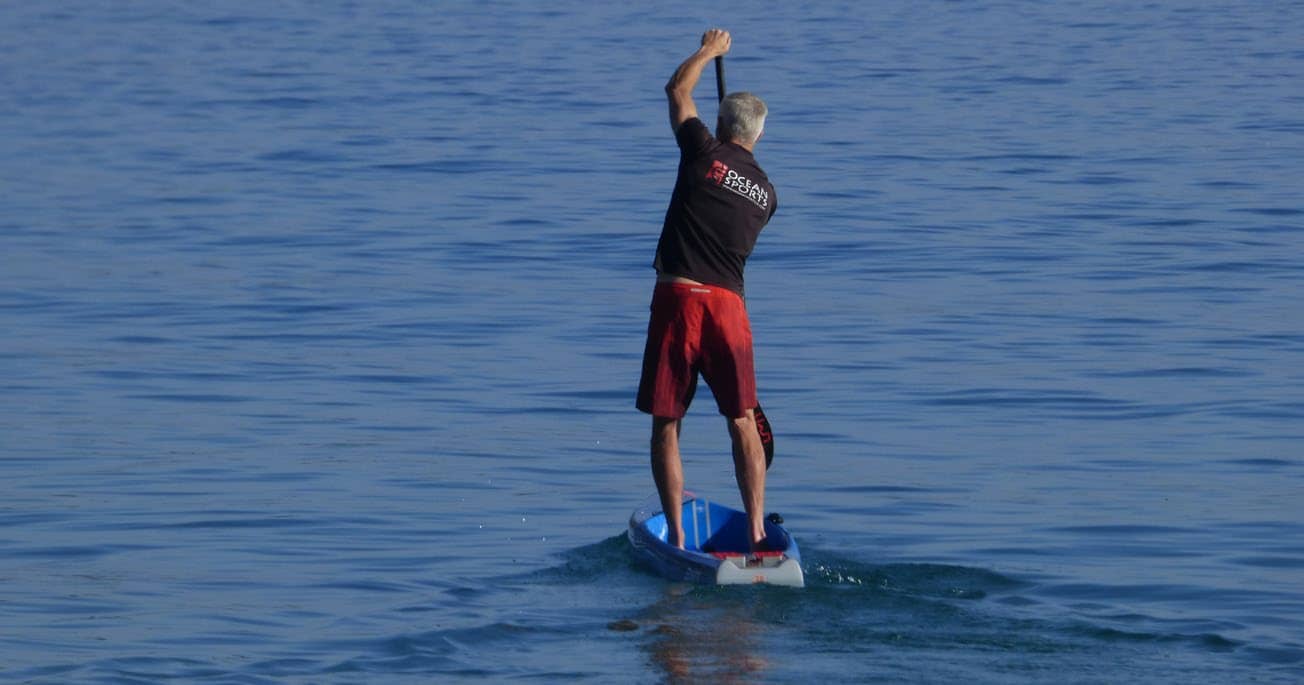 Where it all starts: the board
The less we displace the board from its course the quicker it will go in a straight line. Using aeronautical terms, these come in the form of pitch (nose to tail), yaw (side to sideboard flat) and roll (rail to rail). All three aspects are picked up in points 1, 2, 3, 4, 5 and 6. In short, we want a board to move across the surface of the water with the least amount of pitch (nose up tail down and nose down tail up), yaw, board profile is quicker nose-first rather than allowing the board to rotate exposing the nose and significant portions of the rail and, roll, in general, aboard will move quicker and provide greater stability when rails are level instead of one rail sitting deeper than the other in the water. It is important to understand that these aspects cannot be eliminated, merely minimized as much as possible.
On to technique: The premise
You can read up to 3 premium stories before you subscribe to Magzter GOLD
Log in, if you are already a subscriber
Get unlimited access to thousands of curated premium stories, newspapers and 5,000+ magazines
READ THE ENTIRE ISSUE
Issue 26 - Autumn 2019