Tales from a tall ship
Practical Boat Owner
|
November 2020
Bill Howlett recalls a youthful week on board TS Sir Winston Churchill that cemented his love of sailing (if not a love of heights)
In 1972 I was working in the City of London in a personnel department for one of the 'big four' banks. One of my jobs was to seek nominations from staff under the age of 21, whose managers thought they would benefit from attending Outward Bound-type courses, designed to develop personalities and help with maturity. Of course, we all knew that these courses were a good excuse for a fully paid week away from work and, being 23 years old, I couldn't see why there should be an age restriction. I therefore suggested that, as a trial, the bank should seek nominations from staff aged over 21 to go on a week's trip on a Sail Training Association vessel. I was very relieved when only two applications were received for the two places because one had come from me! My manager, with a wry smile, agreed that I could go.
So, in the spring of 1973, I duly arrived at Southampton docks on a Sunday morning to embark on the Sail Training Association (STA) ship the TS Sir Winston Churchill, along with 38 other trainees for a week's adventure on the high seas.
The first task was to find a bunk space which would be mine for the week. Being concerned about seasickness, I found a bunk in the lowest possible point of the ship, nearest the middle and was relieved to find that, unlike some later arrivals, I was not destined to sleep in a hammock! We were all mustered on deck and split into three watches: Fore, Main and Mizzen, with each under the supervision of a watch officer and watch leader.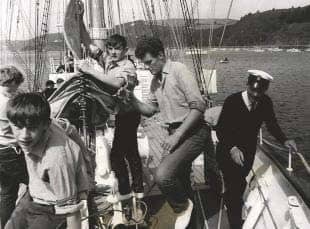 We were told that in order to avoid any problems later in the trip, we all had to go up the ratlines and onto the yards. Depending upon how we felt, we could go to the top set of yards. For those of you who don't know, the 'yards' on the Sir Winston Churchill are massive lengths of wood attached horizontally to the mast, from which some of the sails were hung. From the deck they appeared to be at least a mile up in the sky but in reality, were about 60ft and 80ft up.
You can read up to 3 premium stories before you subscribe to Magzter GOLD
Log in, if you are already a subscriber
Get unlimited access to thousands of curated premium stories, newspapers and 5,000+ magazines
READ THE ENTIRE ISSUE
November 2020