Is Your Boat Proving 'Almost' Watertight?
Practical Boat Owner
|
September 2020
Water can sneak into your boat undetected for years. Øyvind Bordal explains where leaks develop, and how to find them in time
There's no such thing as 'almost waterproof'. Still, that's how most boat owners would describe their boat, if they were being totally honest.
Somehow, somewhere, a tiny bit of water always seems to find its way through the outer shell. Most often the problem is above the waterline, so the boat won't sink. But it can create serious damage over time.
If you think about it, leaks are natural.
Windows and hatches will often develop leaks over time. This sort of repair is not a permanent fix…
When a vessel is underway, rigging places huge loads on chainplates and blocks. Rain and waves are splashing over everything and there are hundreds of entry points through deck gear, stanchions, steering systems, etc. And, as we all know, the sealant doesn't last forever. In spite of this, it is possible to keep your boat waterproof, but you will need to keep an eye on things, track down the source of the problems and know what to do about it.
Two types of leak
There are two types of leaks: the ones you know about, and the ones you don't. The first ones will most often be fixed with a minimum of effort and cost. The latter are the ones you should worry about. Most boats have wooden interiors, and bulkheads are often built from plywood. Some boats have chainplates attached to wooden bulkheads. Behind inner liners tiny, unseen streams of water can trickle down for years and end up where rot can develop undetected.
A few incoming drips when green seas have rolled over the deck, or when extreme rainfalls have passed, is hardly a big problem. At least not if the water ends up where you can see it. But quite often penetrating water stops in places where it's hard to see or reach. And if you're unaware of it, things eventually start to deteriorate. Boatbuilders frequently get repair jobs due to undetected leaks, that costs tens of thousands of pounds.
Sometimes, the problem has developed over the decades. Decks built with balsa core are especially exposed. If caught in time, serious damage could have been prevented with an hour's work and £2 spent on materials. In cold climates – where winter frosts are frequent – the process is accelerated. Frozen water expands in cracks, and melted water can crawl even further in.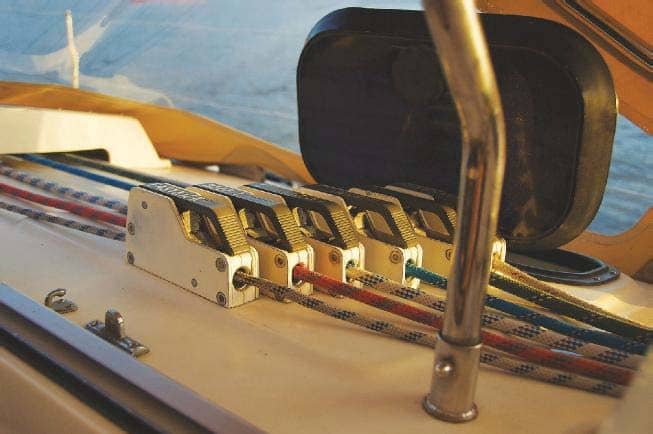 Where to look for leaks
It's not always obvious where incoming water builds up, and even less obvious where it comes from. Water can travel undetected from one end of the boat to the other, before gravity and the intricacy of the boat's construction puts it to rest somewhere. To find the source can be a long journey. Take a look at the following checklist to see where to start:
Windows and hatches
The hull and superstructure will to some degree twist or move under load. Sealant has a life span. Microcracks will develop, and water can seep in at the lowest point.
Through-deck cable fittings
Check the gasket. Over time it will dry out and become leaky.
Hull/deck joint
You can read up to 3 premium stories before you subscribe to Magzter GOLD
Log in, if you are already a subscriber
Get unlimited access to thousands of curated premium stories, newspapers and 5,000+ magazines
READ THE ENTIRE ISSUE
September 2020