A One Design from Devon
Practical Boat Owner
|
September 2020
The Devon Yawl is as sturdy as she looks and there is plenty else to admire about this popular Salcombe Yawl evolution, says Peter Poland
A friend and I once decided that instead of sailing, an August hike might do us good. So we took the coastal path from Branscombe to Bigbury. This beautiful stretch covers around 100 miles of lung-bursting ascents and knee-jiggering descents, interspersed with overnight watering holes.
On the leg from Start Point to Salcombe we were hit by the tail end of Hurricane Charley. Sitting outside a Salcombe pub, huddled against driving rain and a rising gale, we watched yachts scurrying for cover. Yet, amazingly, several elegant yawl-rigged dinghies were still sailing. But these were no ordinary dinghies – they were Salcombe Yawls.
Salcombe Yawls (SY) trace their history back some 200 years to the days when they were used as fishing boats. The mizzen steadied them when working, and the mainsail and jib gave them ample oomph to get to and from their fishing grounds quickly and safely.
But when fishermen moved from sail to power, the yawl changed tack, evolving into the dayboat and sophisticated racer it is today.
Ian Howlett – famous for designing 12 and six-meter yachts – often stayed in Salcombe and told me: "Out of the blue in 1999 I was contacted by Jim Stone (third generation of 90-year-old family firm Stoneboat builders) who explained why he would like to set in motion a new design/build of Salcombe Yawl."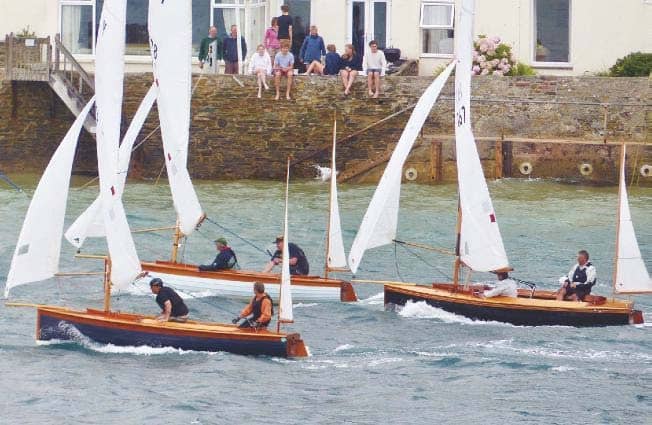 Stone decided that Michael Atfield should build this Howlett-designed yawl, and several more followed. Howlett said: "The build quality of his traditional clinker planking was exceptional; we'll probably never see such fine examples again."
There's only one drawback to a Salcombe Yawl. If you want to buy a new one, it could cost considerably more than a new Mercedes to tow it. However, the Salcombe Yawl Owners' Association sensibly splits the fleet into 'Blue', 'Red', and 'Gold' divisions, taking account of boat age and crew experience. So owners of older boats have just as much fun.
In 1968, a Salcombe Yawl sailor, Michael Quick, decided that a new glass fibre One Design yawl would appeal to less well-heeled sailors. So a Salcombe Yawl hull was used as a plug for the new class's hull mold and the new GRP deck and cockpit were designed. And thus the Devon Yawl (DY) was born. Its pretty clinker hull looks (and sounds) much the same as the SY's. Its spars are alloy instead of wood, the SY's wooden bowsprit remains and the heavy cast iron centre plate is the same.
The DY community
The DY is not just a successful One Design. It also makes a superb dayboat. Its appeal is wide, according to the Devon Yawl Association (DYA) membership secretary Ian Scholefield. "We have just over 170 members, most of whom own a Devon Yawl or Devon Dayboat," he tells me. "Around 400 Devon Yawls have been built, with about 20 built in the USA; the builder is Andrew Siwik in Connecticut. In addition to the Devon Yawls, some 70 Devon Dayboats [with a cuddy] have been built, together with a few motorboats, called the Devon Sea Angler in the UK and the Devon Launch in the USA."
Main UK fleets are at Topsham SC, Yealm YC, Dittisham SC, Newport and Bosham SC. A regular newsletter of news, events and pictures of these photogenic boats keeps owners in touch and up to speed.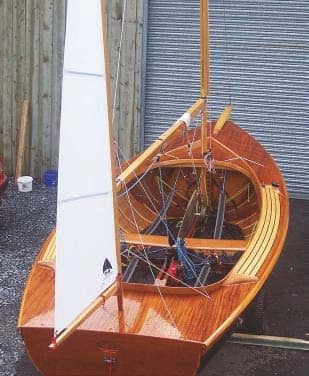 Devon Yawls are still built in the UK. James Gough-Allen of Pennant Yachts (part of GA Marine) took over production in 2014. Finding the original mould to be distorted (having been stored outside) James produced a new hull mould. His first production boat (DY383) was launched in 2015, sailed on the Yealm for two years then won the Devon Yawl Nationals. James told me a new DY cost £18,000 'ready to sail', adding that he's working on a modification to make the cockpit self-draining to get a CE mark and expand the market. The DYA added that providing the side tanks are sound, even a flooded Devon Yawl won't sink. The excellent DYA website (www.devonyawl.co) covers this in detail.
You can read up to 3 premium stories before you subscribe to Magzter GOLD
Log in, if you are already a subscriber
Get unlimited access to thousands of curated premium stories, newspapers and 5,000+ magazines
READ THE ENTIRE ISSUE
September 2020