Fairline F//Line 33
Motor Boat & Yachting|December 2019
In one of MBY's most hotly anticipated tests yet, will Fairline's latest star player live up to our expectations? Editor Hugo takes the helm...
I can honestly say this is the most excited I've been about testing a boat since I joined MBY 15 years ago. In that time I've driven everything from a 90ft Pershing to a 100-knot race boat and pretty much everything in between. But exhilarating as these experiences have been, they have never felt like the type of boat I could ever envisage owning – even when my Euromillions ship comes in.
The F//Line 33 is different. The minute I saw the first renderings in 2017, I was smitten. It wasn't just the taut, muscular styling that did it for me, it was the size and price too. At a whisker under 33ft long it looked small enough to be fast, fun and manageable but large enough to cope with half a dozen guests during the day and a family of four at night. And the mooted starting price of £264,000 inc VAT, while still well beyond my league, at least seemed within dreaming range.
Time has done nothing to dilute those first impressions. Admittedly the starting price has crept up to £290,400 in the intervening months but everything else has survived the development phase intact. When hull No 1 was revealed at the end of August during a preview event in London, it looked every inch the modern British sportsbook we'd all been waiting for. Even at its global launch in Cannes a few weeks later, it more than held its own in the company of Rivas and Wallys costing several times as much.
Now the initial hype has died down, I'm here to discover if it has the substance to back up those glowing first impressions. It's a lot to live up to and, to be honest, I'm nervous it might not. The constant quest for ever more space and comfort means that many of today's sports cruisers don't handle or ride as well as their lower, leaner, more focused predecessors. The Fairline Targa 34 and 38 both drove superbly and while the 33 is smaller than either of them, it comes from very different design stock. With Olesinski now exclusive to Princess, Fairline turned to J&J Design for the F//Line's hull in an effort to replicate or exceed the magic of those legendary Targa forerunners. No pressure then.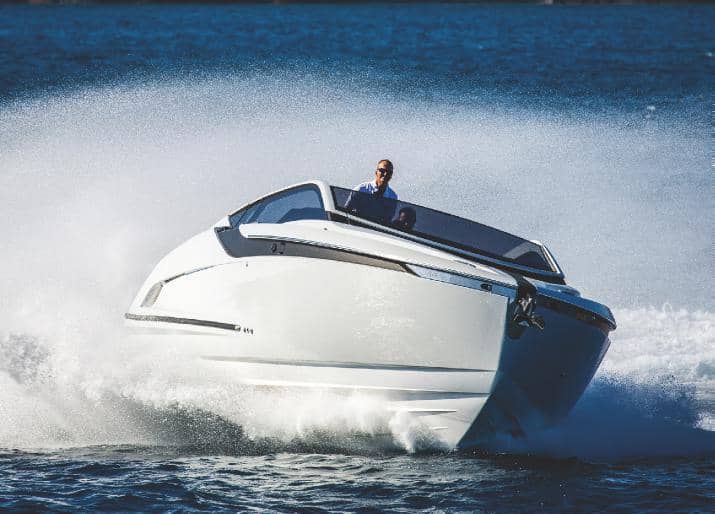 SWING LOW
Ambling out of La Napoule in the South of France, hull No 1's twin 430hp petrol V8s sounding more muted than I'd hoped (Fairline is looking into fruitier exhaust options), I couldn't have asked for better conditions in which to test it. The October sun is still strong enough to warm our backs in the open cockpit (a T-Top option will follow) but a stiffening autumn breeze has built a confusing chop over an underlying swell. What's immediately obvious is just how sensitive the steering is. There are only 2.2 turns lock to lock and the hull reacts instantly to every inch of turn. It's not just the speed of its reactions or tightness of the turn that grabs your attention but the degree of heel it induces.
I don't recall any other boat that leans quite as far as the F//Line does; during a tight starboard turn, I'm convinced I could have touched the water with my hand. It never looks as dramatic in the photos as it seemed at the time but it is genuinely eye-opening how far you can push it. Perhaps the most surprising thing is that even at this angle it holds its line as surely as a short-track ice skater.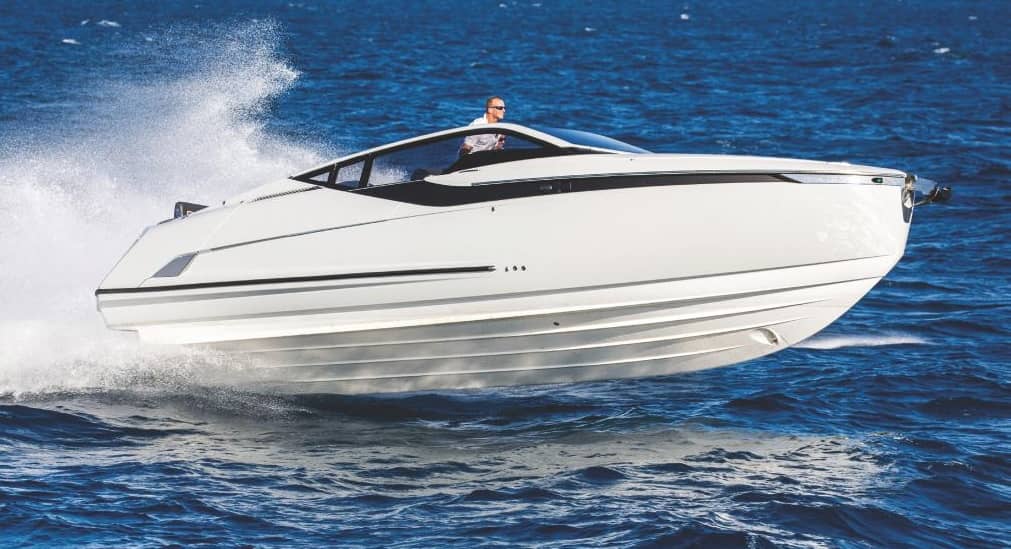 You can read up to 3 premium stories before you subscribe to Magzter GOLD
Log in, if you are already a subscriber
Get unlimited access to thousands of curated premium stories and 5,000+ magazines
READ THE ENTIRE ISSUE
December 2019