ELELCTRIC LADY
Classic Boat
|
November 2020
Spirit's newest yacht, the 44CRE, might look like another chip off the Spirit block, but she's a vision of a new future.
The old ways… make do and mend, rinse and return, make haste not hurry… might have been rebranded as life-hacking, recycling and mindfulness, but there's no doubt, as most in traditional sailing will recognise, that the future was really written quite a long time ago. The age of unrecyclable, plastic yachts is nigh, and one day, the great container ships will almost certainly enter the second great age of sail.
It's no exaggeration that we're at the dawn of a new age in consumerism, but at first sight, Spirit's new yacht, the 44CRE, embodies nothing of all this. Its look is pure 1930s – sawn-off transom stern, nice sheer, spoon bow, a good dollop of overhang and elegance all round. The CR moniker means 'cruiser racer', a category Spirit introduced in 2015, and which has been proving popular. The CR range sits between the original Classic range (the most elegant, with low topsides, low-profile cabin trunk, a whiff of the Skerry Cruiser and standing room for a bottle of gin) and the sturdier deckhouse range, bluewater cruising yachts typically used for long, comfortable cruises. So the CR is a compromise: most of the elegance of the Classic, with the ability to put your trousers on below decks. So far, so good.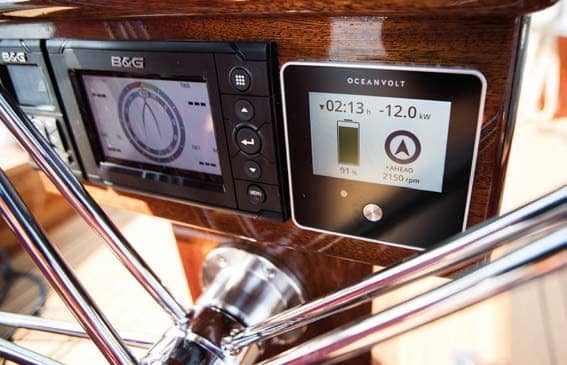 It's the 'E' where the clue lies. The 'E' stands, of course, for electric, and it's Spirit's first fully-electric yacht, with sufficient generative capability to be infinitely autonomous: no back-up generator here, unless you count the wind and sun. Nigel Stuart, Spirit MD (see page 58) was on board to give the tour, and it seems that he was as excited about this boat as the one sat beside it on the dock – the Spirit 111, the longest wooden yacht built in Britain since the J-Class Shamrock V in 1930.
You can read up to 3 premium stories before you subscribe to Magzter GOLD
Log in, if you are already a subscriber
Get unlimited access to thousands of curated premium stories, newspapers and 5,000+ magazines
READ THE ENTIRE ISSUE
November 2020