Technically Peaking
Wheels Australia Magazine
|
Year book 2019
WHILE HYPERCARS ARE RIMAC'S HEADLINE ACT, IT'S THE TECH SMARTS OF THIS CROATIAN EV OUTLIER THAT HAVE ATTRACTED THE ATTENTION – AND MONEY – OF SOME OF THE WORLD'S BEST-KNOWN CAR COMPANIES
WHY IS PORSCHE pouring millions of dollars into a relatively unknown car maker in Croatia? It's a question that recently drew us to the industrial outskirts of Zagreb, the capital of a nation best known for spotty dogs, medieval HBO blockbusters and stunning coastlines. It's the home of Rimac, a company born from an old E30 BMW that failed to proceed and an admiration of Tesla (the man, not the company) with a generous smattering of YouTube viral magic to bubble things along.
Days before the 2019 Frankfurt motorshow, Porsche confirmed it had lifted its stake in Rimac to 15.5 percent, deputy chairman of the executive board Lutz Meschke cryptically saying: "We quickly realised that Porsche and Rimac can learn a lot from each other."
The unassuming factory on the outskirts of Croatia's capital almost goes unnoticed by Google. Nondescript warehouses are surrounded by the occasional plot of unkempt grass and weeds. But follow the signs around the back of an industrial estate and professionalism sneaks in, with R-badged flags waving in a gentle breeze. A deep blue hue surrounding the top of the blocky building contrasts the dull sky and glass panels peppered with pictures of cars, the only clue to something special within.
The car park is devoid of any such exotica. There's a Euro-grey sea of Opels, Volkswagens, the occasional Mercedes-Benz; a couple of Teslas with charging cables snaking from them. Not a single Rimac, which must make it the only car factory where at least some of the machines conceived within aren't dotting the car park.
Blame it on volumes. Since producing its first vehicle in 2016, Rimac has completed only five cars; about 0.0036 of a car per employee per year. Even Ferrari manages almost three cars per employee per year, for a total approaching 10,000. A wave of productivity means another three are in various stages of construction during my visit, body panels stacked and awaiting fitment to complete the planned run of eight Concept_Ones. The car is a two-seater with batteries lining its floor and an electric motor on each wheel. While tyres and generic parts are sourced from suppliers, most components – including HVAC units, lights and bumpers – are produced in-house.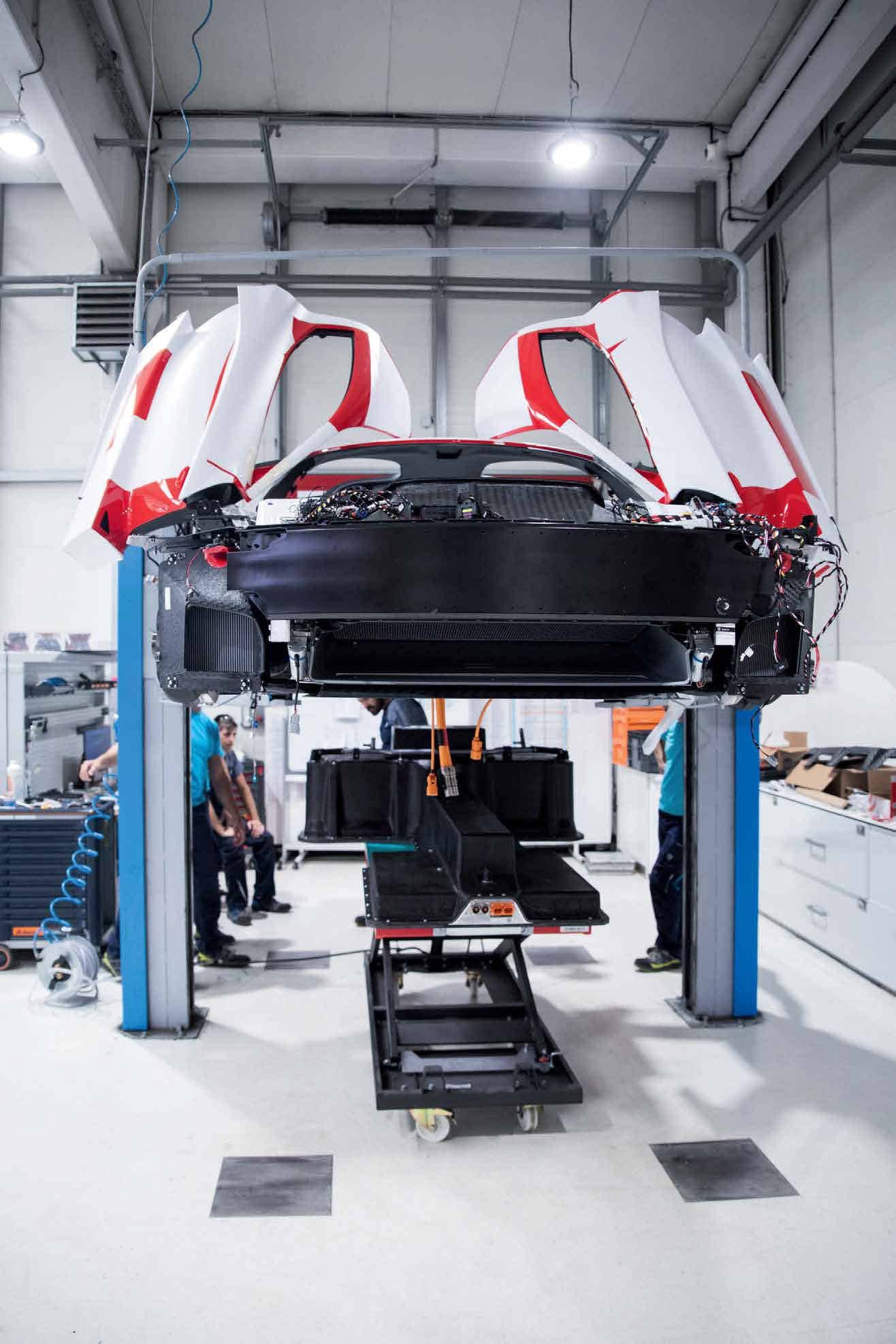 The result is a sleek sports car good for around 900kW. Company founder Mate (pronounced 'mah-tey') Rimac describes it as "an electric car built by petrolheads", an insight into his headspace. For the trainspotters there's even a hint of Croatian design – Mate, 31, is intensely patriotic – with the air intakes hugging the doors tapered like a necktie invented by the Croatian army. But it's the upcoming C_Two that is planned to send more of a jolt through the hypercar world. The philosophy doesn't change – big electric power in a two-seater sports car – but the execution does.
You can read up to 3 premium stories before you subscribe to Magzter GOLD
Log in, if you are already a subscriber
Get unlimited access to thousands of curated premium stories, newspapers and 5,000+ magazines
READ THE ENTIRE ISSUE
Year book 2019