Coty – And The Winner Is…
Wheels Australia Magazine|February 2020
We unveil the COTY champ for 2020. Some decisions are easier than others
Mercedes-Benz EQC
CRUSHING COMPLETENESS, SURPRISING SUPPLENESS AND RIPPING REFINEMENT SEAL STUTTGART'S FIRST COTY GONG IN 12 YEARS
REALLY, WE SHOULD have known. After all, the writing was on the wall 12 months ago when the Jaguar I-Pace rocketed to the front of the pack during COTY 2019. The Jaguar's advantage was so clear at the end of round one that deputy editor Andy Enright asked if we should all just go home.
"Do we really need another four days of testing?" he mused, only half-jokingly. "I just can't see how the I-Pace can lose."
But lose the Jaguar did. Issues with its real-world range, various technical gremlins, plus packaging shortfalls saw the I-Pace's seemingly unassailable lead cut away at the knees. But the stage was set. Any manufacturer who could field a comparable EV in a more complete package would surely be a shoo-in…
Enter the Mercedes-Benz EQC.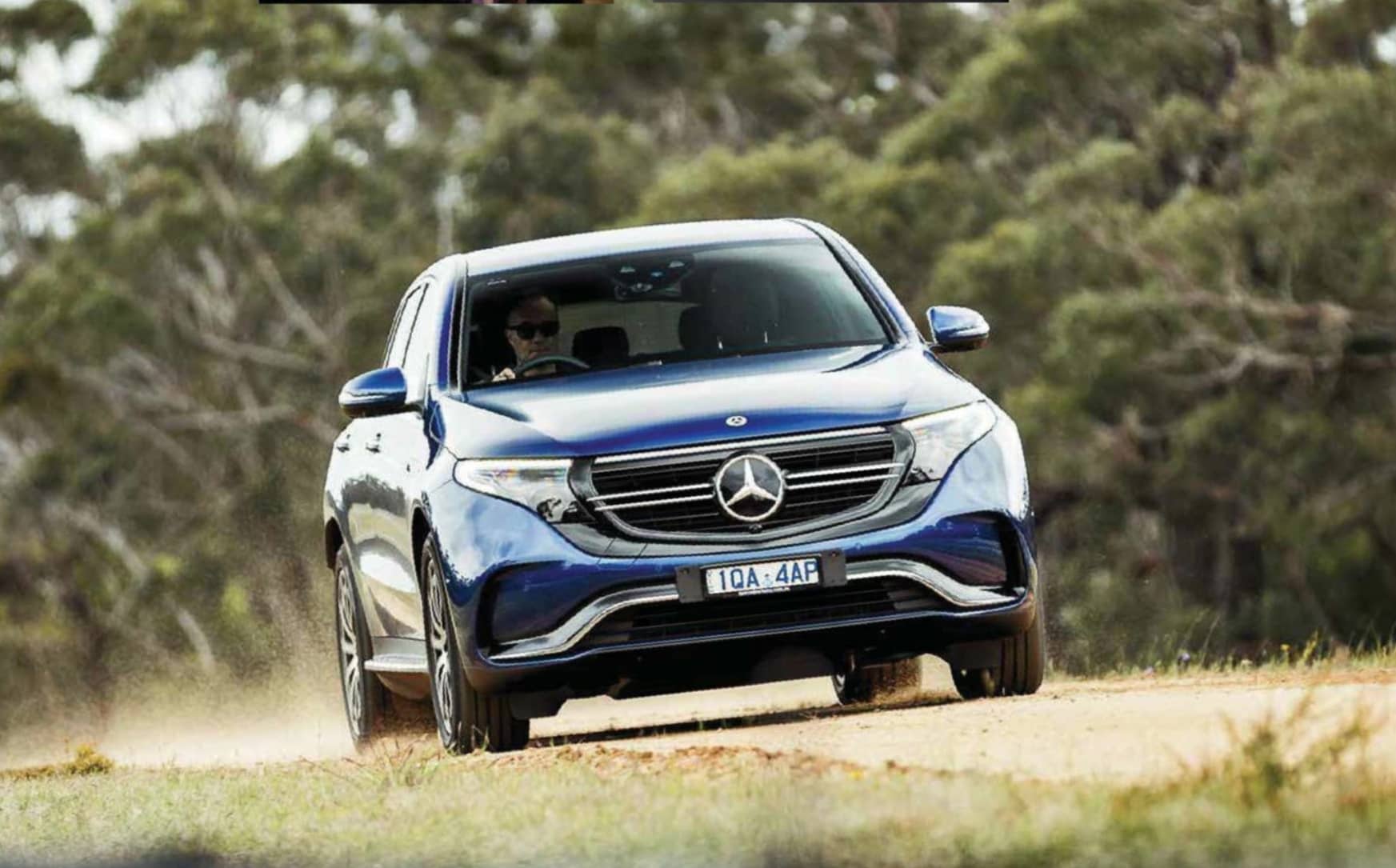 Weirdly, however, the Merc's COTY journey couldn't have been more different. Where the Jaguar swooshed silently and confidently onto the center stage from day one (only to wilt spectacularly under harsher scrutiny) the EQC arrived at Lang Lang carrying no such expectations. The early money was on the BMW 3 Series, Toyota RAV4 and Tesla Model 3, leaving the relatively plain-looking EQC to fade into the background. It was easy to see why.
Compared to its clearest rivals – the genre-busting and bravely designed I-Pace and Tesla Model X – the Mercedes is remarkably unadventurous. Only its subtly honed proportions, eye-catching wheel designs and unique LED light signatures distinguish it from Mercedes' conventionally powered SUV range. And on paper, the EQC's basic formula doesn't exactly scream "ground-breaking innovator", either.
Despite being 85 percent new, the EQC draws heavily from Merc's existing ICE-powered mid-size SUV, the GLC. The two are built on the same platform, in the same factory, and share wheelbase dimensions and suspension hardpoints.
Some judges saw this as a clever manufacturing decision, as in these transitory times it allows Mercedes to up- or down-scale EQC production depending on demand. Others were less charitable, deriding the EQC as a halfway house. "Packaging and design is a stepping stone from ICE to EV," quipped Byron. The fact the EQC is a whopping 420kg heavier than the I-Pace is another telling compromise evident from Mercedes' decision not to invest in a bespoke EV platform.
The EQC's EV powertrain also copped some light criticism, at least initially. Utilizing an 80kWh battery with twin electric motors for outputs of 300kW and 760Nm (the latter being some 64Nm more than an I-Pace), the EQC has a claimed WLTP range of 353km – a figure less than the I-Pace and Model X, but more than the yet-to-arrive Audi e-Tron.
You can read up to 3 premium stories before you subscribe to Magzter GOLD
Log in, if you are already a subscriber
Get unlimited access to thousands of curated premium stories and 5,000+ magazines
READ THE ENTIRE ISSUE
February 2020