Mud, Sweat And Gears
What Car? UK
|
October 2019
Ten of the most capable four-wheel-drive SUVs go toe-to-toe to establish what you should be driving when the going gets rough.
While we appreciate the appeal of a lofty driving position and rugged styling in an SUV, we don't often recommend one with four-wheel drive if it's available with just two driven wheels. That's because most people only drive on the road and would rarely benefit from having four-wheel drive. It also makes cars heavier, more complex and pricier to buy and run, while suspension systems that work well over rough terrain don't usually offer a comfortable ride on the road.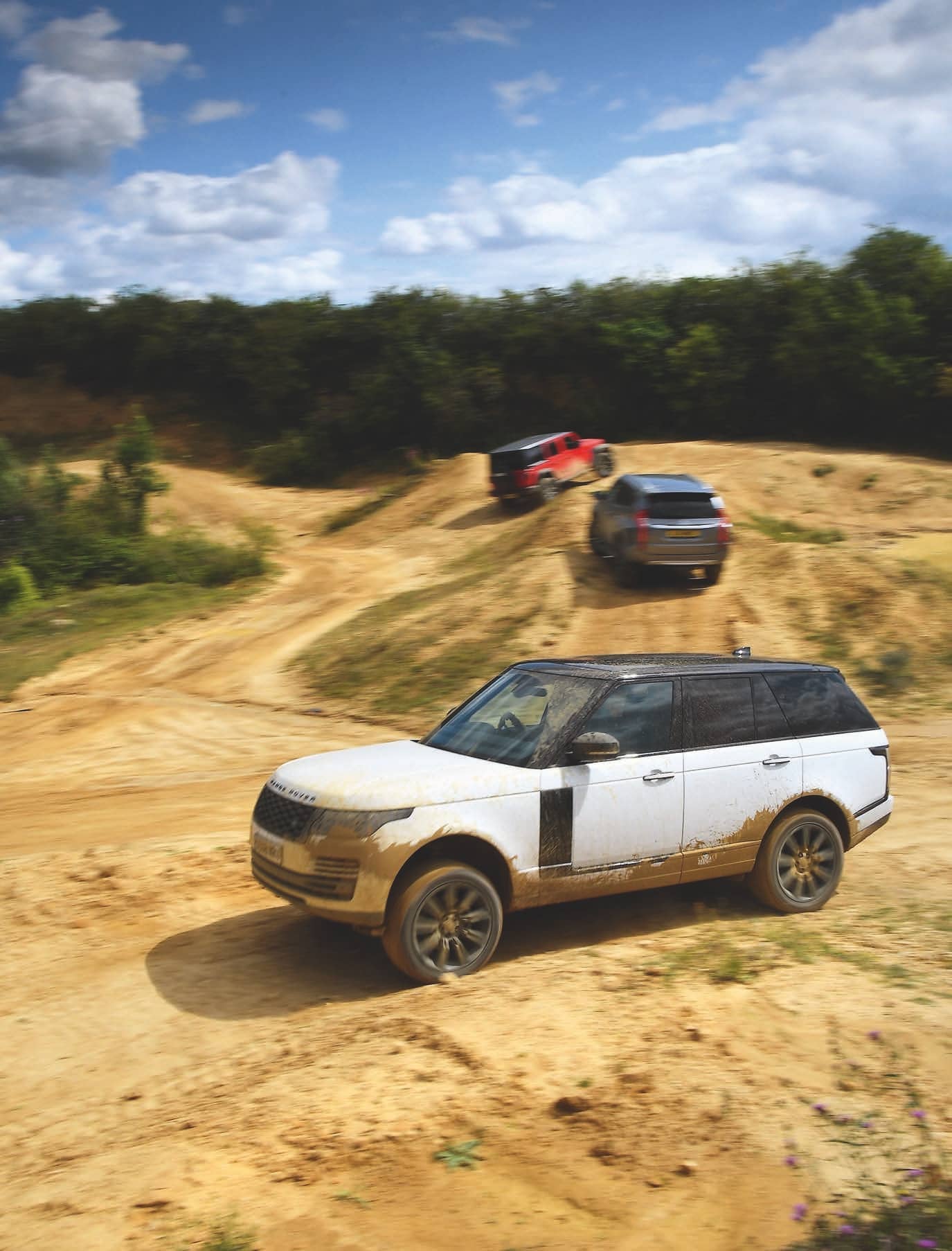 But what if you need something that can plough through mud or climb a steep, rock-strewn hill? What's your best bet then? To find out, we've gathered together 10 of the most capable four-wheel-drive SUVs you can buy and paired them up in five price brackets.
The bargains of the group are the sub-£20,000 Dacia Duster and Suzuki Jimny. They may be similar in price, but they're very different from each other under the skin.
For those with up to £35,000 to spend, we've got two contenders from brands with loads of four-wheel drive experience: the Subaru XV and the Jeep Renegade, in its most capable Trailhawk trim. Push your budget to £45,000 and things get even more serious,with the rugged Mitsubishi Shogun Sport going up against the legendary Toyota Land Cruiser. In the £45,000 to £60,000 price bracket, the Jeep Wrangler Rubicon tussles with the Land Rover Discovery, and if you're lucky enough to be spending even more than that, we've got the ever-capable Range Rover and the mighty Mercedes-Benz G-Class.
Of course, such worthy 4x4s need a suitably challenging venue in which to test them. We've been to not one but two off-road courses – one at Millbrook Proving Ground and another at a disused quarry – where we've found out how they climb, crawl and wade through terrain that would stop lesser SUVs dead.
We're concentrating on a handful of obstacles, starting off with four relatively smooth gravel hills ranging from 26% to 35%. If each 4x4 can handle this, it's on to sand and silt hills that are slipperier and far more rutted. Even trickier is the Horseshoe, a slippery, churned-up hill with a sharp bend at its peak. We also have offset ditches and humps to test suspension travel and a range of easier trails to assess driveability. The winner from each price band will go into contention to be crowned overall champion.
Less than £20,000
Dacia Duster vs Suzuki Jimny
If you have even the slightest interest in off-roaders, there's a good chance that the Suzuki Jimny will already be on your radar. Not only does it look like a shrunken Land Rover Defender, but it also has a surprising number of mechanical similarities under the skin.
For a start, you get a separate chassis with a body bolted on top, and live axles front and rear. That means it sacrifices a supple ride for the greater wheel travel that you need for really rough terrain. It also comes with a low-ratio gearbox to give it the oomph to keep it crawling up the steepest of slopes, with just a relatively lowly 100bhp 1.5-litre petrol engine under the bonnet.
You'd be wrong to think of the Jimny as your only sub-£20,000 option, though. Although you might think of the Dacia Duster as nothing more than a bargain family runabout that would struggle on a soggy lawn, fourwheel drive is available on midrange Comfort trim upwards. You can pair it with either a 148bhp 1.3-litre petrol engine or the 113bhp 1.5-litre diesel we've got here.
A rotary dial between the front seats allows you to switch from front-wheel drive to on-demand four-wheel drive, with power being sent to the rear wheels only when slip is detected at the front. Should you expect the going to get particularly sticky, just turn the dial one more click and power is distributed evenly front to rear. The Duster may not seem quite so suited to the rough stuff, because it can't approach or depart from such a steep angle without scuffing its bumpers and is more likely to get beached on a sharp peak. However, it's still surprisingly capable. Yes, you do find yourself wincing more often than in the Jimny as it rubs its chin or belly on the ground, but it has no trouble hauling itself up steep, rutted and sandy inclines, as long as you're prepared to use plenty of power. A super-low first gear certainly helps with this.
In fact, it was only a particularly churned-up section of hill with a turn at its peak, called the Horseshoe, that caught out the Duster. With a rear wheel dangling in mid-air, no amount of traction control could prevent the Duster from stopping dead in its tracks, unable to continue its climb.
If you're expecting us to say the Jimny absolutely monstered this ascent, you might be surprised. It keeps all four wheels grounded far more of the time, but it still requires a heavy right foot to get the electronics and brakes to quell slippage and send power to the wheels with traction. Indeed, it took two attempts to inch its way over the most rutted section and back down the other side.
However, this is only part of the story. Even on less extreme obstacles, you feel far more relaxed in the Jimny, because it's less likely to dig its bodywork into the ground. It's easier to judge where its extremities are, too, due to its small size and boxy shape.
Just don't get confused between 'relaxed' and 'comfortable'. The Jimny's suspension may be soft, but this doesn't translate into a cushioned ride. Not only does it feel like you're riding a small, luminous bucking bronco, but it also leans heavily in corners if you drive it with any enthusiasm.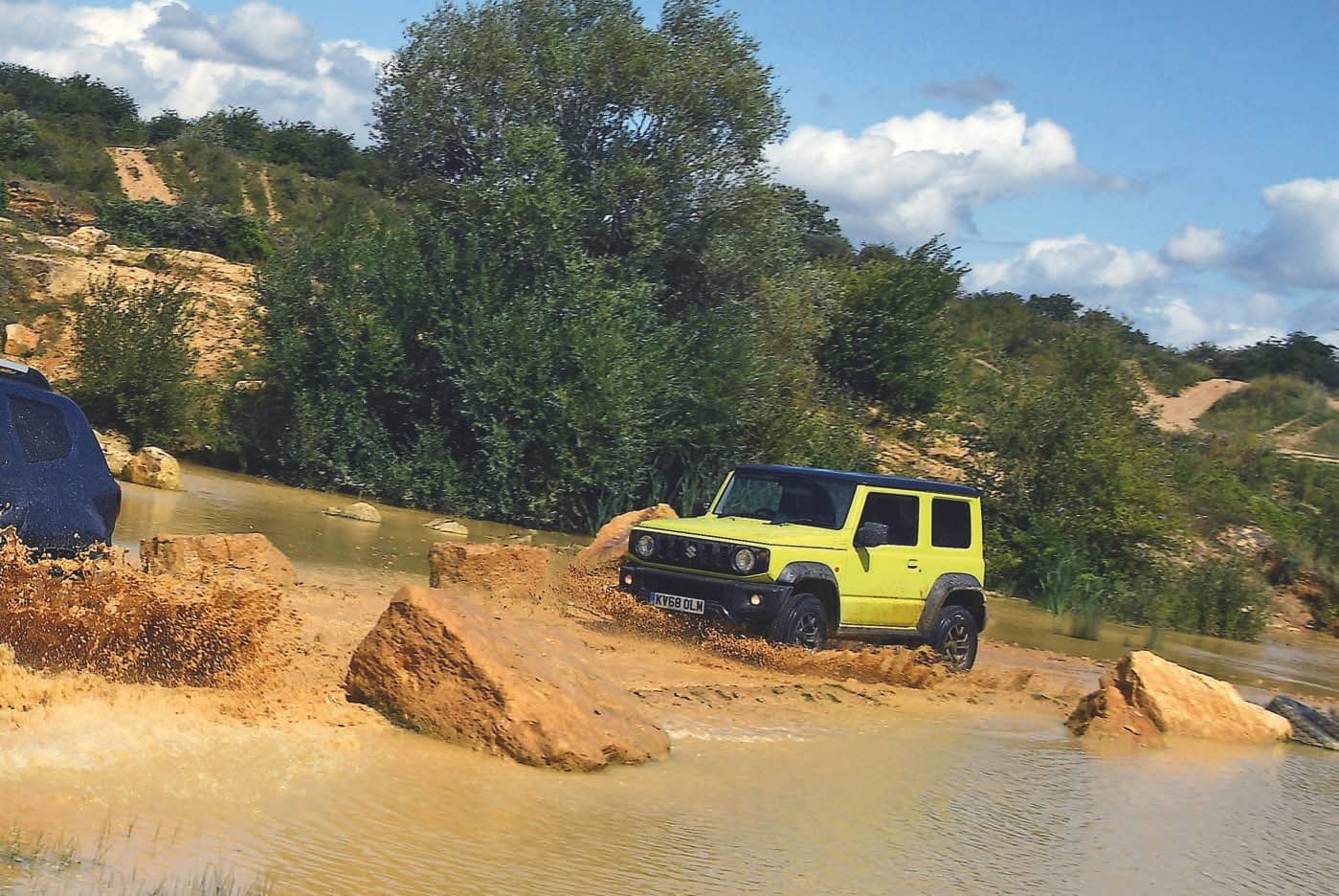 The Duster's more sophisticated suspension soaks up rough tracks far more adroitly and it controls its body movements far better. As a result, you aren't thrown around in your seat as much. It also has a more refined engine, is significantly more accomplished on the road and has an extra pair of doors – not to mention a useful boot that'll manage more than a couple of school satchels; the Jimny's boot really is very small.
However, the Jimny's off-road performance, combined with the fact that its prices start even lower than for the Duster, means it's the one that takes the spoils here.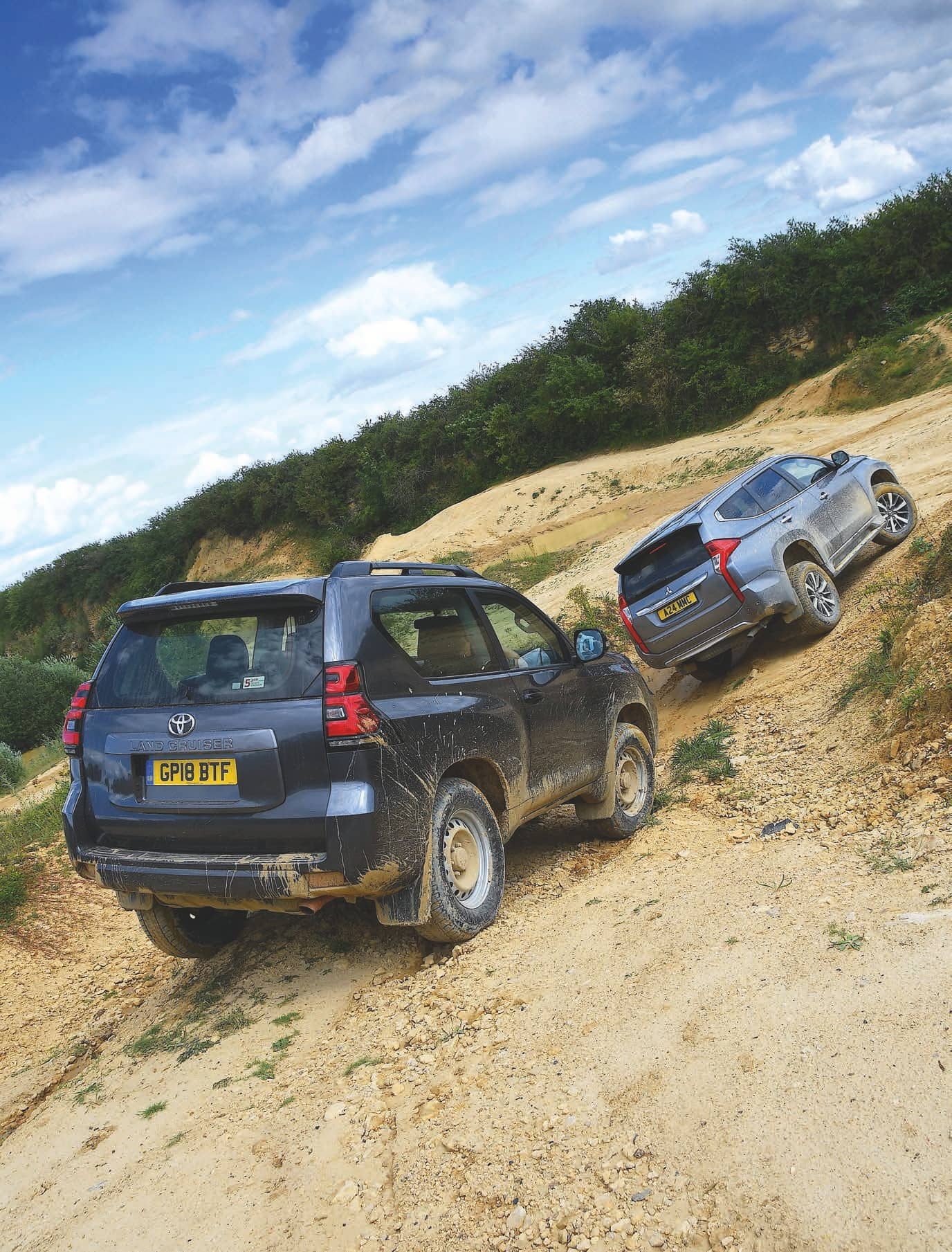 £20,000 -£35,000
Jeep Renegade vs Subaru XV
Hoover, Biro, Portakabin. These are all brands that go beyond well known and have become synonymous with the item they're selling, be it vacuum cleaners, ballpoint pens or portable structures.
Another is Jeep. Although the American firm didn't invent four-wheel drive, it certainly helped popularise the system in the Western world, making it the generic name for most off-roaders, even those made by unrelated brands.
You can read up to 3 premium stories before you subscribe to Magzter GOLD
Log in, if you are already a subscriber
Get unlimited access to thousands of curated premium stories, newspapers and 5,000+ magazines
READ THE ENTIRE ISSUE
October 2019