One Of A Kind
Volkswagen Camper and Commercial
|
Issue 155
A 1979 air cooled T3 syncro? Mike Ghia tells us the story behind this one off creation.
Visitors to Busfest will know Mike; not only does he organise the T3 syncro displays and arena obstacle course, he has also demonstrated doing a 2wd > 4wd conversion over a weekend at the show! Always up for a challenge, Mike decided to convert an early 1979 air cooler into a syncro.
"I spent years building up an original VW T3 Transporter (Limey) 1989 Syncro 16" Kombi into a full-on Westfalia (using factory equipment) pop-top and then High-top. On top of that, I wanted to have it the tallest, the quickest, the best shopping, the best off-road, etc… well I got some of what I wanted but you can't have everything in one van and just having one of the above points costs money, so trying to do all of them costs mega-money and silly amounts of time. Would I do the same again? Hell no! After waving goodbye to Limey (Divorces are expensive huh!) I started thinking about a replacement.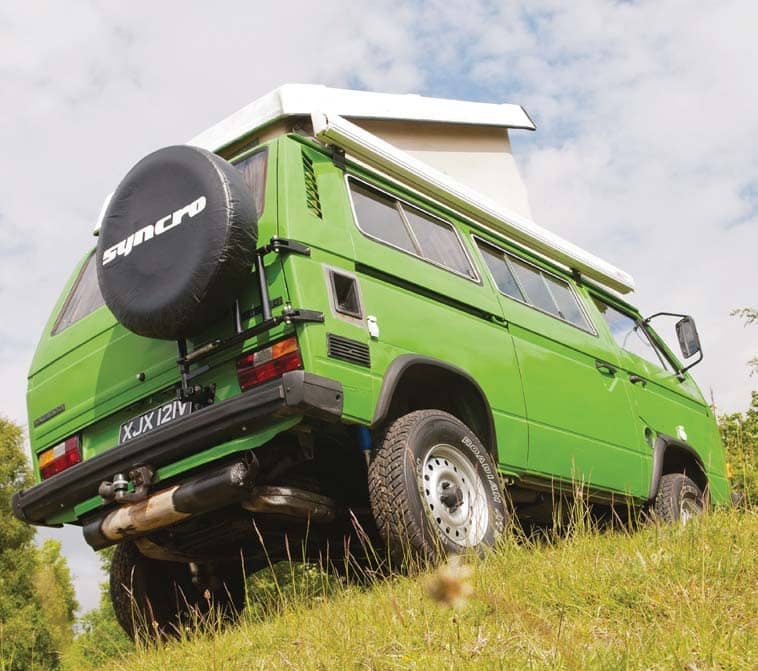 So, time for something a little different. How about an air-cooled syncro? Hmmm, has anyone done that before? Cue lots of googling and searching online. All I could find was someone who wanted to just make his T3 syncro function and so stuck in an air-cooled engine and someone else who had used a Porsche 911SC 3.0 engine in a syncro. Neat idea but I'm not that rich. Maybe my years within the T3 scene are changing me and I'm starting to appreciate the early vans more. I started looking at very early air-cooled Westfalia T3s and eventually found a Liana Green Westy that needed work in all areas. The paintwork had recently been done, but not really dealt with some of the underlining issues so it would need looking at again in a few years. The engine ran, but leaked fuel from one carburettor and sounded like a bucket of nails. The interior was tired, thread bare in places and had been 'upgraded' by various previous owners. As such, the original look and features of the van have been lost and/or destroyed.
You can read up to 3 premium stories before you subscribe to Magzter GOLD
Log in, if you are already a subscriber
Get unlimited access to thousands of curated premium stories, newspapers and 5,000+ magazines
READ THE ENTIRE ISSUE
Issue 155