Purple Haze
Robin Holmes had always wanted a camper van, but he started his Dub life with a lilac Beetle
He had big plans for that Bug, but sadly he had to sell it in order to get a step up on the property ladder. It would be another thirty years before he finally bought his van. He is still a big fan of classic buses, but with two kids to ferry about, he decided a Split Screen bus wasn't for him. His wife, Kirsty, simply said 'whatever you do don't buy a white van', and taking that as the go-ahead, Robin started looking for the 'full, perfect camper conversion'. But search as hard as he did, he couldn't find the right one, and so changed his search parameters to a more basic van, one which he could then fit out as he wanted.
And then along came a 2010, T5.1, a T26 with the 1.9 litre engine and completely standard. It was a painter and decorator's panel van, with side windows and had a full-width bed fitted. As Kirsty pointed out when he took it home, it was also white… Despite this awkward introduction, Robin was sure that she would love the van by the time it was complete.
The first things done were what Robin refers to as. 'typical newbie stuff': he got a lei, made a surfboard table for the rear of the van, and dropped it 40mm. There was then a discussion about the roof. Kirsty wanted a pop-top, but Robin wasn't keen. 'In my defence' he says, 'a roof wasn't a pre-purchase stipulation—and we all know how I paid attention to the purchasing rules!' The very effective compromise was no pop-top, but a transformation of the interior of the roof, which is now a photo diary of the family's travelling and VW trips and it looks great.
The next issue was what to do about the colour. Determined that he was not going to remain a white van man, Robin started looking to get it resprayed, but on the colours he liked, all the costs were coming in way too high. Before frustration built too far, a lucky find of Monster Wraps resulted in a visit to their Southampton workshop, to talk about wrapping the van in grey. But the grey plan was chucked out the window, as soon as they saw the matte metallic purple! The minute Robin and Kirsty clapped eyes on it, they knew it was the colour for them. So, in went their white van, and out it came in all its purply transformation glory! With gloss black and chrome trim it looked great.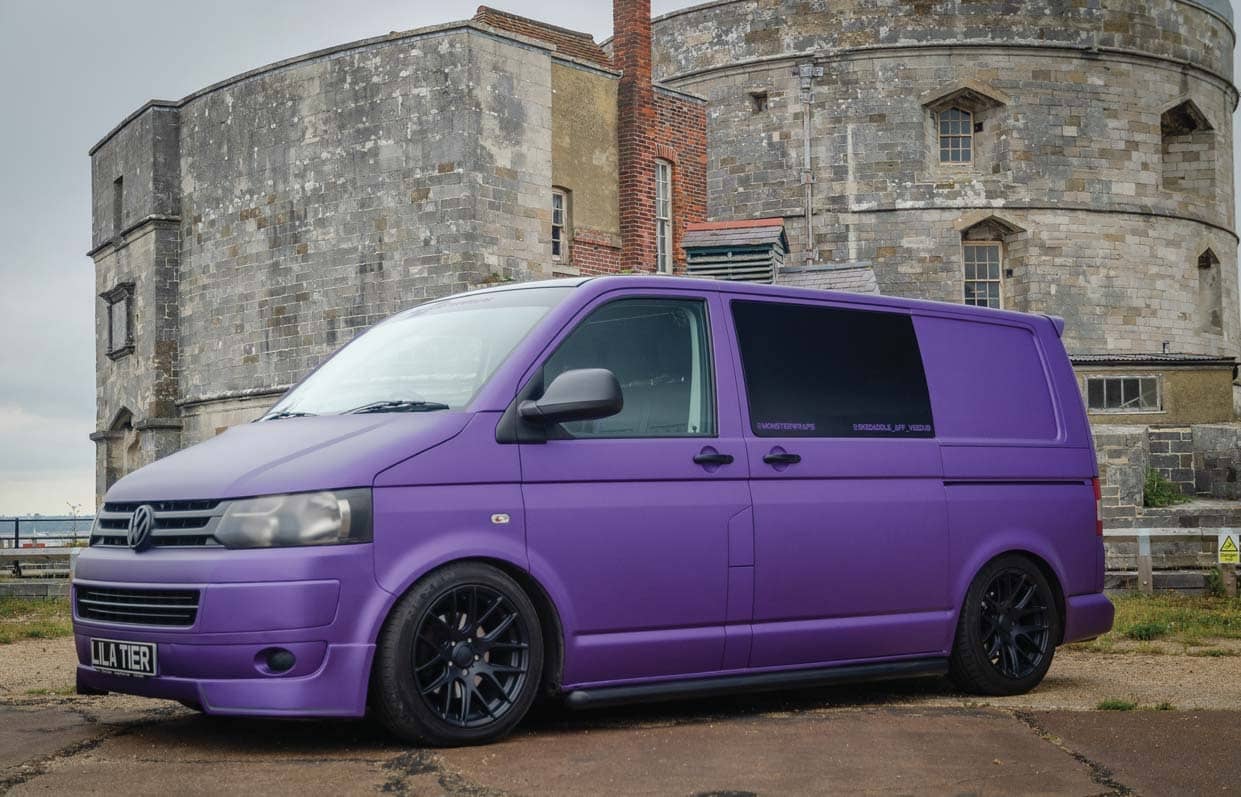 You can read up to 3 premium stories before you subscribe to Magzter GOLD
Log in, if you are already a subscriber
Get unlimited access to thousands of curated premium stories, newspapers and 5,000+ magazines
READ THE ENTIRE ISSUE
Issue 99