pick of the bunch
Truck & Driver|August 2020
Hereford is well-known for its delicious cider, but we reckon Phill Preece Transport's clean, sharp Volvo FH16 750 is even tastier
At a glance
Make & Model: Volvo FH16 750 6x2 twin-tag Engine: Volvo D16K, six-cylinder Euro 6d Power: 750hp @ 1600-1800rpm Torque: 3550nm @ 950-1400rpm Gearbox: I-Shift 12-speed auto Operator: Phill Preece Transport, Hereford
Phill Preece runs a fleet of ten trucks on bulk tipper work in Herefordshire. The crisp white Volvos and Scanias are invariably immaculate. He's added a new Volvo FH to the fleet in each of the last five years, with the last four being 540 versions, the most powerful option offered by Volvo from the 13-litre engine. We know from experience how good they are working at 44 tonnes all day.
Phill has been delighted with them too, but to celebrate the company's 20th anniversary, he decided to go for something extra special. He opted for the ultimate power option, none other than the FH16 750, with a load of goodies from Tranz-Tech on top for good measure. The truck was T&D's first post
Covid-19 lockdown photoshoot, and we were delighted to catch up with Phill and find out the story behind him, the company and his trucks.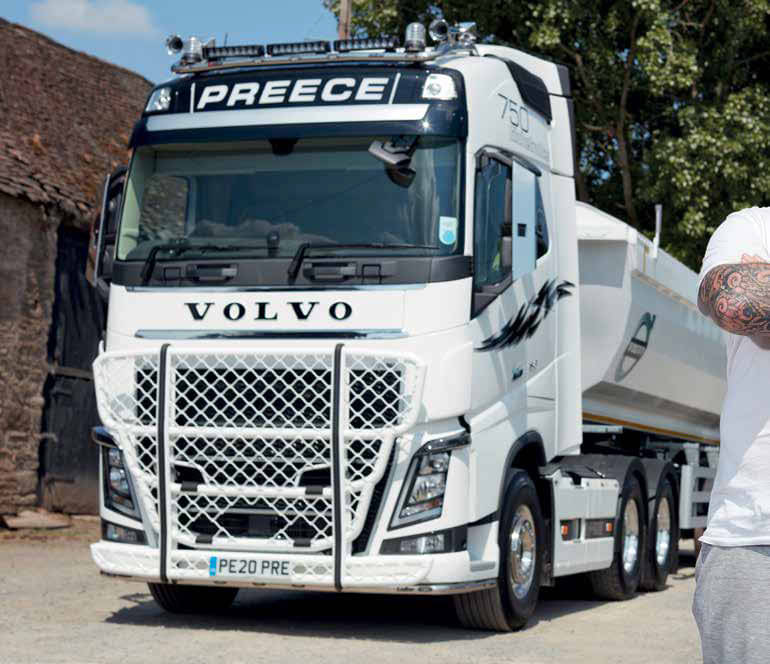 Having left school, Phill got a job as an apprentice HGV mechanic with a local firm called Oakley's. Unfortunately the company was closed down when he was 18, but he was soon working for Leigh Environmental driving a 7.5-tonner.
"As soon as I was 21, I went for my HGV licence and I've never looked back," he smiles.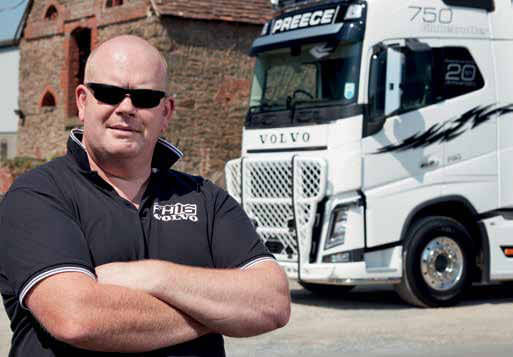 He cut his teeth behind the wheel of the ERFs that were everywhere in the mid '90s, including an E12 375 TX with Twin-Splitter box, "I used to haul coils of metal up to the Midlands in that truck, and I was so happy at the time, to be out in an artic after years of emptying wheelie bins!" A move then followed to Wincanton, who had the contract for Sun Valley Foods in Hereford.
In 2000, Wincanton were advertising for sub-contractors, and Phill made some enquiries to the transport manager. "I asked him if I got a truck, would they use me, and they said yes. I had really wanted to have a crack at going out on my own," says Phill. His first truck was ex-Wincanton, a J-reg Volvo F10 320 4x2. "It was one of their continental fleet. Pretty gutless, but apart from that it was lovely to drive and had air on the rear. It did me well."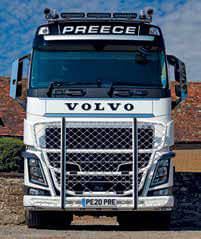 A move to 44 tonnes came about when he changed the Volvo for a M-reg ERF EC14 Olympic. "That was originally a 410, but like a lot of those 14-litre Cummins' it was turned up," he grins. The truck was wellspecced for the era too, coming with a microwave oven as standard. Phill installed a TV for the full rig-out. "That was a great lorry, and it definitely earned its money," he explains.
You can read up to 3 premium stories before you subscribe to Magzter GOLD
Log in, if you are already a subscriber
Get unlimited access to thousands of curated premium stories and 5,000+ magazines
READ THE ENTIRE ISSUE
August 2020