Street Wise
Truck & DriverMay 2020
Few haulage contractors have the long-standing presence or good reputation to have a road named in its honour. T&D heads to Sibbald's Brae, Bathgate, to visit a traditional operator with the skills and experience to deliver 21st century haulage
THERE'S not much that phases Russell Sibbald, joint owner of D&J Sibbald. After spending 54 years onboard at the haulage company, founded in 1933 by his father and uncle, Russell has probably seen it all. After starting driving lorries in 1966, he moved into the office just two years later. Since then Russell has managed this operation with his brother Ralph, who looks after the fleet's maintenance.
Now at 72 years young, Russell is reaping the benefits of bringing his driver, David Joyce into the traffic office. "David decided to give the office a try back in 2016 and thankfully he's still here. His appointment has taken the pressure off me and nowadays I can get back on the road and do the occasional local delivery or help out with a changeover at The Fleece in Carlisle," he reports.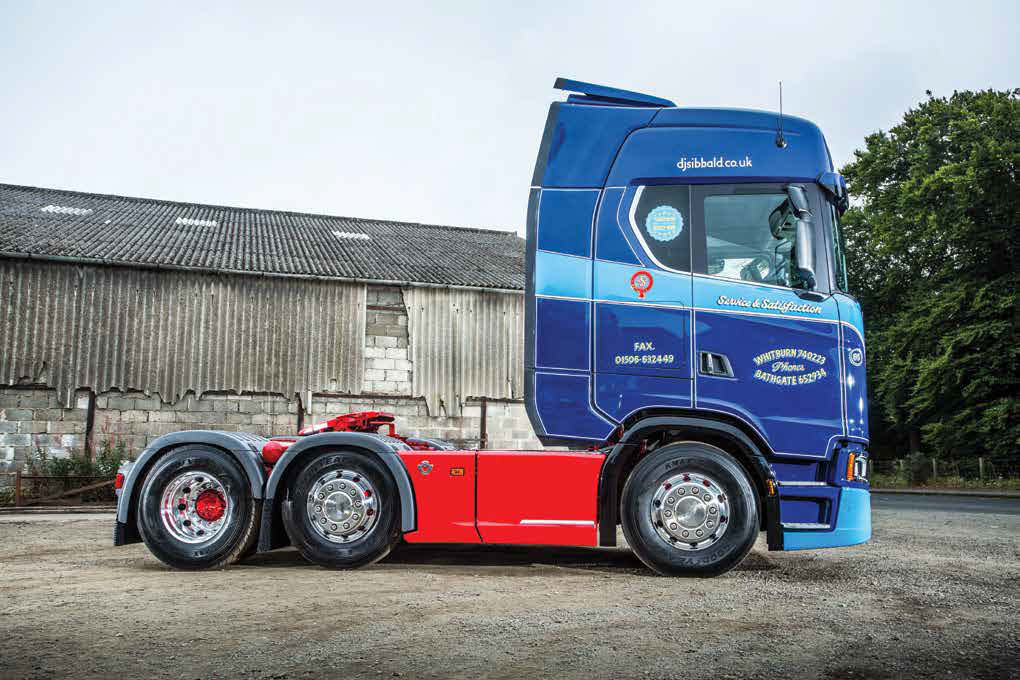 Russell still makes the big business decisions, but in his absence, he's happy to leave day to day operations to David.
David's father has driven with D&J Sibbald for 15 years and his own ten years experience behind the wheel of a D&J Sibbald Scania proved useful when he moved into the traffic office.
"Life moves at a quick pace in the office and I'm not chained to a desk, as there is often loading or unloading to help with in the yard or the warehouse. Everything can change with a phone call and there are no two days the same," David confirms.
With 87 years experience of general haulage under their belts, the Sibbald family have built up an unequalled reputation for service levels.
As is often the case with directly accountable, family owned operations, both customers and staff members appreciate a direct line of communication with the name on the door.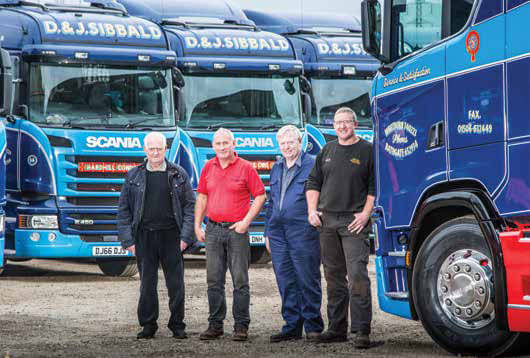 Face To Face
"We've always been fortunate to enjoy face to face communication with customers and of course, nothing is possible without drivers. I like to look after our team by investing in good trucks and equipment. We have a good, reliable team that are settled and long may that continue," reports Russell. In the last two years, the company has bought four new Scanias and eight new trailers.
A loyal Scania customer since May 1976, D&J Sibbald marked its 85th anniversary in business during 2018 with the arrival of its first V8 engine from the Swedish maker. Supplied by Colin Fordyce, sales executive at Scania Edinburgh, the S650 features Scania's legendary DC16 Euro 6 power plant, driving a Opticruise GRS0925R auto gearbox.
Sibbald's opted for the well proven front steel, rear air suspension set up and a rear drive axle with a 3.08:1 ratio. Alcoa Dura-Bright alloy wheels, a cherished registration mark and the company's traditional hand-painted livery, all contribute to the truck's stunning presentation levels. Driven by long serving D&J Sibbald employee, William McCracken, the Highline cab S650 was also ordered with a sliding fifth wheel and twin fuel tanks giving a total capacity of 475 litres.
"Unsurprisingly the V8 is not quite as frugal as our six cylinder Scanias, but William who has 31 years service here, has a good, fuel efficient driving style. At present, we find the R500s are unbeatable for mpg figures.
You can read up to 3 premium stories before you subscribe to Magzter GOLD
Log in, if you are already a subscriber
Get unlimited access to thousands of curated premium stories, newspapers and 5,000+ magazines
READ THE ENTIRE ISSUE
May 2020