Number games
Truck & Driver
|
September 2020
Scania's 730 arrived later on the scene in Australia and as a result is a rare beast. But is it worth the extra investment over the 620?
In Western Australia, the bull bar on a Scania often obscures the power badge on the bottom corner of the grille, prompting you to wonder whether it's a 560 or 620. Once that iconic V8 badge has been identified, you give it the mental nod of approval, regardless of the 60hp power difference. However, when you discover that it reads 730, something strange happens your eyes widen, your heartbeat momentarily increases as your internal ECU logs the significance of that badge.
You are looking at a truck which boasts an extra 110hp over an R620, which in the not too distant past was the proverbial king of the road among Scania aficionados. Seven-hundred-and-thirty-horsepower; currently the most powerful road going truck available on the Australian market - surely that must feel amazing once you plant your right foot?
Well, according to the experience of one operator running a 2016 example, this is not necessarily the case. Kevin Isaksen along with his wife Karley owns Denmark Haulage, based at Denmark right down in the bottom of Western Australia (NOT the Scandinavian country attached to the top of Germany), specialising in the transport of produce and general freight to and from Perth.
Prior to their involvement in road transport, the couple have owned various horticulture businesses, at one time being the state's largest producer of potted herbs and cottage perennials, employing between 12 and 20 staff.
In 2002, they established a business as dedicated plant brokers. Kevin explains; "With Greenlife Transport we received regular availability stocklists from growers, combined them all into our own plant availability list and sent that out to the retailers. This business was sold in 2006 with the decision to relocate to Denmark and purchase the Denmark Haulage operation, a business that sees two trucks doing three trips each per week between Denmark and Perth.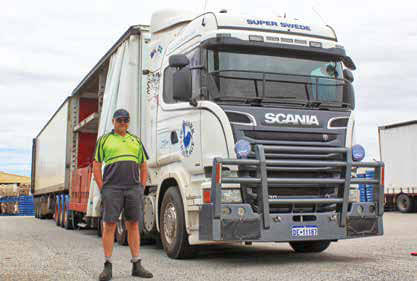 Decisions
Since his first foray into road haulage, Kevin has operated a number of different brands, all European, apart from one US model in the form of an International Eagle with a 500 Cummins. The Eagle was subsequently traded for an R500 Scania, his first experience with the Swedish marque and one which left such a good impression that Kevin still regrets selling the truck.
That's not to say that it has been all Scania from there on, with the open minded businessman also trying other brands; "In 2008 I bought a new MAN 480 with the ZF ComfortShift gearbox which gave a beautiful shift. That truck I kept for four years during which time it served me well.''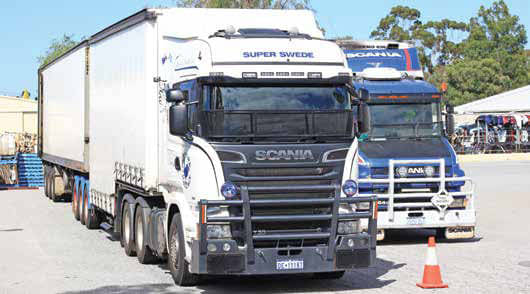 You can read up to 3 premium stories before you subscribe to Magzter GOLD
Log in, if you are already a subscriber
Get unlimited access to thousands of curated premium stories, newspapers and 5,000+ magazines
READ THE ENTIRE ISSUE
September 2020