Newby's oldie
Truck & Driver|March 2020
Dominic Newby's 45-year-old Mercedes-Benz 1622 is an absolute star. T&D investigates the immaculate German with a French connection
Ditte Toft Juste, Dougie Rankine
We reckon you would be hard pushed to find someone more dedicated to their classic truck than Dominic Newby. His family's company, Newby Haulage, of Newhaven, East Sussex, was one of the first in the country to run a fleet of Mercedes-Benz trucks, starting off in the 1960s and continuing right up until 2013 when the business was sold on after the retirement of his father.
Established in the 1950s by his grandfather, Alan Newby, the company began with tippers and plant hire, general haulage following in the '60s. "We had bulldozers and all sorts," recalls Dom, "but unfortunately I only have one photograph from those early days." He grew up running around the yard and the first time he drove a truck was aged 12. "Pretty much as soon as I was able to touch the pedals!"
All the holidays were spent in the passenger seat of a Mercedes-Benz of some description, across both the UK and Europe. European work became a huge part of the company's work. Beginning in the 1980s, the following two decades saw the fleet spending 75% of its time across the water – a fleet that was almost entirely branded Mercedes-Benz.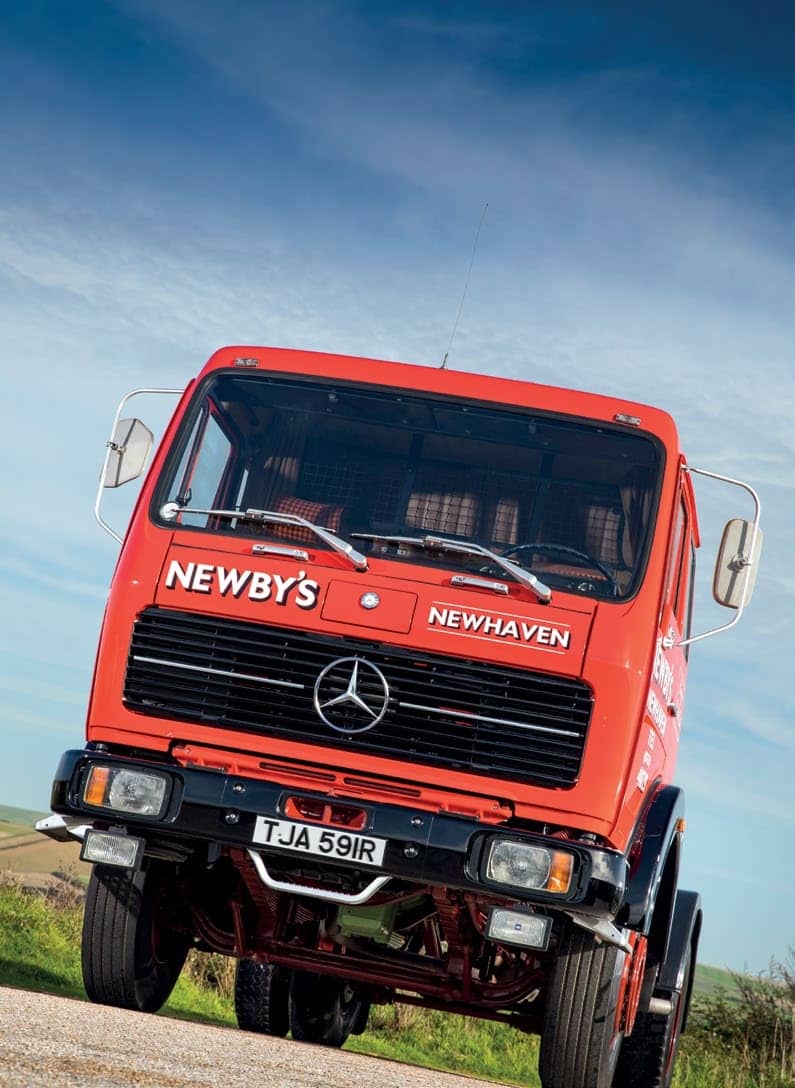 Basic but tough
With the invasion of foreign trucks in the late '60s there was a huge choice of both domestic and Continental manufacturers but in the early days MercedesBenz trucks were quite an unusual sight. They were also very different to the technically advanced vehicles we see today.
In comparison to Volvo and Scania, the Mercs were basic but also incredibly tough.
Newby's relationship with the German manufacturer came about somewhat by chance. "A dealer, Panda Diesels, opened up close by. They sold MercedesBenz trucks and we got on well with them," says Dominic.
"Those early trucks weren't all that popular with drivers," he says, "even in comparison to British models, but they never broke down. The driver perception changed when the SK models came along and we ended up running everything from Ategos to Axors and the first four generations of Actros."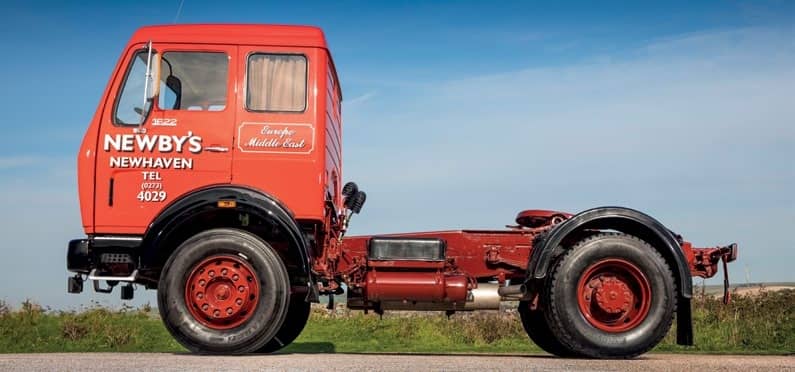 Dominic joined the business aged 21, and for his first year he worked across France, covering the whole of Europe the following year. He had a very unusual truck too, an SK 1838 rigid. An 18-tonne, 380hp rigid? That's a powerful truck even today! "That was an amazing lorry. It was one of our old tractor units that had been stretched," he smiles, "hence the power output." Dom adds that, even as a rigid, the SK sometimes pulled a trailer.
You can read upto 3 premium stories before you subscribe to Magzter GOLD
Log-in, if you are already a subscriber
Get unlimited access to thousands of curated premium stories and 5,000+ magazines
READ THE ENTIRE ISSUE
March 2020