Laughing gas
Truck & Driver|August 2020
We put Scania's gas powered R410 to work for a week and discover a fleet truck with green credentials that tackled everything with enthusiasm
At a glance
Make & Model: 2019 Scania R410 LNG
Engine: OC13 12.7-litre six-cylinder with EGR, Euro 6d
Power: 410hp @ 1900rpm
Torque: 2000Nm @ 1100-1400rpm
Gearbox: Opticruise 12-speed auto
As you may have gathered, I rather like a gas truck. Here's the thing; alternative fuels and drivelines are coming our way whether we like it or not. Full weight diesel trucks are going nowhere for a very long time, but we are going to see the gradual introduction of hybrids, electric and then hydrogen power. Different applications will make use of different technology.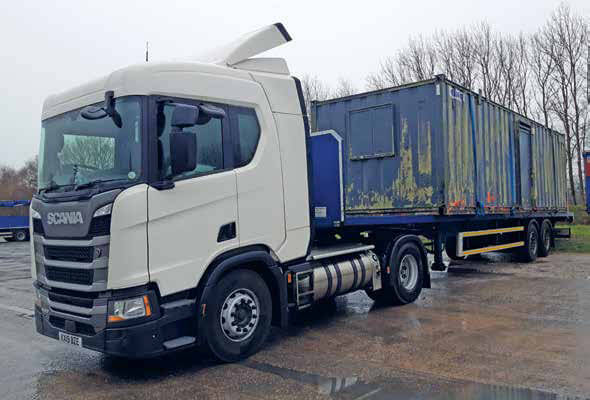 We already have gas. It's actually been around for a long time but it's only since 2017 and Euro 6c that truck manufacturers got their act together and starting building gas trucks fully off the production line. Forget about any conversion job or dual-fuel thing you might have encountered years ago, the new generation of gas is totally different.
There's two types of gas, CNG which is only really useful for regional shunting and LNG, which gives us the long distance range trunking and general haulage needs. It's LNG that has the broader potential on full-weight work, and the fuel you'd be most likely to encounter. The reason we like these gas trucks is that they behave pretty much identically to the diesels we know and love. The same 12-speed auto boxes, comparable performance and the cabs are all the same.
Scania's entry to the gas sector has been more tentative than Volvo and Iveco. In the UK, the 13-litre engine is only available at 410hp (at the moment, watch this space) and 4x2 configuration (see the panel for more details).
The R-cab is the biggest on offer just now too. The engine works with spark-ignition; spark plugs ignite a mixture of gas and air.

An R410 4x2 is going to have limited appeal to the UK market; the preserve of supermarkets and parcel companies. Having worked an Iveco Stralis 400NP for over 50,000km before taking on the T&D job, I'm familiar with running a gas truck, so we were confident about spending a week tramping in a LNG 4x2.
Having previously tested Volvo's FH420 LNG last year, the Scania was the last of the three to go to work.
I picked up the truck from Scania Bellshill; it's pretty basic inside. There's no fridge so my trusty 24v Halfords cold box is secured to the passenger seat. Sat nav isn't present, but I prefer to use my own one anyway. No heated seat. The good news is that there's DAB radio and climate control. The overall fit and finish is excellent, with that solid feel to the plastic you'll find in a V8.
Quality feel
The driver's seat is comfortable and finished in a nice fuzzy velour and the bunk is just perfect for me. An upper bunk has never had the plastic taken off it; I have to perform that ritual to get the mountains of stuff I cart around in the name of self-sufficiency stowed away. The overhead lockers are a lot smaller than they could be, a lot of space is taken up by the plastic casing. Because there isn't a fridge there's storage under the bunk, but if the fridge was there, there's not a great deal of room to stow stuff away.
My first task is to grab an empty trailer from Lesmahagow and pick up a portable cabin from near Livingston. It's an ugly old thing that's destined for somewhere up in the Peak District where I assume it's either going to be broken for spares or refurbished.
You can read up to 3 premium stories before you subscribe to Magzter GOLD
Log in, if you are already a subscriber
Get unlimited access to thousands of curated premium stories and 5,000+ magazines
READ THE ENTIRE ISSUE
August 2020