Hue & cry
Truck & Driver|July 2020
Time out at the wheel of an early Actros reveals that not a lot has changed over 23 years… apart, maybe, from more tasteful cab trim
The year is 1997 and we're in our early 20s. The British government will hand Hong Kong back to the Chinese, Princess Diana will have an excessively close encounter with a concrete underpass in Paris, and we'll find out somebody's cloned a sheep and called it Dolly. In November, French lorry drivers will begin to blockade ports, refineries, and major roads in a dispute over pay and conditions, just like they did last year. After five days they'll get a deal, just like they did last year.
Actually it's not 1997 at all, though as we arrive at Mercedes-Benz's Wentworth Park site, just outside Sheffield, French drivers really are about to again start blockading in protest over their pay and conditions. We, meanwhile, are here to have a play in a little gem which we're told will likely be doing the rounds of various truck shows at some point as as counterpoint to the company's all-singing, all-dancing Actros MP5.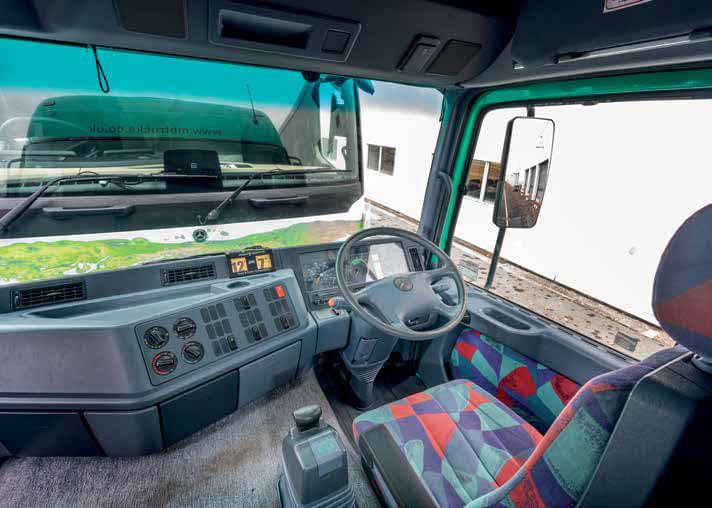 One of the first
The first-generation Actros was around from 1996 to 2002, won International Truck of the Year in 1997 and 276,038 examples were produced in that time, including P160 NHL, one of the first Actros tractor units to be delivered into the UK.
First registered on 24 April 1997, she was put through her paces as a demonstrator until 1999 and then sold off to Mercedes' events agency, where she was used to pulling hospitality trailers around the country. Fast forward to 2010 and Mercedes Benz Trucks UK bought her back again, to be restored to her current condition. With just 261,000km on the clock, it can't have taken much doing.
For perspective, in 1997 Actros was up against the newly-released Daf 95XF Super Space and Volvo's Globetrotter XL FH12. Scania had unveiled the 4-series in '95 but the ground-breaking Topliner – complete with a top bunk suspended from the front wall, above the driving area – was still unusual enough to cause comment when one pulled up in the queue for the docks. MAN was still selling the F2000 'Evolution' Roadhaus as its high-end option. Renault had the Magnum (alongside the all-new Premium) and Iveco the Eurostar. The ERF EC and Foden 4000 were around too.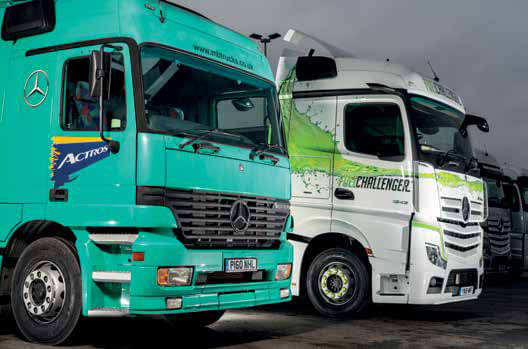 Opening the door of our fetchingly turquoise-painted trip down memory name, we instantly get a migraine. Sales of aftermarket seat-covers can only have skyrocketed with that upholstery. We can't help smiling when spotting a couple of original ciggy burns on the driver's side – but, no, apparently that doesn't mean we're allowed to smoke a Regal King Size in it today.
Storage aplenty
The rest of the interior is almost entirely furnished with chunky grey-blue plastic, though there's no denying it's solidly built. There's actually far more storage in this cab than first meets the eye, and the presence of a 120mm-high engine tunnel means there's a set of decent-sized cubbyholes behind the gearshift as well, something we've missed from trucks with flatter floors.
You can read up to 3 premium stories before you subscribe to Magzter GOLD
Log in, if you are already a subscriber
Get unlimited access to thousands of curated premium stories and 5,000+ magazines
READ THE ENTIRE ISSUE
July 2020