ELECTRIFYING!
Truck & Driver|August 2020
Maintaining the nation's power grid requires specialist equipment. NGC use MAN trucks for their on and off-road operations. We went to their HQ in the Scottish Borders to check them out
This certainly isn't your average haulage fleet. NGC Contracting's work takes them sometimes miles off the beaten track, repairing and replacing the nation's electricity grid. To be able to do this, a wide selection of trucks, vans, excavators and tracked vehicles are required. You won't find any 6x2 midlifts here!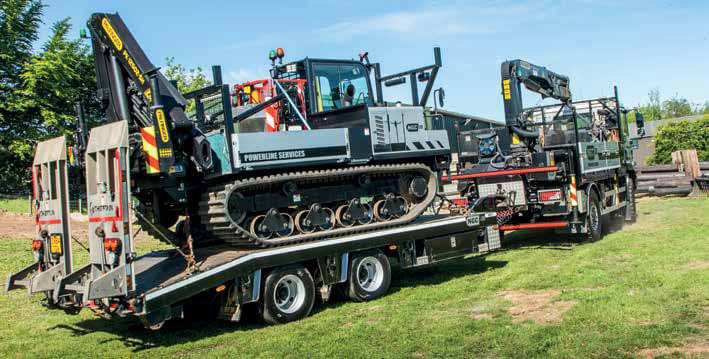 The company was established by Nick Gunn. Originally from Inverness, his family moved to the borders in 1989 when he was 14. "My dad was a land surveyor and we would travel all over the UK in his Mk2 Escort van. I can remember him putting it on a train in Inverness and using a sleeper service to go south," he recalls.
With the work mileage so high due to the northern location, the family made the move south as there were more opportunities closer to the central belt and England.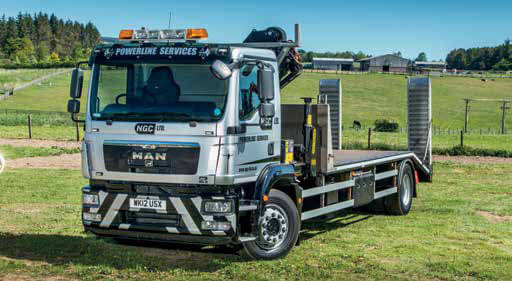 Nick left school and started work as a spray painter and panel beater. "That was a great job, and I learned a lot at it," he says, "but what I really wanted was to work outdoors." When a job came up for a linesman working on the electrical grid, he jumped at it. All those summers climbing trees as a kid would prove more useful than any exam qualification!
Having worked for two different power companies, Nick invested in a 7 tonne tracked excavator and began subcontracting his services, getting A-Plant to move the machine from site to site. That was in 2001, and two years later he bought a JCB Fastrac with Atlas crane. "The JCB had 6000 hours on it, but it had an easy life working in a waste paper processor," says Nick. He added a low-loader trailer with digger, which also allowed him to transport wooden powerline poles, providing a fully inclusive service to customers.
The JCB set up was great, it worked so well that Nick knew he would have to move to getting a lorry. There were too many limitations relating to using the JCB on the road, that this was the next logical step. In 2005 the electricity board changed the way they work and began inviting tenders from contactors. Nick then took on some staff and began to steadily expand the company.
"You don't want to get too big, I think," he tells us, "you don't want to bite off more than you can chew. The tenders come up every three to four years and we like to stick to our own area. Knowledge of the terrain and the network is important."
The material you're driving on, and attempting to fit powerlines into can vary from sand and clay to river rubble or stone, which all need to be tackled differently.
Mud plugger
Nick knew he needed a 4x4 truck, and having had a look around he discovered there weren't many options. However, MAN did have the perfect vehicle, a TGM 18-tonne 4x4.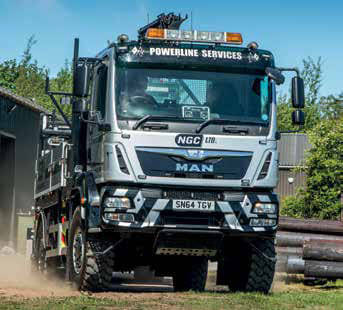 Bought new in 2008, the truck remains in service today, having just had a new engine fitted. "There's not really a second-hand market for these trucks, so we will aim to keep them for their entire life."
You can read up to 3 premium stories before you subscribe to Magzter GOLD
Log in, if you are already a subscriber
Get unlimited access to thousands of curated premium stories and 5,000+ magazines
READ THE ENTIRE ISSUE
August 2020