Blind faith
Truck & Driver|March 2020
Every now and then we at T&D come across a story – such as how Irishman Mark Finneran came to be running the very classy Bring International fleet – that is, at face value, so ridiculous it can't possibly be true…
At the beginning of 2017, Mark Finneran was quite happily working as a salesman for Westward Scania in County Roscommon, Republic of Ireland. Originally a driver, after 10 years on the road he had seen the role advertised and, knowing it was a decent employer (Mark's friend and his father-in-law were already there), applied, got the job, and had been at the dealership for just shy of five years. It was through this position that Mark met Tom Murphy in late 2016.
Paths crossed
"Tom has a plant sales and construction company in the UK, in Birmingham, called Connaught," he explains, "and Tom has a passion for trucks as well." It was Tom's involvement in another transport company that led his path to cross with Mark's – and when he decided to go his own way, it was Mark's office door on which he came knocking.
"Tom just said to me one day, 'I'm setting up a company for myself, d'you fancy a change?' and I told him no, that I was happy where I was. So that was it. I spoke to Tom a couple of times after that and kept saying 'no, I'm happy where I am', 'no, I'm happy where I am'... then my wife was expecting her first child so I said 'no, now I'm definitely staying where I am'."
Obviously, Tom could tell Mark was cracking behind that firm facade because he persisted in trying to recruit the father-tobe. "So the week before our baby landed," says Mark, chuckling at the memory, "my wife says to me, 'Look, you need to make your mind up now because I don't want you to keep grumbling on until the day we have the baby'. We brought the child home from hospital on the Thursday and I went into Scania the following Tuesday to hand in my notice and join Tom in this new venture."
At this point there was nothing set up at all, no trucks or anything. To put it simply, Mark's wife gave birth, then three days later he gave up a secure salary to join a transport start-up with a bloke he met only a few months earlier. We comment on the bravery of this move and he laughs, slightly sheepishly. "I don't know what you'd call it, I really don't!" he admits. "But you haven't met the guy, you know? Tom's a straight-shooter, what you see is what you get and he's got tons of character…"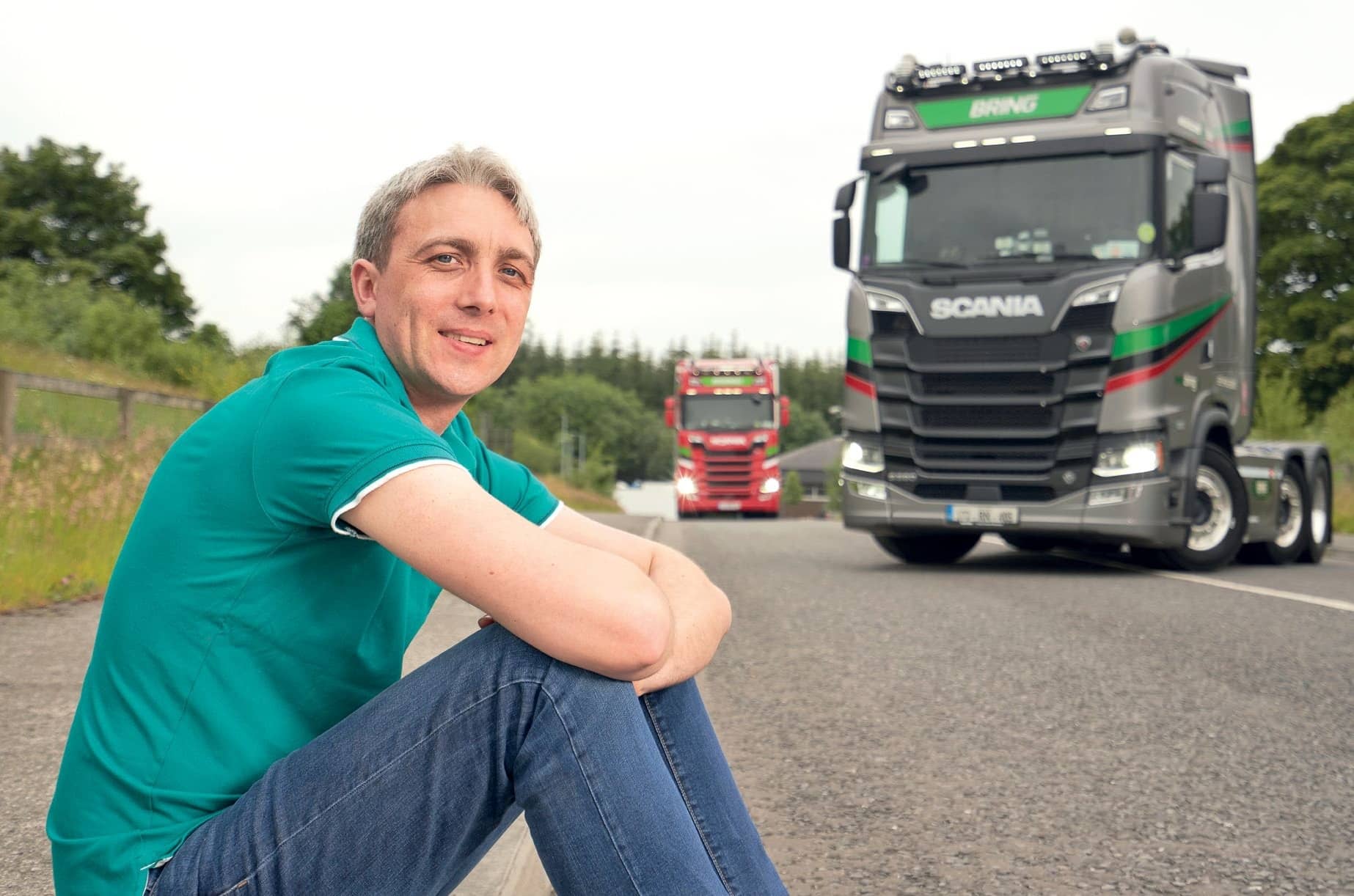 Business acumen
In fairness to Mark, as we talk it turns out Tom Murphy has lots of business acumen too. As well as Connaught (Birmingham), he has machines working in Norway, more for hire in the Netherlands plus he buys and sells plant all over the world. It's just that, as previously mentioned, he also has a passion for trucks and is in a position to indulge it.
You can read upto 3 premium stories before you subscribe to Magzter GOLD
Log-in, if you are already a subscriber
Get unlimited access to thousands of curated premium stories and 5,000+ magazines
READ THE ENTIRE ISSUE
March 2020