Man On The Moon
Top Gear South Africa
|
October 2019
How TG faked our Moon landing – not with Stanley Kubrick, but with a trip to Cancún.
BEFORE ANY CONSPIRACY THEORISTS WRITE IN, LET'S GET ONE THING STRAIGHT... We definitely faked our Moon landing. Total hoax. Never happened. TopGear can magic up many things, but parking a Land Rover on our lunar neighbour for a cover shoot is – for now – beyond us. Still, hell of an effort, don't you reckon? I mean, proper Hollywood-grade fakery. But here's the thing: it's not quite as made-up as you might think. Some bits are so real you could almost touch them.
Don't believe me? You're not alone. So allow us to let you in on a few secrets. For starters, to shoot the new Defender on the Moon, first we had to take it to Mexico. In hand luggage. Yep, the car you see on the cover is, in fact, 16 times smaller than the real thing.
It was made by Land Rover's modelling team especially for our shoot, and is one of the very first undisguised new Defenders in the world, micro-size or otherwise. So – this being over a month before the car's official reveal – it was probably the most heavily guarded secret in the car world. Not only were we the first outsiders to see it, we were the first to remove it from its armoured bunker in the Midlands. Understandably, then, Land Rover's people wouldn't let us travel without a chaperone from their beefy security team.
And so we headed to Gatwick to rendezvous with our minder, expecting a six-foot-five bouncer called Keith. Instead, we got a five-foot-two mystery agent known only as 'Gemma', on account of that being her name (we promised to keep the rest of her identity anonymous). Her job? To ease our international passage without any curious offiials accidentally launching the all-new Defender in a Cancún customs office.
Have you ever tried to sneak through Mexican customs while handcuffed to a mysterious black case containing suspicious merchandise? They get a bit sniffy about stuff like that. To which we say: tank God for Gemma, whose terrifying stares and fierce command of Spanish meant the Defender stayed safely in its box, global embargo intact and terrifying NDAs dutifully honoured.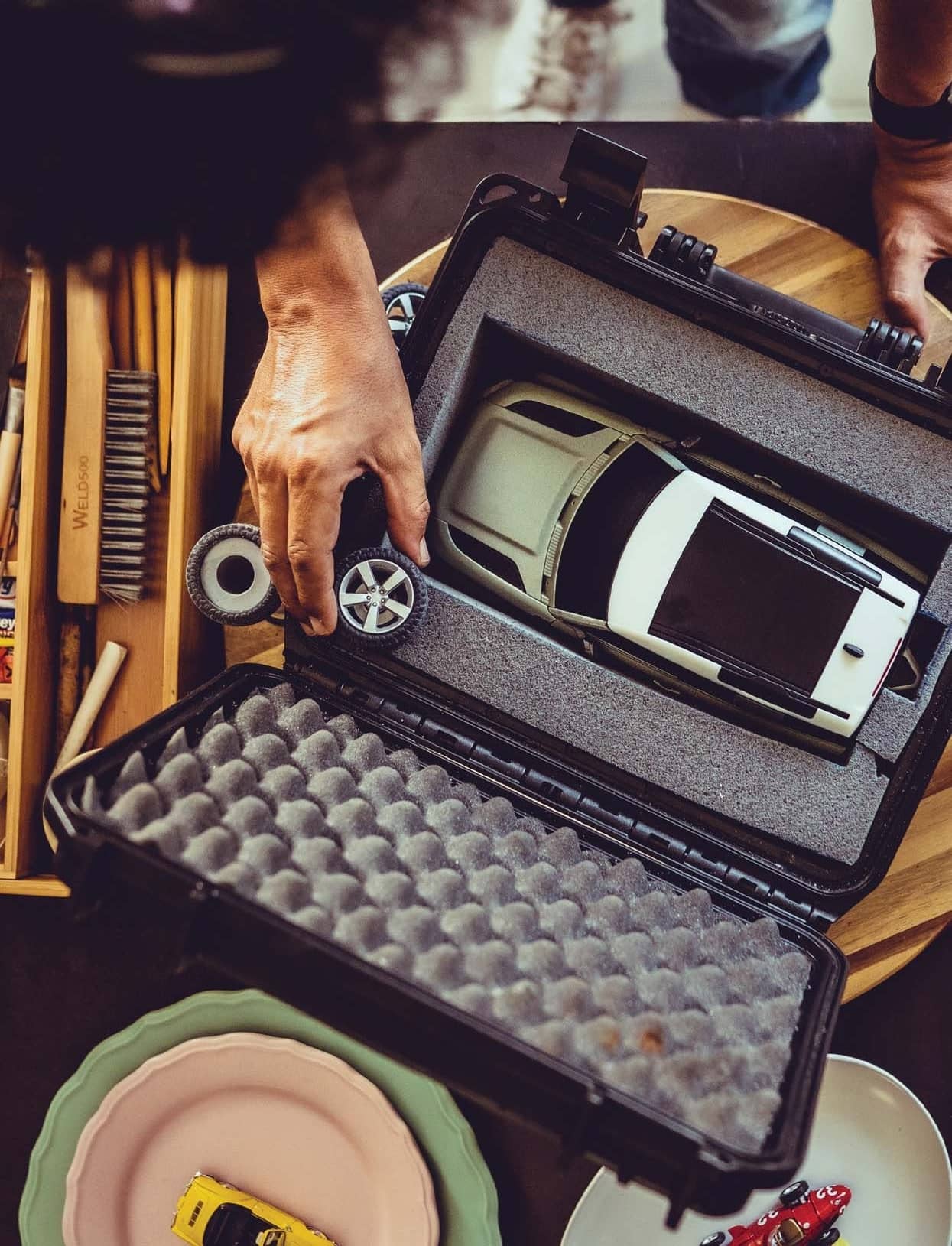 Why Mexico, you ask? Well, it turns out that Cancún, on the country's turquoise Caribbean coast, isn't just where college kids go to experiment with tequila and embarrassing infections. It's also the home of a man called Felix Hernandez, a photographer, model maker and digital artist who turns miniature worlds into life-size illusions. His party trick is to shoot model cars on hand-made sets – capturing almost everything for real, including SFX, rather than adding it in Photoshop. It's visual voodoo to fool the mind.
You can read up to 3 premium stories before you subscribe to Magzter GOLD
Log in, if you are already a subscriber
Get unlimited access to thousands of curated premium stories, newspapers and 5,000+ magazines
READ THE ENTIRE ISSUE
October 2019