Third Time Lucky
The Classic MotorCycle
|
August 2020
Will this third BSA side-valve single measure up to the first one? Should you ever go back? Yes, of course you should if it provides a spark of joy.
I've had a soft spot for BSA side-valve singles for 25 years. I acquired my first one, a 1955 600cc M21, in 1995, from dealer Andy Tiernan. It was extensively rebuilt by Sean Hawker, who formerly ran CMES, the classic electrical specialists. Sean and a friend had ridden their M21s on a 34,000 mile trip through southern Russia, into China, down through India and Malaya and all-round Australia, so he knew his side valves.
The following year, he and I took a 1500 mile roundtrip to a motor show on the Shetland Islands. Sean was riding his expedition bike. Neither of our BSAs missed a beat.
Peace of mind
When people ask me, or I ask myself, why the obsession and affection for 13 and 15bhp models, which where outdated even during their final decade of production, I recall something I'd written about the return leg of that Shetlands journey, riding from Aberdeen down the east coast of Britain on my own: "A breather pipe came loose, and the clutch got a bit snatchy, but at a steady 55 the engine never smoked or faltered. In the morning rush hour out of Newcastle, or crossing the mile-and-a-half Humber Bridge, or on the empty sweep of a Lincolnshire plateau, I came to realise what was missing – any of the usual anxiety about a breakdown, as the M21's utter reliability brought peace of mind."
For a mechanical duffer like me, that was a great gift. And it didn't come at the price of dullness. The plunger M-Series handling, as someone else observed, features "a wonderful, cobby, sturdy, feel which made bends, while not exactly easy, a very satisfying experience." Fitted with the 8in sls front brake adopted for the M21 in 1956 and found on other BSAs up to and including the Gold Star, they could stop well too; and after a 12-volt conversion by Sean, the lights were excellent. With a sprung saddle and manual advance/retard to give that 'one thump every lamp-post', I used to call it "Edwardian motorcycling with modern benefits."
I regretted selling that one in 2003, and 11 years later for a keen price, bought a worn-out 1958 M21, with a view to eventually using it as a hack while on a writing stint in France. A friend, Nigel Stennett-Cox, generously set about refurbishing it skillfully and economically (see TCM August 2016). But the problems kept coming, and after 15 months and just a few hundred miles, I had to let it go and took my A10 to France instead. Partly because, whatever was done, this M21 had never gone as well as the first one. This was a TT model: Terminally Tired.
New contender
But nourished by a fatal habit of returning obsessively to Tiernan's 'andybuysbikes' website, I still kept an eye on side valve single possibilities. And sure enough, this 1955 500cc M20 appeared there in mid-2019. Reimported from Denmark and now with UK paperwork and an age-related registration, Andy's no-nonsense description was "old wheezer", and though it looked pretty much all there in the photos (I failed to notice the missing toolbox!), and was given a fairly positive report and road test (a useful feature of Andy's sales presentation), the price seemed a bit high at around £4000.
Anyway, I'd always told myself, after testing too many tired WM 20s, to hold out for a 600cc M21. Yet recently I'd ridden a really well fettled, early 1940 example –you'llreadaboutitshortlyinTCM – which had modified my view. As the months passed and the M20 seemed nailed to Andy's floor, I noted that the engine and frame numbers, which on BSAs then were not identical, were still both appropriate to 1955.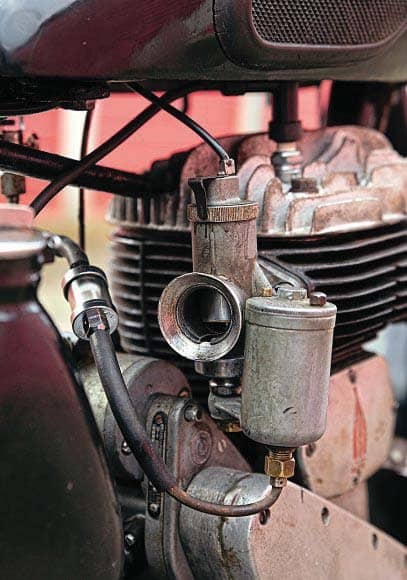 You can read up to 3 premium stories before you subscribe to Magzter GOLD
Log in, if you are already a subscriber
Get unlimited access to thousands of curated premium stories, newspapers and 5,000+ magazines
READ THE ENTIRE ISSUE
August 2020