UBT TO LST
Street Trucks|June 2020
A Fresh Build, Great Friends and Overcoming Adversity
OVERCOMING ADVERSITY IS SAID TO BE AN ENDEARING QUALITY IN A PERSON AND ONE THAT IS THE EPITOME OF WHAT IT MEANS TO TINKER, TURN WRENCHES OR FLAT-OUT BUILD CUSTOM TRUCKS. That spirit is what led the crew from United by Trucks (UBT), a rapidly growing classic truck content creators from Georgia, to embark on not only a 45-day thrash to get their LS-powered 2WD square body Blazer roadworthy, but to road-trip it roughly 2,000 miles round trip to the land of trucks for the famed Lone Star Throwdown in Conroe, Texas.
The #UBTtoLST plan was simple: get the Blazer—affectionately named UBTK5— roadworthy, load the rest of the crew up in their trucks and meet up with trucks from Florida, Maryland, Virginia, North Carolina, South Carolina and Tennessee in Georgia to head west to Texas. Sounds easy, right? Right.
01 ON FEB. 19, once we finished putting the functional—not final—touches on our 2WD square body Blazer, we logged roughly 50 shakedown miles to make sure it would seemingly hold together for the long but highly anticipated trip. You see, this is what United by Trucks is all about: getting a group of friends together and building trucks that can withstand thousands of miles of abuse on the streets, roads and interstates of America. If only we'd known what we were in for the next day when we headed toward the Lone Star state.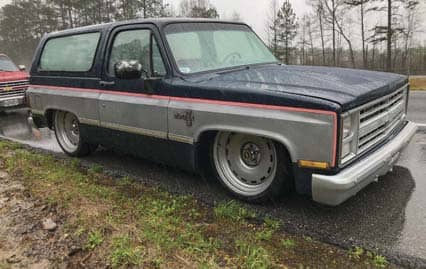 The next morning, Feb. 20, we awoke to colder-than-usual temperatures, rain and darkness. At 6 a.m., we piled into our trucks and headed toward the world-famous Varsity in Atlanta to meet up with a host of other trucks. Before we made it a mile from the house, however, Two Trucks Ron, (UBT's resident cut-man) began having fuel rail O-ring issues with his LS-swapped square body GMC, Pecos. After waiting an hour for a parts store to open, the issue was resolved, and we were back on the road.
You can read up to 3 premium stories before you subscribe to Magzter GOLD
Log in, if you are already a subscriber
Get unlimited access to thousands of curated premium stories and 5,000+ magazines
READ THE ENTIRE ISSUE
June 2020