GMC DREAMIN'
Street Trucks|February 2020
Resurrecting the Rust Bucket of Baytown
THIS '72 GMC SIERRA HERE IS RUSTY AND COVERED IN NATURAL PATINA, AND ALTHOUGH IT HAS BEEN LEFT IN ITS ORIGINAL AGED CONDITION, IT LOOKS QUITE A BIT BETTER NOW THAN IT DID WHEN JESUS MANCHACA PURCHASED IT ABOUT 10 YEARS AGO. Of course, it stood quite a bit taller back then, but there was just something about it that had to be changed up.
"The truck was originally a three-quarter-ton camper special truck and, just like it sounds, had a huge camper on top of the bed," Jesus says. "When I tore the truck down, I found the propane tank connections in the back under the frame, so this thing must've seen its fair share of camping trips in its lifetime."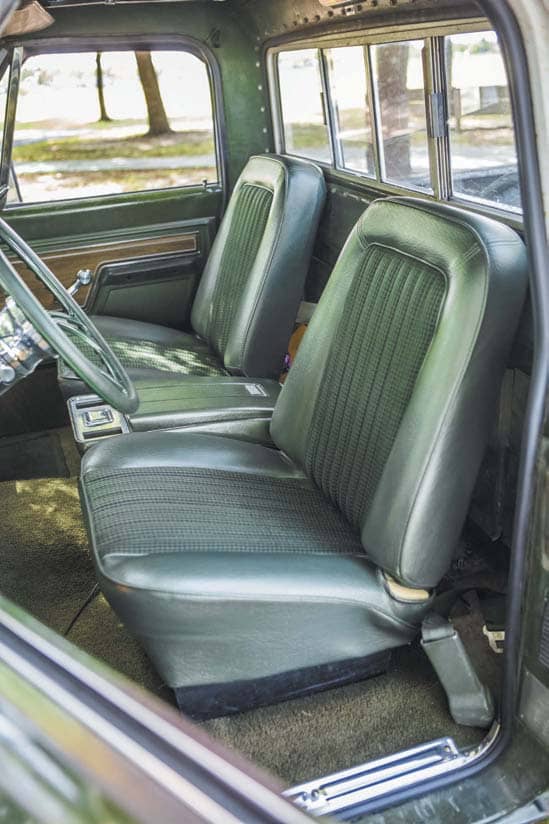 Some trucks look good with camper shells on them, but if it's not really going to be utilized, it's probably better to just scrap the shell and embark on a brand-new start—and that's what Jesus did.
"When I first spotted the truck, its owner told me it had already been sold to someone who had plans to part out the cab and front end and make a trailer out of the bed to haul scrap metal around," Jesus says. "The poor truck was pretty much left to die out in the field where I found it, and it didn't seem to have a bright future ahead of it. At that point, I was pretty bummed about the whole situation."
Even though Jesus was feeling the unique sting of despair that goes along with missing out on a cool truck project, he was about to receive a bit of good news that would change his outlook on everything.
"A few months had passed since the GMC's owner told me what was in store for his old truck, but for some reason or another, the guy who had bought it from him never went back to pick up the truck!" Jesus exclaimed.
Sure, the truck wasn't running, and it needed a whole lot of work to whip it back into shape, but for the bargain price of $1,000, Jesus was able to lock down a decent classic truck project.
You can read up to 3 premium stories before you subscribe to Magzter GOLD
Log in, if you are already a subscriber
Get unlimited access to thousands of curated premium stories and 5,000+ magazines
READ THE ENTIRE ISSUE
February 2020