WINNING GOAL
Street Machine Magazine
|
September 2020
FORMER AFL PLAYER JAMES GWILT NOW GETS HIS KICKS BEHIND THE WHEEL OF THIS 1100HP, TURBO WINDSOR-POWERED XW FAIRMONT
THERE are certain events in everyone's childhood that help shape the person they grow up to be. For former AFL player James Gwilt, a ride in a friend's muscle car as a young tacker sparked a love for power on four wheels that eventually led to the gold behemoth you see before you.
"My friend Sam took me for a ride in his 500hp XY GT Falcon when I was 12," James explains. "Ever since then I've been hooked on XW-XY Falcons!"
Unfortunately, James's first fling with a classic Falcon of his own ended prematurely when his XW was hit by someone running a red light. "It destroyed the driver's side of the car and it was declared a write-off," he says.
Fortunately, it didn't take long for him to find a replacement, snatching up this tidy XW Fairmont locally in Melbourne. "It was already a good car," says James. "It had a decent 408ci Windsor with a 'Glide, and it'd already been resprayed in the factory Grecian Gold."
James spent a few years enjoying the Falcon in that form, taking some of the goodies from his wrecked XW – including suspension and brakes – to help create a mint streeter. But in mid-2015, things changed.
"I'd been and seen Danko [Knezevic] at Adicted Performance before to get a few little upgrades done here and there with the car as it was, but I really wanted a single-turbo V8," says James. Before he knew it, he was up for a whole new level of XW goodness.
The aspo Windsor was ripped out and sold off, and Danko set about concocting another one of his blistering turbo Ford V8 packages. A Dart Iron Eagle block copped a whole bunch of goodies, including a Callies DragonSlayer crank, Oliver rods, Diamond pistons and a custom-grind solid-roller bump stick. Oiling is taken care of with a Peterson belt-driven pump and ASR sump.
The top-end menu consists of a pair of AFR 205 heads using some beefy valvetrain gear and breathing through a pair of custom-fabricated stainless turbo exhaust manifolds. The Garrett GTX4508R feeds the 411ci donk via a Plazmaman intercooler, using a Wilson throttle body and elbow bolted to a modified Edelbrock Super Victor intake manifold. "I was going to use a blow-through set-up, but the more we priced up suitable carbies, the more it seemed better to just go with EFI and the Haltech," says James.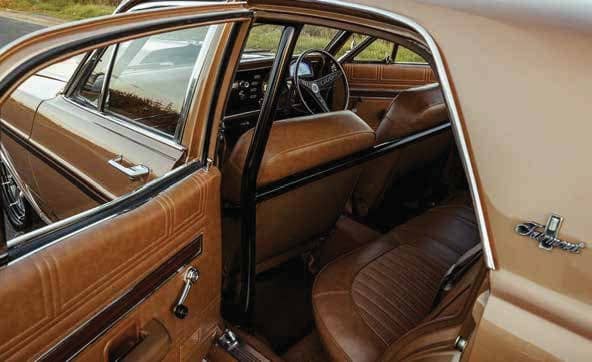 You can read up to 3 premium stories before you subscribe to Magzter GOLD
Log in, if you are already a subscriber
Get unlimited access to thousands of curated premium stories, newspapers and 5,000+ magazines
READ THE ENTIRE ISSUE
September 2020