BACK TO FRONT
Street Machine Magazine|June 2020
CLINT OGILVIE'S ICONIC FRONT/BACK LC TORANA HAS BEEN A MAINSTAY OF THE BURNOUT SCENE FOR DECADES. NOW IT'S TOUGHER THAN EVER BEFORE
MY MOST enduring memory from Street Machine Summernats 21 was poring over Clint Ogilvie's new-again LC Torana, resplendent in the Top 60 Elite Hall. There it sat, flanked by awe-inspiring, mirrors on-the-ground show cars, stinking of molten rubber with a pair of freshly slain tyres lying beside it.
"Yeah, we made the Top 60 that year," recalls Clint. "I think we came third in the Burnout Masters, and then we drove it into the hall on the rims."
That a car built for the express purpose of sending tyres to bastard hell could go shoulder-to-shoulder with the best show specials in Australia is something that really stuck with me, and as history would eventually show, FRONT/ BACK was first among a raft of show-quality skid pigs that followed.
The car ran on the cover of the May 2008 issue of Street Machine in that guise (its second showing on page one of the mag) – a wild blown, flamed, suicide-doored, hot rod inspired build that blew people's minds at the time. But the problem with building an elite quality skid car is that they are routinely put in harm's way. It's something of an occupational hazard.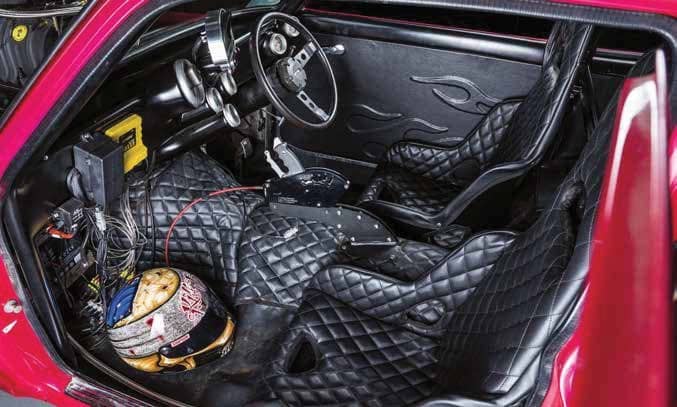 "We were up at Mildura Gazzanats, and we had an issue with a fuel line," says Clint. "We had a big methanol fire, and it cooked the paint."
The car made a triumphant return with a satin black wrap covering the scorched paint and a screaming, all-motor Holden V8. But when the high-revving donk hurt a camshaft, it prompted Clint to take stock of the situation.
"We made the decision to go back to a blown combo, and while I would have loved to have stuck with a Holden, I wanted to make north of 1000hp reliably, and that's hard to do with a 308," Clint says. "I had some things I wanted to prove with the 308. People said you couldn't supercharge them because they break cranks, but we won the Burnout Masters at Summernats 23 with a blown 308. Then we buzzed the aspo motor to 9200rpm! But I knew that going back to the blower meant it was time to put a Chev in it."
Clint again turned to Speedworks to screw together the new motor: a 374ci, CHI 18-degree-headed set-up topped with a Littlefield 8/71 huffer that makes an impressive 1200hp on a lowly 15psi of boost. The guts of it includes a Callies Magnum crank swinging Oliver rods and Diamond pistons, with a cam boasting 270/280 degrees duration and .750in lift. A Dailey five-stage dry sump pump keeps lube up to the engine, while an Enderle pump shoots methanol at the PSI Deep Throat hat – a unique piece that took some tracking down.
You can read up to 3 premium stories before you subscribe to Magzter GOLD
Log in, if you are already a subscriber
Get unlimited access to thousands of curated premium stories and 5,000+ magazines
READ THE ENTIRE ISSUE
June 2020